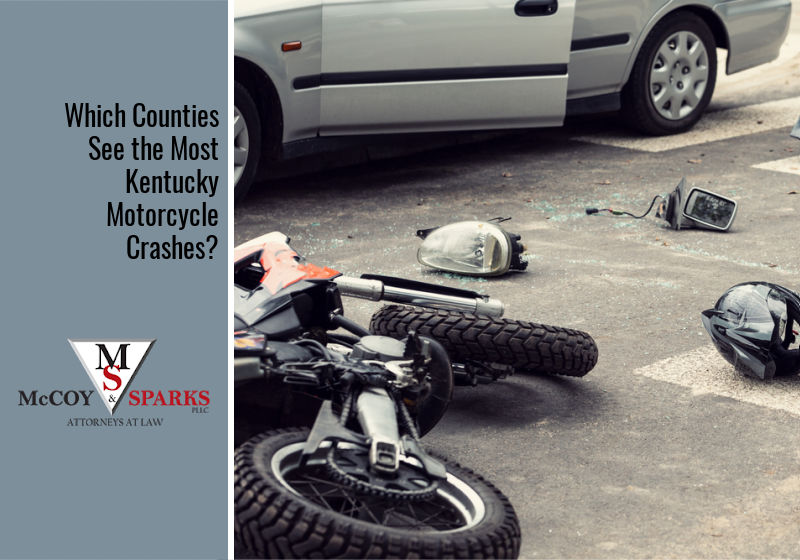 In 2018, 122,360 motorcycles were registered in Kentucky and noted by the Kentucky State Police in their annual crash facts report. A compilation of findings about traffic accidents on Kentucky roads, this report, released on July 23, 2019, represents the most up to date official documentation of the dangers Kentuckians face while operating motorcycles.
According to the Kentucky State Police, 2018 saw 1,494 motorcycle-involved collisions on Kentucky's roadways, with 86 of these resulting in fatalities. In total, motorcycle-involved collisions resulted in 1,106 injured persons and 88 deaths on Kentucky's roads in 2018.
What do all of these numbers mean?
Essentially, almost 8% of Kentucky roadway accidents that resulted in fatalities involved motorcycles, whereas motorcycles only accounted for less than 1% of vehicles in all collisions.
This means that being involved in a Kentucky motorcycle crash is much more deadly than being in a car crash.
Common Causes of Kentucky Motorcycle Collisions
The following were the most commonly reported reasons contributing to Kentucky motorcycle accidents in 2018:
Driver inattention accounted for 28.02% of all crashes and 20.24% of all fatal crashes.
The motorcycle not properly being under control accounted for 24.33% of all crashes and 34.52% of all fatal crashes.
Failing to yield to the right of way accounted for 11.35% of all crashes and 17.86% of all fatal crashes.
Alcohol was involved in 4.85% of all crashes and 11.9% of all fatal crashes.
Speeding was involved in 3.55% of all crashes and 11.9% of all fatal crashes.
Additionally, overcorrecting or oversteering, following too closely, weaving in and out of traffic, misjudging clearance, disregarding traffic control, and improperly passing accounted for contributing to similar percentages of all crashes and fatal crashes.
Kentucky's Collisions by County
While the KSP report doesn't specifically break down motorcycle collisions by county, it does provide the total number of reported accidents for each county.
Knowing that motorcycle accidents often involve other vehicles in addition to the fact that all motorcycle accidents are included in these statistics, the following counties are the top 25 Kentucky counties that see the most roadway accidents:
Jefferson
Fayette
Boone
Warren
Kenton
Daviess
McCracken
Christian
Madison
Campbell
Laurel
Boyd
Pulaski
Pike
Whitley
Scott
Henderson
Hopkins
Franklin
Shelby
Barren
Jessamine
Kentucky motorcyclists should always drive with caution and focus, but knowing which counties see the highest number of accidents can be helpful. Certain roadways are simply more dangerous than others. Motorcyclists should be careful to watch for cars and trucks when changing lanes, practice caution when driving in dark or hazardous conditions, and be aware of other distracted motorcyclists on the road – regardless of which Kentucky county they're in.
How Can I Avoid Motorcycle Injury?
While Kentucky does not have a universal helmet law, helmets are proven to reduce serious injury and death when worn by motorcyclists and their passengers.
Of the 1,121 individuals involved in Kentucky motorcycle accidents in 2018, fewer persons wearing a helmet were injured or killed than those not wearing helmets. In total, 590 individuals did not wear helmets, with 54 of these persons killed. In contrast, 531 individuals were wearing a helmet at the time of their accident, and of those, 34 persons were killed. This does not count the significant number of non-fatalities where the injury was made much worse by the fact that no helmet was worn.
The National Highway Safety Administration notes the importance of helmets and motorcycle safety, estimating that helmets decrease fatalities by 37% and reduce brain injuries by approximately 65%.
For more motorcycle safety tips and helmet suggestions, see the Kentucky Motorcycle Manual.
If you or a loved one has been injured in a motorcycle accident, look no further than the expertise and experience of McCoy & Sparks Attorneys at Law to find out if you are entitled to compensation. We have handled hundreds of motorcycle injury cases. We know what to look for, and how to maximize your recovery. In addition, we strive to provide compassionate and friendly service.
Trust McCoy & Sparks—Premier Personal Injury Attorneys in Nelson County
Recognized as Nelson County's best law firm for over a decade and counting, McCoy & Sparks works to help people in trouble, representing thousands of clients in Central Kentucky with a focus on providing premium service and delivering superior results.
Regardless of the type of case, our goal is to develop a strategy that best serves your personal needs, then draws upon our courtroom skills to help you reach the best possible result. We start by getting to know you. Next, we will explain all your options, giving you the pros and cons of each choice so that you will be empowered to make informed decisions.
You owe us nothing unless we recover compensation for you. Make the right call to (844) 4KY-WINS for a risk-free consultation with one of our attorneys today.