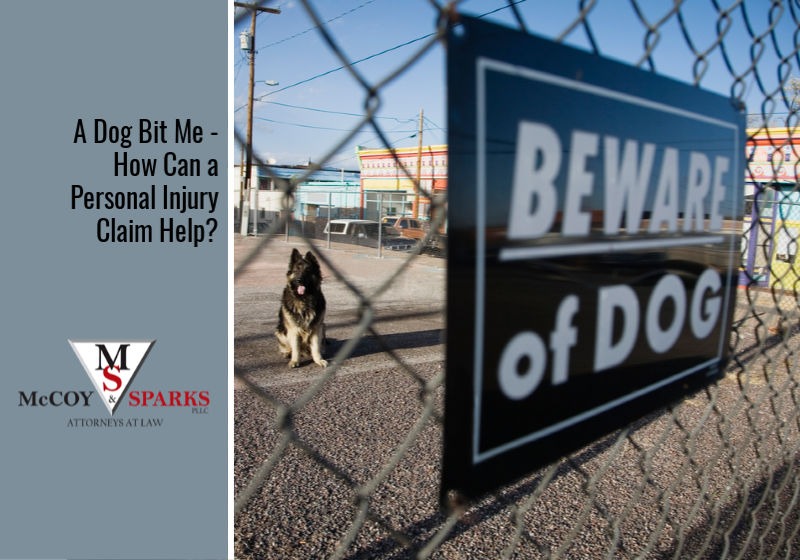 You may think you have no legal recourse after a dog bites you, but you may have grounds for a personal injury claim that will cover not only your medical bills, it may also cover lost wages and your pain and suffering.
It's a common scenario. You're taking an evening stroll and encounter someone walking a dog. The dog seems friendly at first, but without warning, the dog attacks and bites you. You may think you have no legal recourse, but you may have grounds for a personal injury claim that will cover not only your medical bills, it may also cover lost wages and your pain and suffering.
If you've been bitten by a dog, you're not alone. The Centers for Disease Control and Prevention (CDC) says about 4.5 million dog bites occur each year in the U.S. and the average cost of a dog bite-related hospital stay is approximately $18,200. And, people who suffer from a dog attack can sustain over $1 billion in losses over time.
What Are My Rights Under Kentucky Law If I Am Bitten By a Dog?
Section 28.235 of the Kentucky Revised Statutes states that any owner whose dog is found to have caused damage to a person, livestock or other property shall be responsible for that damage.
Kentucky courts apply a principle of pure comparative negligence – the damages the dog's owner pays are reduced by a percentage equal to the percentage of fault assigned to you, as the injured person.
For example, let's say a dog is laying around in its yard, when a child starts taunting the dog by throwing things. The dog gets angry and then attacks the child, biting him. At the trial, the judge decides that the child is 45% at fault because of provoking the dog. If the total amount of damages is $10,000, the dog's owner will have to pay $5,500, which is the remaining amount once 45% is subtracted.
Despite the explicit language in the statute, a trespasser, for example, would likely have their recovery reduced. You can still take the case to court, but per the principle of pure comparative negligence, your compensation would likely be reduced, if anything at all is awarded.
There are additional remedies that a dog bite victim may receive. This can help with your personal injury claim. The law states that any person attacked by a dog or someone acting on behalf of that person can make a complaint before the district court (through the county attorney) charging the owner or keeper of the dog with harboring a vicious dog.
What Should I Do Right After I've Been Bitten?
What you say and what you do after being attacked by a dog can have a big impact on your claim, so never say things like, "I must have startled your dog," or "My son shouldn't have been teasing the dog." This opens the door to you or your child being blamed for provoking the attack, and whether you're dealing with a dog owner's homeowner's policy or simply the owner, it can affect your compensation percentage.
After getting away from the dog, gather evidence to support your claim:
Call 911 and let the dispatcher know about the dog attack and ask for medical assistance. If the dog is still running loose, let the dispatcher know so they can send police or animal control. And don't hesitate to ask for the police. A police report makes excellent evidence.
Seek medical attention, even if paramedics don't take the victim to a hospital. Get immediate attention from a primary care doctor, emergency department or urgent care center.
Alert animal control to make sure the attack is reported.
Get the owners information. This seems pretty basic, but in the excitement of the moment, you'd be surprised how many people forget this important step. Ask the dog owner, landlord or building owner for their name, address, contact information and the name of their insurance company, if any.
Take photos and videos of bite marks (before and after treatment), the dog, and the area immediately around the dog, including broken fences, holes dug under fences, torn and destroyed toys and the home or business where the dog lives. Don't put yourself in harm's way to photograph the dog!
Get witness statements – record them or get them to write them down.
Dog bite cases can get complicated, and insurance companies are notorious for offering lower settlements to those not represented by an attorney. And if the dog owner doesn't have homeowner's insurance, a personal injury attorney can find other avenues of compensation to pursue. Don't walk away empty-handed or with less than you're due.
Trust McCoy & Sparks – Premier Personal Injury Attorneys in Nelson County
Recognized as Nelson County's best law firm for over a decade and counting, McCoy & Sparks works to help people in trouble, representing thousands of clients in Central Kentucky with a focus on providing premium service and delivering superior results. Regardless of the type of case, our goal is to develop a strategy that best serves your personal needs, then draw upon our courtroom skills to help you reach the best possible result. We start by getting to know you. Next, we will explain all your options, giving you the pros and cons of each choice so that you will be empowered to make informed decisions. You owe us nothing unless we recover compensation for you. Make the right call to 1-844-4KY-WINS for a risk-free consultation with one of our attorneys today.