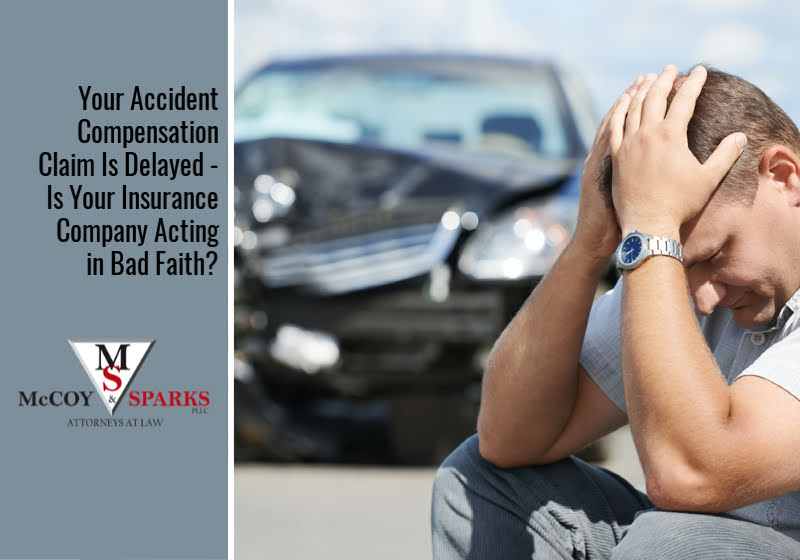 When it comes to the true cost of auto accidents, Kentucky law requires your insurance company to act in a reasonable manner. So why do insurance companies act in bad faith to give you less than you deserve?
You pay your insurance premiums monthly. You may assume this means the insurance company will have your back if you're in an accident. Sadly, much too often that isn't the case.
Car accidents create tens of thousands of dollars in bills on average and the cost increases with serious injuries and fatalities. You're counting on your insurance company to cover most of the hefty outlay that comes with a wreck, but they may not be too quick to help you out.
An auto accident that leaves you disabled can cost an average of nearly $94,000 when you factor in costs to cover hospital stays, surgeries and ongoing treatment. When you put your hope in your insurance company and they don't deliver, they may be acting in bad faith. So why won't they pay?
Passing The Buck – Unfair Claims Practices
When you pay your insurance for help in case of an accident, Kentucky requires them to follow through in a reasonable manner. When it comes to medical bills, any medical bill submitted is presumed to be reasonable. The burden of proving a medical bill unreasonable is on the insurer who declines to pay the bill. An insurer may negotiate the amount of a bill with a medical provider but the provider may not bill the insured for any reduction. (The problem here is that, while this is true, Ky Courts have ruled that being unreasonable on a PIP claim (payment/denial of medical bills) is not a basis for an unfair claims practice act violation.)
Kentucky state law also protects you from other unfair claims practices and lists 17 ways an insurer can become liable to you, the person injured in an accident, for actual damages, damages for mental anxiety, punitive damages, interest and attorney fees that may be recovered if a violation is found.
Insurance Companies Can Act In Bad Faith
If an insurance company acts in bad faith, that means they are intentionally trying to deceive you.
Some common scenarios that may represent a bad faith claim include:
Delaying Claims Payment: Medical costs can pile up quickly and it doubles the sting when you have no way to get to work because you've been in a crash. You need the money your insurance company should pay but they may draw out the process to make you miss time restraints or accept a lower offer out of necessity.
Insurance companies have two major reasons to delay payment. For one, if the settlement is delayed long enough, there's a chance you may have a great need of the funds. This causes you stress, and you might take an otherwise unacceptable offer because you have no choice.
The second reason insurance companies delay payment is that the longer they delay paying, the more time they have to hold onto premiums and earn money on their investments. Meanwhile, you're losing sleep over how you'll pay the mortgage.
Underpaying: Insurance companies will often offer as little as they think you'll accept, not how much you deserve. Insurance adjusters look after the bottom line by coming up with an offer that means little financial impact for them while clearing another claim off their books. These offers may not take into account everything your policy should cover.
Denying: An insurer can try to come up with all kinds of reasons to avoid paying your claim. If the insurer fails to disclose the exact reason why they denied payment even though the incident should clearly fall under your policy, you may have cause for a bad faith claim.
To avoid any chance of claim denial, you have to play your part as well. Valid reasons for denying a claim can include:
You didn't report the accident immediately to the police or your insurer.
You didn't seek medical attention immediately after the accident. This can lead your insurer to have suspicions that you're filing a claim for injuries that were not caused by the accident.
Just reading an insurance policy can be confusing. Filing a claim, especially when you're injured, anxious or stressed is even more difficult. Make sure you get the help you need to get your life back on track. Consult a personal injury attorney as soon as you can to make sure you get the compensation you rightly deserve from those premiums you've been paying for so long.
Trust McCoy & Sparks – Premier Personal Injury Attorneys of Nelson County
Recognized as Nelson County's best law firm for over a decade and counting, McCoy & Sparks works to help people in trouble, representing thousands of clients in Central Kentucky with a focus on providing premium service and delivering superior results. Regardless of the type of case, our goal is to develop a strategy that best serves your personal needs, then draw upon our courtroom skills to help you reach the best possible result. We start by getting to know you. Next, we will explain all your options, giving you the pros and cons of each choice so that you will be empowered to make informed decisions. You owe us nothing unless we recover compensation for you. Make the right call to 1-844-4KY-WINS for a risk-free consultation with one of our attorneys today.