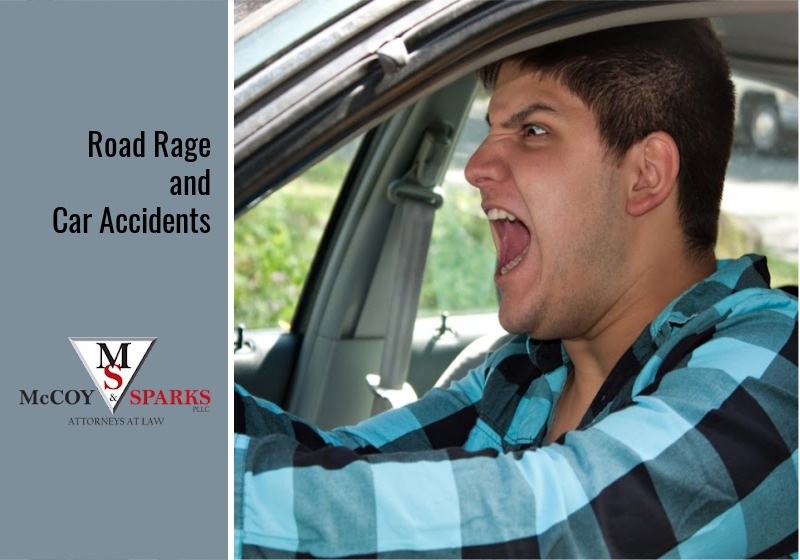 Definitions:
The National Highway Traffic Safety Administration (NHTSA) defines aggressive driving as something that happens when " an individual commits a combination of moving traffic offenses so as to endanger other persons or property."
Road rage is described as "the angry and violent behaviors at the extreme of the aggressive driving continuum" or when a driver "commits moving traffic offenses so as to endanger other persons or property; an assault with a motor vehicle or other dangerous weapon by the operator or passenger of one motor vehicle on the operator or passengers of another motor vehicle."
Another way to differentiate between aggressive driving and road rage:
Aggressive driving is a traffic violation. It is generally unsafe driving that is not directed at any one person in particular.
Road Rage (unless it is confined to shouting or gesticulating) is a criminal offense. Road rage is directed towards a specific driver. It may be caused because a driver cut another driver off or made a driving mistake; this angers the second driver who targets the first.
Statistics:
Road rage leads to approximately 30 murders per year in the U.S.
High anger drivers have twice as many accidents in driving simulations
50% of drivers respond to the mistakes of other drivers with aggressive behavior themselves
33% of all driving accidents can be linked to road rage conduct such as illegal maneuvers, speeding, tailgating, and changing lanes without signaling.
In 2019, 82% of people admitted to committing an act of road rage in the past year.
2% of all drivers have admitted to trying to drive another driver off the road.
Fatal car crashes linked to aggressive driving increased 500% in the 10 years between 2006 and 2015.
Up to 66% of all traffic fatalities are indirectly caused by aggressive driving.
Most studies show that young male adults are most likely to exhibit road rage behaviors.
In Kentucky:
Most people in the Bluegrass State are genuinely kind and polite. In fact, the real estate company, Moveto.com states that Kentuckians are friendly to a fault and gushes about how everyone in the state is "selflessly kind, friendly, and helpful." It may come as a surprise to also learn that a Gas Buddy study in 2017-2018 concluded that Kentucky has the 9th most aggressive drivers in the United States. (Just in case you are wondering — the top spot went to California.)
The list was compiled after a study noting the frequency of aggressive events in all 50 states while driving, such as speeding, hard braking, or accelerating. In Kentucky, an aggressive driving event occurred every 9.1 minutes.
The Kentucky Transportation Cabinet Office of Highway Safety warns about these telltale signs of aggressive driving:
Running stop signs and red lights
Speeding or racing
Tailgating
Weaving in-and-out of traffic (improper or erratic lane changes)
Illegally driving on the shoulder, ditch, sidewalk, or median
Failing to obey traffic signs, traffic control devices, or traffic officers, failure to observe safety zone traffic laws
Passing where prohibited
Failing to yield the right of way
Making hand and facial gestures
Making verbal threats
Screaming, honking, and flashing lights
Throwing things at another vehicle or driver
Attempting to drive another driver off the road
Brandishing or even using a firearm
Side swiping, bumping, or actually crashing into another vehicle on purpose
The Kentucky Office of Highway Safety reports that 31% of crashes in the Commonwealth involve a speeding or aggressive driver. This is why they launched the "Not So Fast, Kentucky" campaign that ran in the summer of 2021.
Recent Kentucky road rage incidents:
June 28, 2021: A road rage accident in Florence, KY led to one driver critically wounding the other by stabbing him with a broken beer bottle.
April 7, 2021: A man was charged with 2 counts of wanton endangerment after a road rage incident where he pointed a handgun at two people in another vehicle in Elizabethtown.
March 10, 2021: A road rage incident led to a shooting on Preston Highway near Louisville.
February 21, 2021: A crash attributed to road rage shut down both directions of KY-117 in Christian County.
November 30, 2020: A road rage incident led to a shooting on I-71 in Campbellsburg, KY.
October 09, 2020: A driver was shot and killed by another driver with a rifle in a road rage incident on I-75 in NKY.
September 30, 2020: After two vehicles collided in Hopkinsville, Ky, one driver got out and fired six shots, prompted by road rage.
July 17, 2020: After a road rage incident in Elsmere, NKY, one driver shot the other driver to death.
It is clear that aggressive driving can lead to motor vehicle crashes. It can also escalate to road rage, which can lead not only to crashes but also to other violence, such as shootings.
What should you do if someone is driving aggressively?
It's obvious that the absolute worst thing to do is to escalate the situation. Do not try to get "revenge" on another driver who has tailgated you or cut you off.
Instead, focus on your safety and the safety of your passengers.
Let the aggressive driver pass you. Keep distance between you.
Do not speed up or attempt to hold your lane.
Report the unsafe driver to the police; note the license plate number if possible as well as the car model and color and the driver's location and direction.
If you are approached or followed, do not stop and get out. Drive to the nearest police station, fire station, or gas station while keeping doors locked and windows closed. Do not drive home!
Avoid eye contact, and do respond to faces or gestures.
When possible, stay in the right-hand lane. This is supposed to be the non-passing lane. If slower drivers stay in the right-hand lane, it reduces traffic congestion and angry drivers.
Considering the fact that aggressive driving and road rage is so common, you may find yourself involved in an accident caused by a driver whose impulsivity and short fuse prompted dangerous driving, intentional or not. If this is the case, you need an experienced auto accident lawyer on your side.
Trust us with your case. We'll work tirelessly to get you the result you deserve.
We're recognized as one of the area's best law firms for over a decade and counting because McCoy & Sparks works to help people in trouble, representing thousands of clients in Central Kentucky with a focus on providing premium service and delivering superior results. Regardless of your situation, our goal is to develop a strategy that best serves your personal needs, drawing upon our skills to help you reach the best possible result.
Call 844-4KY-WINS or Contact Us online for a free consultation.