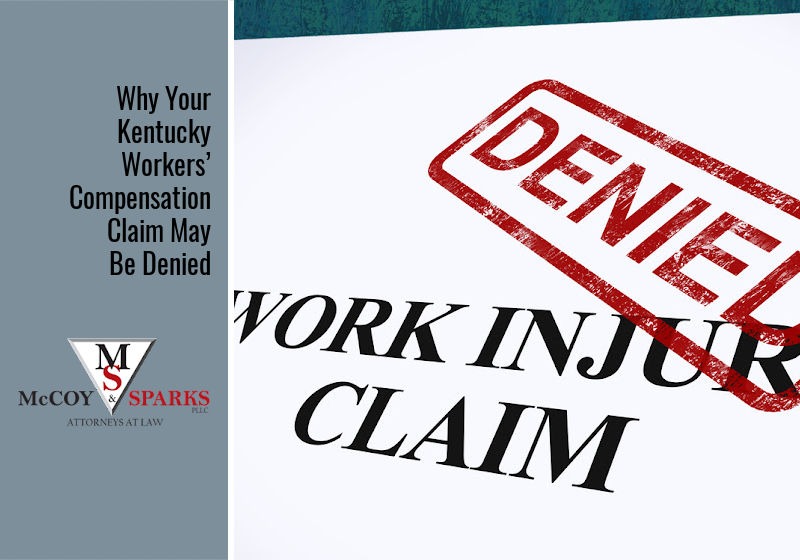 Was your Kentucky workers' compensation claim denied? Are you unsure why or what to do about it? We're here to help.
At McCoy & Sparks, we have helped many injured workers like yourself file their claims and appeal denials. Just because your claim was rejected the first time does not mean you can't still collect workers' compensation benefits.
Our Kentucky workers' compensation attorneys will carefully review your case and help you apply for an appeal if necessary. We are dedicated to helping every one of our clients get the full and fair workers' compensation benefits they deserve.
What is a Workers' Compensation Claim?
Workers' compensation is a no-fault benefit available to employees who are injured or become ill due to a workplace incident. However, though workers may be entitled to these benefits, the process of filing a workers' compensation claim can be complicated, and there are many reasons why a claim might get denied.
Top Reasons Why Kentucky Workers' Compensation Claims Get Denied
Though employees are entitled to workers' compensation, there is no guarantee that their claim will be approved, especially if they make a mistake during the process. For this reason, it's important that workers fully understand the reasons their claims might get denied so they are prepared and can avoid these common issues.
1. Didn't Report The Incident in Time
Every state has deadlines or statutes of limitations on filing workers' compensation claims. If you fail to file your claim by the deadline, you may lose part of your benefits, or your claim may be fully denied. In Kentucky, workers' compensation claims must be filed within two years of the date of the injury or the diagnosis of a work-related illness.
2. Your Injuries Are Not Severe Enough
Most workplace injuries are covered by Kentucky workers' compensation. However, if you sustain a minor injury that doesn't require medical treatment and does not affect your ability to do your job, then you will likely be unable to receive compensation benefits.
3. You Lied or Made False Statements
If you purposely lie or make exaggerated claims when filing your workers' compensation claim, it will likely get denied. Understandably, you might be worried about not getting the benefits you deserve, but you should never make false claims to get more compensation than you deserve. It's always best to be as honest as possible in these situations.
4. You Delayed Your Medical Treatment
Medical evidence that proves you were treated for an injury or illness will be required when you file your claim. This is so the insurance company can verify your injury. Doctor's statements about your injury will also help the insurance company determine what kind of benefits you are owed and how long you will require them during your recovery.
Thus, if you delay your medical treatment or refuse to go to a doctor at all, then it is likely that your claim will be denied. You must be able to show that your injury was severe enough to require medical attention if you expect to be compensated for medical bills and lost wages.
5. You Made Mistakes When Filling Out Forms
If any clerical errors were made when you were filling out your forms, this could also result in a denial. Even a simple misspelled name or the wrong date on a form can lead to a denial and delay your benefits. Double-check all of the information to make sure everything is correct on the forms before they get filed.
6. Your Employer is Trying to Dispute Your Claim
It's not uncommon for employers or their insurance companies to dispute workers' compensation claims for several reasons. One of the most common reasons this might happen is if they believe your injury was not actually work-related. Your employer might also dispute your claim if you were drunk and disorderly when the accident occurred that led to your injury.
How to Appeal a Kentucky Workers' Compensation Claim Denial
If you unintentionally made mistakes when filing your claim or if your claim is being denied unfairly, then you can work with an attorney to file an appeal. If the error was clerical, then you may be able to simply correct the error instead of going through the entire appeals process.
However, if your employer or their insurance is denying your claim for other reasons, then you will need to hire an attorney to defend you and help you navigate the appeals process. When or if this happens, you will start by requesting a hearing with an Administrative Law Judge.
If the judge still denies your claim, you can then attempt to file a petition for reconsideration to challenge the judge's decision. If this doesn't work, you can then request an appeal with the Workers' Compensation Board within 30 days of the judge's denial.
If the Workers' Compensation Board denies your claim, then your next step would be to request an appeal with the Kentucky Court of Appeals.
Trust McCoy & Sparks—Premier Workers' Compensation Attorneys in Central Kentucky
The process of filing an appeal for a denied workers' compensation claim is not easy. It can be a long and drawn-out process, especially if the judge continues to deny your claim.
At McCoy & Sparks, we have years of experience handling these kinds of cases and can help you navigate the process with ease. We know what it takes to help you win your case and ensure you are awarded the full and fair workers' compensation benefits you deserve.
You owe us nothing unless we recover compensation for you. Make the right call to (844) 4KY-WINS for a risk-free consultation with one of our workers' compensation attorneys today.