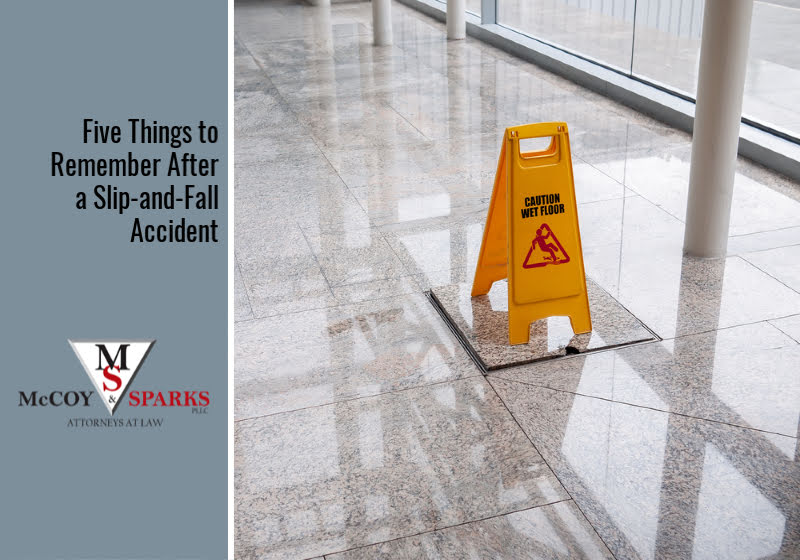 Falls are the No. 1 cause of emergency room visits in the U.S., but you may not be to blame for your injuries.
Today more than 20,000 people will be injured in slip-and-fall accidents. Many of them will head straight to the emergency room or an urgent care center, where their medical bills will quickly begin to pile up.
Even a minor injury from a fall can take months or years to heal, creating a heavy financial burden along the way. It's common to need extended physical therapy to restore the full range of motion in your hands, wrists, elbows, hips, knees, feet, back and neck.
If you ever take a tumble and are injured, you could be caught by surprise at what happens next. So here's what you need to know about your fault, your health, your finances and your rights.
1. You Should Seek Medical Care Immediately
After you're injured in a trip, slip or fall, get medical treatment as soon as possible. See a doctor to start the road to recovery and establish a medical record of your injury. Keep all medical documents, including any bills you pay.
This documentation may be valuable later if you decide to seek compensation for your injury. Injuries from falls can be expensive, and you may need to prove exactly how much you spent.
2. There's a Likelihood That Someone Else Shares the Blame
It's easy to blame yourself for a slip-and-fall injury, but don't jump to conclusions. In many states, including the state of Kentucky, even if you share part of the blame, you still can receive compensation for your injuries. The property owner may owe you money for their proportion of responsibility.
For example, loose and worn flooring materials contribute directly to more than 2 million fall injuries each year, according to the U.S. Consumer Product Safety Commission. So when you consider that falls account for about 8 million annual trips to the emergency room, you can see that neglected flooring is a huge factor in falls.
Think about where you were when the injury occurred. Did you trip over a flap of old carpeting at a restaurant? Did you stumble due to crumbling stairs in front of your rental home? Did you slip on a wet surface in a public building? In these situations, someone else may be at fault—the restaurant owner, the landlord or the city government, as examples.
3. It's Important to Report and Document the Accident
Many people don't realize the importance of notifying the right people right away. As soon as possible after the incident, report it to the manager, owner, landlord or whoever is responsible for the property. Even if it just happened at a family member or friend's house, it's essential that you notify the homeowner.
It's also within your rights to request documentation of the incident. For example, if you're injured at a grocery store, you can request a written report from the store manager. If you're injured at a friend's apartment, you can talk to their landlord and ask for a written document that confirms the date and time you reported it.
Take photos of the location of the incident and any contributing factors, like unstable flooring, missing handrails, poor lighting, icy patches and so forth. Note the timing, weather conditions and anything else that seems relevant.
4. Don't Share, Don't Accuse, Don't Give Statements
Although it's important to notify the property owner, keep your statements brief and don't get into a debate with them. Avoid directly accusing them or answering any questions about the details of the situation.
Also, refrain from sharing what happened on social media, in an online review or through any other public format. These statements could come back to haunt you later. The property owner and their lawyer could twist your words and try to avoid the blame.
5. Contact a Qualified Personal Injury Attorney
A slip-and-fall injury is the perfect example of a time in your life when you need a talented lawyer on your side. These cases are notoriously difficult to prove, so you'll need a personal injury attorney who has seen plenty of them and understands what it takes to handle them successfully.
It's best if your lawyer lives right here in Kentucky. A local attorney drives your streets every day and knows people around town. When it comes time to arrange a settlement or take it to court, a trusted local lawyer is someone a judge or lawyer will immediately recognize, helping you get the best outcome possible.
Trust McCoy & Sparks—Premier Personal Injury Attorneys in Nelson County
Recognized as Nelson County's best law firm for over a decade and counting, McCoy & Sparks works to help people in trouble, representing thousands of clients in Central Kentucky with a focus on providing premium service and delivering superior results.
Regardless of the type of case, our goal is to develop a strategy that best serves your personal needs, then draw upon our courtroom skills to help you reach the best possible result. We start by getting to know you. Next, we will explain all your options, giving you the pros and cons of each choice so that you will be empowered to make informed decisions. You owe us nothing unless we recover compensation for you.
Make the right call to 1-844-4KY-WINS for a risk-free consultation with one of our attorneys today.