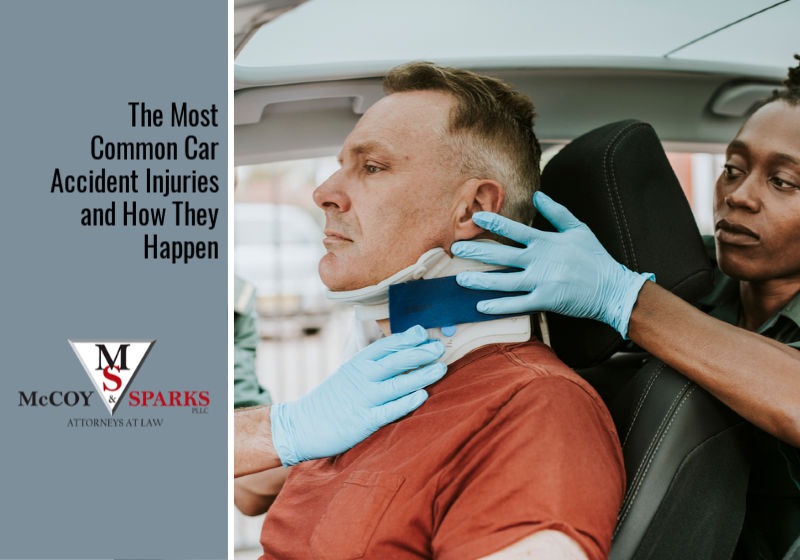 Most of the time, car accidents are caused by human error and are completely preventable—until they aren't. When car crashes happen, they can lead to serious injuries. What type of injuries can occur? If you're injured in a car accident, what should you do next?
In 2018, 227.5 million people in the U.S. held a valid driver's license, and in the same year, there were 33,654 auto accidents in the country resulting in 35,650 deaths, according to the Insurance Institute for Highway Safety.
Car crashes happen every day. But you or a loved one are involved in a motor vehicle accident, it can have a huge impact on your day-to-day life. What should you do if you've been injured in an auto accident?
Causes of Car Accidents
Every 24 seconds someone dies on United States roadways as a result of a car accident. Most accidents happen as a result of human error. What are some of the most common causes of car accidents across the U.S.?
Distracted driving (including texting while driving)
Breaking the speed limit
Reckless driving
Running a red light
In each of these cases, an accident could most likely have been prevented if human error had not been a factor. Human error is a factor in 90 percent of all traffic crashes. Drunk driving alone is entirely preventable, and drunk driving-related accidents happen often. Each day, 30 people die in drunk drinking-related crashes, or 1 person every 50 minutes, contributing $44 billion annually in damages and costs.
Speeding is another major cause of crashes, traffic deaths and injuries. Excessive speeding affects reaction time, stopping distance and viability of road safety structures like guardrails and concrete barriers. Speeding was a factor in 26 percent of all traffic fatalities in 2018, causing 9,378 deaths in the U.S. that year alone.
Another common cause of car crashes is distracted driving, which can look like texting and driving, but it can also mean adjusting the radio, eating a sandwich or getting arguing kids to behave in the backseat. Distracted driving led to 2,841 deaths in 2018 and is entirely preventable.
Common Car Accident Injuries
The type and severity of injuries sustained in a car crash are dependent on many factors, and each crash is unique. Some common injuries can heal on their own after a few days with no medical treatment, but for some, injuries can affect them for the rest of their lives.
Factors that contribute to the severity of an injury include things like:
The location of impact. Did the car get hit from the side, an angle, or from the rear end or head-on?
Was the individual wearing a seatbelt?
The occupant's body positioning in the car. Were they sitting facing straight ahead, or were they turned?
Speed of the vehicles at the time of impact.
Properly functioning airbags.
What type of injuries are most commonly suffered in the event of an auto accident?
Soft tissue injuries: This refers to the body's connective tissue like muscles, tendons and ligaments. The soft tissues are stretched to damage in reaction to the sudden movements of a collision.

Whiplash: Whiplash is a particular type of soft tissue injury that happens to the head and neck as a result of the force of a collision. The muscles and ligaments are stretched, which can cause injuries throughout the neck and back. Car accidents frequently cause mid-back and low-back sprains and sometimes more serious injuries as a result of the impact force against the spine.

Scrapes, cuts and lacerations: Loose items in a car become airborne in a collision and become projectiles thrown about the car. These items can come in contact with your body and cause lacerations. These items can prove to be very dangerous in a car crash.
Head injuries: Collision-related head injuries can range from minor to very severe. The unexpected stop of the car can cause a person's head to collide with the steering wheel or the side window, causing scrapes, lacerations and closed head injuries, which can lead to concussions or traumatic brain injuries.
Chest injuries: Even if a vehicle's occupant is wearing a seatbelt, they still can experience bruising, contusions, broken ribs and internal bleeding injuries. These injuries happen when the driver's chest hits the steering wheel or the occupant's forward momentum is halted by the seat belt.
Arm and leg injuries: Especially in a side-impact crash, a driver or passenger's limbs may be thrown against the door, sometimes with a great deal of force. This could result in bruising, scrapes or sprains and also can cause broken bones.
What to Do If You've Been Injured in a Car Accident
An injury from a car accident can have long-term and lasting effects on your life, from your health and comfort to your physical, financial and emotional wellbeing. If you've been injured in an auto accident seek medical attention, and then you need to speak to a personal injury attorney so that the driver is held accountable and you can recover financial compensation to take care of your basic needs and move on with your life.
We know you didn't ask for an accident to happen. At McCoy & Sparks, we focus on helping you move past your car crash and your injuries. We use our knowledge and expertise to advocate for your best interests, representing your wants and needs by getting to know you first.
Trust McCoy & Sparks, Premier Personal Injury Attorneys in Nelson County
Recognized as Nelson County's best law firm for over a decade and counting, McCoy & Sparks works to help people in trouble, representing thousands of clients in Central Kentucky with a focus on providing premium service and delivering superior results.
Regardless of the type of case, our goal is to develop a strategy that best serves your personal needs, then draw upon our courtroom skills to help you reach the best possible result. We start by getting to know you. Next we will explain all your options, giving you the pros and cons of each choice so that you will be empowered to make informed decisions.
You owe us nothing unless we recover compensation for you. Make the right call to (844) 4KY-WINS for a risk-free consultation with one of our attorneys today.