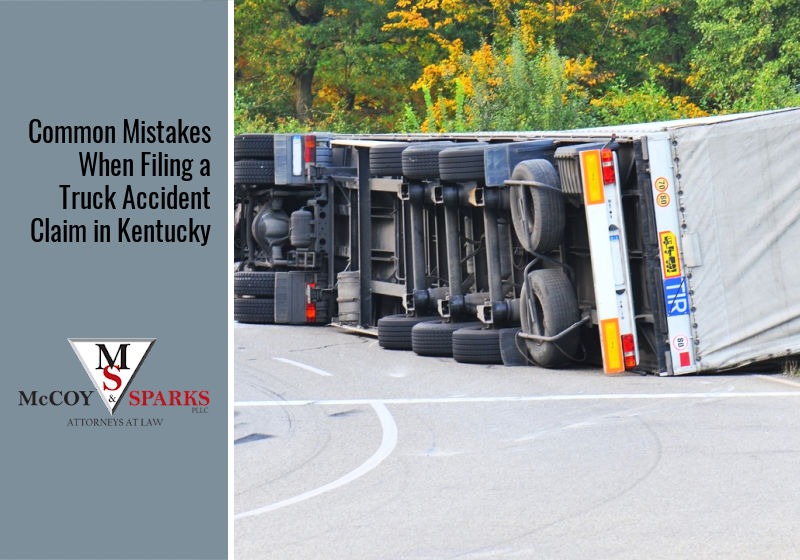 Any accident is upsetting and shocking in the seconds when it occurs and then in the moments and days afterward. It is especially traumatic to be involved in an accident with any kind of truck. After all, trucks can weigh anywhere from 10,000 pounds to 80,000 pounds; no car is a match for that kind of weight, heft, and momentum.
2020 Statistics:
In the United States, there were 4,998 fatal crashes involving large trucks or buses, and in Kentucky, there were 106.
107,000 large trucks were involved in collisions serious enough to result in injuries in the U.S.
In Kentucky, 1,315 truck collisions resulted in non-fatal injuries.
Kentucky's Transportation Department's 2020 Collision Facts Report listed contributing factors for 2020 truck accidents. They included: tire failure, load securement, defective brakes, tow hitch failure, oversized load, and steering failure. Truck drivers can also be guilty of speeding, driving while fatigued, and distracted driving.

In the stress and confusion of the moment, it's easy to make a mistake if you are one of the people who have just been struck and injured by one of these titans of the road. Some of the errors are actions that people do, and some are actions that they don't do. It's important to be aware of both when filing a truck accident claim.
DO:
Contact the police while you are still at the scene of the accident. You will need an accident report. The police will make sure that you are safe and have medical assistance: they will also gather all of the details about the accident that you will need later on. Make sure to get a copy of the accident report.
Take pictures of the scene of the accident with your cell phone. Obviously, this only applies if you are able to safely leave your vehicle. Make sure that your photos include the damage to both vehicles, any braking or tire friction marks on the road, and the area around the crash scene.
Seek medical attention. Sometimes people aren't aware of their injuries and don't feel pain because they are still full of adrenaline. Many injuries only become evident in the hours, days, or even weeks after an accident. For your own safety, you need to be checked for internal injuries, whiplash, concussion, as well as a host of other injuries that may not be immediately apparent. You also don't want a reluctant insurance company to deny your claim later on and use the excuse that since you didn't seek medical attention immediately after the trucking accident, you were clearly not injured.
Contact our team of experienced Kentucky trucking accident lawyers to advise you.
Your lawyer can:
Send the trucking company a letter of spoliation; this is a notice telling them not to get rid of any evidence.
Gather evidence for you.
Handle communication with your insurance company and the trucking company's insurance company.
Deal with the truck driver and the trucking company.
Talk to the police or other authorities.
Gather your medical bills.
Organize your legal paperwork.
Identify witnesses and locate experts.
Reconstruct the accident.
Prepare for meetings and keep track of important dates and deadlines.
Negotiate a fair settlement for you.
If a fair settlement is not forthcoming, take your case to court.
DO NOT:
Make a recorded statement for the insurance company. This is not something you are required to do. Instead, direct the insurance company to deal with your lawyer.
Agree to any settlement offered to you without consulting with your lawyer. You will almost certainly receive an inadequate lowball offer at first. Many people make the mistake of agreeing to a settlement too quickly, but your lawyer will be able to advise you about what is an acceptable offer. You should also consider the fact that you may not know for some time how well your injuries will heal, how long you will be out of work, or what rehabilitation or assistive devices you may need in the future.
Post anything about your accident on social media. Almost anything you say publicly can be found and can be twisted. You may be in terrible pain, but if you post a smiling picture of yourself with your aunt who brought you flowers, the insurance company's lawyers can argue that you look fine and seem happy. Do not make this mistake!
Wait to file a lawsuit. Kentucky's personal injury statute of limitations is one year from the date of injury or from when the injury was discovered. You can read more details about this in our blog.
Fail to hire an attorney as soon as possible. Yes, we know; this was also mentioned in the DO category, but it is important enough to underscore twice.
McCoy & Sparks has been recognized as one of the area's best law firms for over a decade and counting because we work to help people in trouble, representing thousands of clients in Central Kentucky with a focus on providing premium service and delivering superior results. When filing a truck accident claim, our goal is to develop a strategy that best serves your personal needs, drawing upon our skills to help you reach the best possible result.
Call for a free consultation: 1-844-4KY-WINS or Contact Us Online