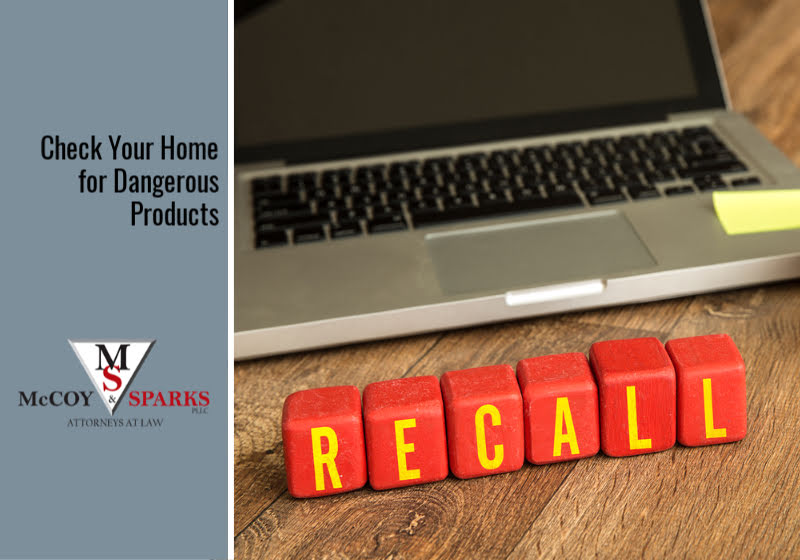 What you'll learn reading this article:
It's a good idea to check your home for dangerous products.
Certain products have been in the news lately for presenting dangers.
If you're injured by a dangerous product, you can sue the company that made it.
Do you have dangerous products in your home? Although we think of our homes as safe places, unsafe products are all around us.
The Consumer Product Safety Commission (CPSC) studies millions of products and finds plenty that are dangerous. For example, look at a narrowly-defined category like "unsafe televisions falling." CPSC records show that about 11,800 people every year are injured by falling televisions so severely that they need a trip to the emergency room.
Unfortunately, most people don't realize which products in their homes are dangerous until it's too late. This is why the CPSC and other safety organizations suggest that you review your home thoroughly for unsafe products.
Which Products in Your Home are Dangerous?
Let's look at which kinds of items in your home are most likely to be hazardous to your health. These are some of the products that have been in the news lately for the dangers they present.
Furniture
Certain furniture has a high risk of toppling over and hurting someone. Tall pieces of furniture, like bookcases, armoires, and dressers, are particularly hazardous when you have small children in your home.
The furniture chain IKEA recently paid about $50 million to settle lawsuits over chests and dressers that hurt people. They were ordered to offer refunds, provide wall anchoring kits, and compensate those who suffered injuries.
Body Products
Johnson & Johnson baby powder might seem like a gentle product with no hidden dangers. Unfortunately, studies have linked this talcum powder to cancer numerous times since the 1970s.
Johnson & Johnson is now paying damages in high amounts including $50 million, $70 million, $72 million, and $117 million. People have successfully won compensation after talcum powder contributed to their health conditions like cervical cancer and mesothelioma.
Choking Hazards
Certain types of products contain tiny pieces that are choking hazards. This is especially dangerous when the products are actually designed for children! Examine your child's toys, clothing, and eating/drinking utensils for small parts that could be dangerous.
In February 2020 the CPSC announced a recall of Contigo Kids' Cleanable Water Bottles, which have a small mouthpiece that can detach and create a choking hazard. The recall includes about 5.7 million of these bottles, plus millions of other very similar Contigo bottles that were recalled in August 2019.
Batteries
When you think of the batteries in your home, you probably picture the AA batteries sitting inside the remote control. But many products have other types of internal batteries, including cell phones, laptops, tablets, hoverboards, drones, headphones, and e-cigarettes.
Sometimes these batteries explode with no warning. The number of vape battery explosion lawsuits is on the rise, with more than 120 lawsuits in a single year. These include cases where people had mouth burns, lost teeth, eye damage, or even groin injuries when their vaping devices suddenly exploded.
Here's What to Do if You're Injured by a Dangerous Product
When you're hurt by a hazardous product, you're left with injuries and medical bills that aren't your fault. It's time to hold the company responsible for making something that could so easily harm you.
To sue over a dangerous product, you'll need an experienced product liability attorney who understands how to handle these complex cases. Your attorney will help you establish the facts of the case, seek the compensation you deserve, and put the blame where it belongs: on the company that made a dangerous product.
Trust McCoy & Sparks – Premier Personal Injury Attorneys in Nelson County
Recognized as Nelson County's best law firm for over a decade and counting, McCoy & Sparks works to help people in trouble, representing thousands of clients in Central Kentucky with a focus on providing premium service and delivering superior results. Regardless of the type of case, our goal is to develop a strategy that best serves your personal needs, then draw upon our courtroom skills to help you reach the best possible result. We start by getting to know you. Next, we will explain all your options, giving you the pros and cons of each choice so that you will be empowered to make informed decisions. You owe us nothing unless we recover compensation for you. Make the right call to (844) 4KY-WINS for a risk-free consultation with one of our attorneys today.