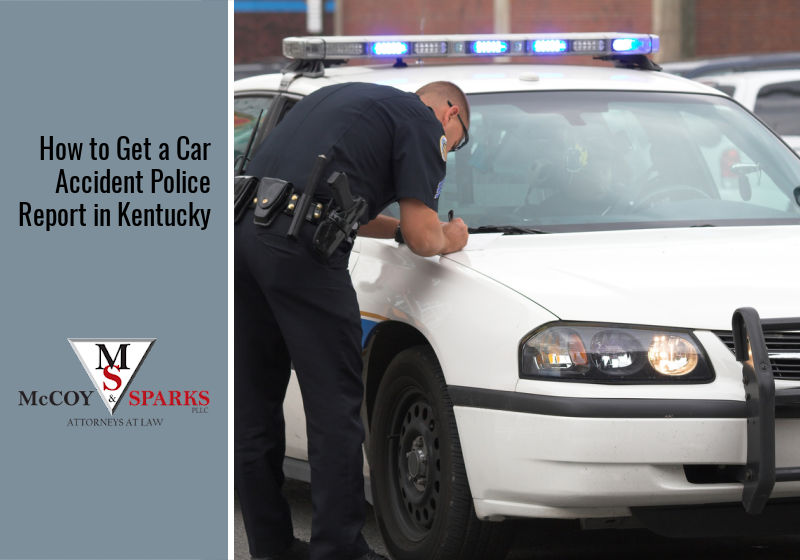 Car accidents can be scary and overwhelming. As a result of the initial shock and trauma in the moments that follow an accident, it's not uncommon for victims to make mistakes that can negatively affect their car accident claim.
For example, some people will avoid calling the police because they don't want to make the accident a big deal—but this is a mistake. If you are injured in the accident, you will need to file a personal injury claim to recover compensation, and a police report will be necessary to help prove what happened, even for minor accidents and injuries.
Thus, you should always call the police after an accident, even if you think the accident isn't a big deal. Furthermore, in some cases, you may even need to obtain a copy of the police report to provide as evidence. Many people don't know how to do this, however.
So, let's take a look at how you can get a copy of your car accident police report in Kentucky.
And if you have any further questions about your Kentucky car accident after reading this article, don't hesitate to reach out to our legal team for assistance.
Why Police Reports Are Essential After a Car Accident
Police reports contain vital information that your attorney and others involved in your case will need to ensure the right party is held accountable and to make sure damages are adequately compensated. Without a police report, you may fail to present a strong case as you will lack the necessary evidence to prove what happened, which means your claim could be denied, or you could be awarded much less compensation than you deserve.
A thorough police report includes information that can help your case, such as:
The names of all parties involved
The location of the accident
The time and date the accident occurred
Damages caused by the accident
Citations that were issued
Auto insurance info for those involved
Factors that contributed to the accident, such as speeding, drunk driving, bad weather, driver distraction, poor road conditions, etc.
Even if you contributed to the accident yourself, it is still important to obtain a police report. Because Kentucky is a pure comparative fault state, at-fault parties can still recover compensation; their settlement will simply be reduced based on their percentage of fault.
So always call the police and make sure a police report is filed and obtained. Even if you were at fault, another party could also share some of the blame, which means you can still file a claim and potentially recover compensation for your damages, such as coverage of medical expenses for your injuries.
How to Obtain a Car Accident Police Report in Kentucky
If the police are not called, you can still submit a civilian traffic collision report on your own. Kentucky law requires a report for any accidents that involve property damage exceeding $500.
So, if the police did not investigate the accident and file their own report, you can file one yourself by going to the online Kentucky State Police Portal. You will have ten days to file a report yourself if the police did not file one of their own.
If the police did show up and investigate the accident, you have three options for obtaining a copy of their report:
Go to the Kentucky State Police barracks in person to request a copy of the report.
Send a written request via U.S. Mail to the Kentucky State Police post that worked the accident. You will need to pay a $5.00 fee to obtain the report this way, which should be written as a check or money order addressed to the Kentucky State Treasurer. You will also need to include your name, the date of the collision, and the location of the accident in your written request. You can mail the request to: Kentucky State Police Headquarters, ATTN: Open Records, 919 Versailles Rd., Frankfort, KY 40601
Order a copy of the report online at www.buycrash.com. Once there, you will need to select "Kentucky" in the drop-down menu and pay a $10 fee, which can be paid by credit card. After you have paid, you can then print a copy of the report.
Trust McCoy & Sparks—Premier Personal Injury Attorneys in Central Kentucky
If you don't want to obtain a copy of the police car accident report yourself, you can have your personal injury attorney get the records for you. Hiring an experienced personal injury attorney to help with your case is advised anyway, as you are more likely to present a strong case and get the compensation you deserve with professional representation.
Recognized as one of Central Kentucky's best law firms, McCoy & Sparks represents thousands of clients in Central Kentucky. With a focus on providing premium service, our goal is to develop a strategy that best serves your personal needs to help achieve the best possible outcome. You owe us nothing unless we win your case. Call us at (844) 4KY-WINS for a risk-free consultation with one of our car accident attorneys today.