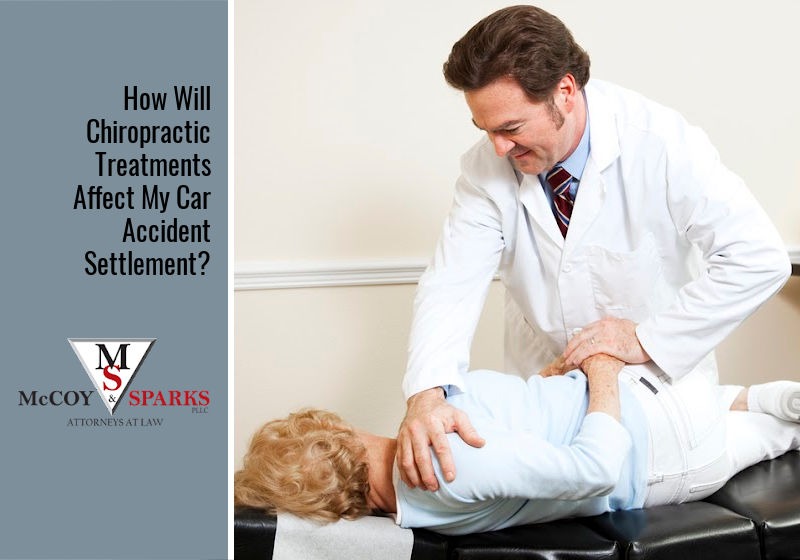 Car accidents can result in various damages and injuries that require medical care. In some cases, your injuries may even require long-term treatments and therapy to fully recover, such as chiropractic treatments. However, while personal injury claims are meant to help cover most medical expenses related to the accident and your injuries, insurance companies will sometimes try to deny coverage for certain treatments if they don't think they are necessary. For example, chiropractic treatments affect car accident settlements.
If your claim gets denied or if the settlement amount is not enough to cover your chiropractic treatments, you may need to get an experienced personal injury attorney involved. If your car accident results from another party's negligent actions, you have a right to file a claim against them for compensation to help pay for damages, including your medical expenses. It is not uncommon for insurers to deny claims or use tactics to reduce settlement amounts, but an attorney can advocate for your rights and ensure they pay you the full amount that you are owed.
Are Chiropractic Treatments Covered By Auto Accident Settlements?
Car accident settlements help injured victims recover damages, such as medical expenses, loss of wages, pain and suffering, and emotional distress. They can even cover long-term treatments such as rehabilitation therapy and visits to the chiropractor. However, getting coverage for these types of treatments requires showing proof that they are a necessity.
Insurance companies are notorious for finding ways to reduce settlement amounts or even to deny a claim entirely. For example, they could use your medical history against you and say that a past injury is why you need to see a chiropractor, not your current injury from the accident.
Fighting against insurers in these citations can be challenging and frustrating, especially if your current injury does require chiropractic care. However, a personal injury attorney can work with you to help you gather and provide the information and evidence needed to fight against the insurance company.
Chiropractors Can Help Your Personal Injury Case
Chiropractors can help patients who experience various injuries fully recover and get back to themselves and their daily lives again. Often injuries from car accidents can result in long-term pain and discomfort that only a chiropractor can help with. If you are still experiencing issues after your injury is initially treated by a doctor, you should see them again to get a referral to a chiropractor.
You should not avoid seeing a chiropractor just because you are afraid your settlement won't cover the cost. If you need these treatments to fully recover, your health and wellbeing should always come first. Just make sure you keep records of everything you get care for after the accident, including any documents that show your doctor referring you to a chiropractor.
Though insurers may try to claim chiropractic treatments are unnecessary, if your injuries were so bad that they required the help of a chiropractor, the court would see this as further proof that the insurance company owes you money to cover these costs. Again, proof in these cases is essential. Keep organized and detailed records of all treatments and doctors' orders.
Proving the Necessity of Chiropractic Treatments
In many cases, your attorney can help you negotiate a settlement with the insurance company using the medical documents you have gathered—rarely do these cases go in front of a jury. However, if the insurer continues to refuse coverage for the chiropractic treatments, taking the case to court may be necessary.
In either situation, whether negotiating with the insurance company or pleading your case in court, you will have to show proof that chiropractic care was necessary. To do so, you will need to provide as much detailed information and evidence as possible. This can include:
Medical documents and bills from the initial treatment of your injury by a doctor
Accounts and descriptions of how your daily life was still affected and you continued to experience pain or other issues
Documents showing that your doctor referred you to a chiropractor
All medical documents and notes from your chiropractor and their orders and treatment plan to help you recover
Detailed notes on all medical and chiropractic appointments, including days, times, any prescriptions, and bills or receipts
In these cases, the more information you can provide to show the necessity of your treatments, the better.
Trust McCoy & Sparks—Premier Car Accident Attorneys in Central Kentucky
We understand how frustrating it can be to have your settlement reduced or certain treatments denied by insurance companies. Our team of compassionate and experienced attorneys is dedicated to advocating for our client's rights to ensure they get the compensation they deserve to help them fully recover from their injuries after an accident.
Recognized as one of Central Kentucky's best law firms for over a decade and counting, McCoy & Sparks works to help people in trouble, representing thousands of clients in Central Kentucky with a focus on providing premium service and delivering superior results.
Regardless of the type of case, our goal is to develop a strategy that best serves your personal needs, then draw upon our courtroom skills to help you reach the best possible result. We start by getting to know you. Next, we will explain all of your options, giving you the pros and cons of each choice so that you will be empowered to make informed decisions.
You owe us nothing unless we recover compensation for you. Make the right call to (844) 4KY-WINS for a risk-free consultation with one of our attorneys today.