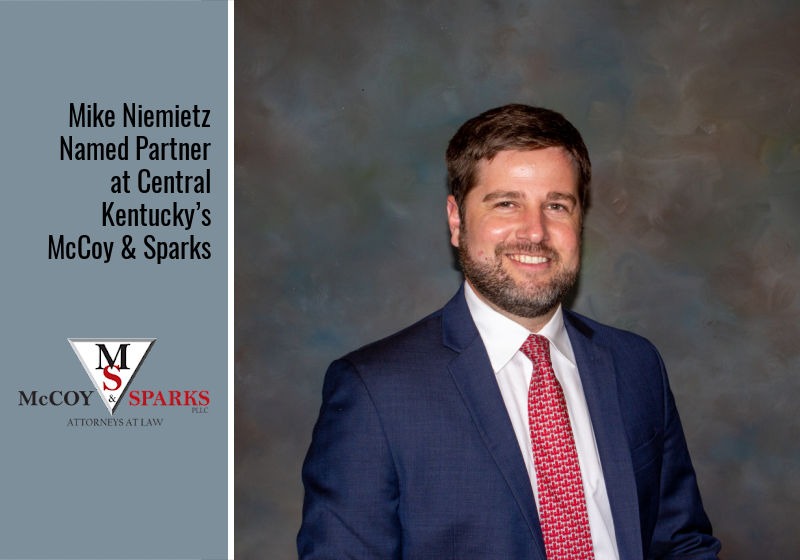 McCoy & Sparks is proud to announce that Mike Niemietz has become a partner in the law firm. Mike has been with the firm since 2014 primarily handling criminal and domestic cases, along with running an active civil and personal injury practice.
Mike is a member of the Kentucky Bar Association and the Nelson County Bar Association. He's a graduate of the Truman State University and gained his legal training at the University of Kentucky College of Law. In his many years serving the community, Mike has gained a reputation as a strong legal advocate who treats people with respect and compassion.
Keith Sparks, a founding partner of McCoy & Sparks, is proud to welcome Mike as a partner in the firm. "Mike is a tremendous lawyer," Sparks says. "He works hard to protect his client's interest. He is highly respected by his peers and by the judges that he practices before. We are very lucky to have him on our team and I look forward to practicing alongside him as a partner."
A native of Southern Illinois, Mike moved to Central Kentucky during law school and began clerking for a widely respected Circuit Court Judge. He expanded his legal training while working for the Louisville Metro Public Defender's Office.
He also has a background in the field of legal advising for healthcare. He worked in subrogation lien enforcement for 6 years, handling legal issues for health insurance companies. His desire to return to serving everyday people brought him to McCoy & Sparks in 2014. Mike and his wife, Annie, live in her hometown of Bardstown, Kentucky.
Mike is delighted to be named a partner with McCoy & Sparks. "I truly believe McCoy & Sparks is one of the preeminent law firms in Central Kentucky," Niemietz said. "We are uniquely suited to aggressively represent this community if they suffer an injury, need help with criminal defense matters, or require counsel on family law matters. I am beyond thrilled to continue representing the residents of Central Kentucky with Michelle, Keith, Audrey, and the rest of the staff. Our team makes McCoy & Sparks different from the rest and I am honored to be a partner with this law firm."
Trust McCoy & Sparks – Premier Personal Injury Attorneys in Central Kentucky
Recognized as one of Central Kentucky's best law firms for over two decades and counting, McCoy & Sparks works to help people in trouble, representing thousands of clients in Central Kentucky with a focus on providing premium service and delivering superior results.
McCoy & Sparks works to develop a strategy that best serves each client's personal needs, then draws upon extensive courtroom skills to reach the best possible result. Make the right call to 1-844-4KY-WINS for a risk-free consultation with an attorney today.