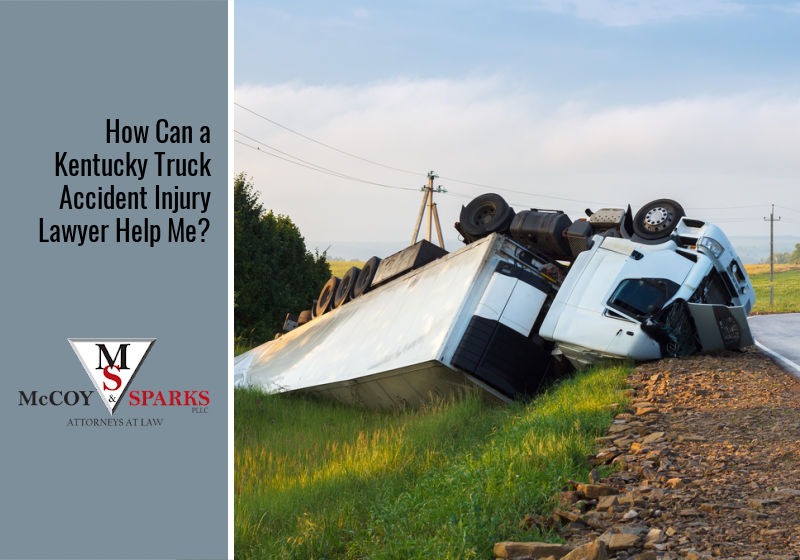 Truck accidents involving large semi-trucks and other vehicles are often some of the worst accidents a person can experience. Working with an experienced Kentucky truck accident injury lawyer can make a huge difference in your case and the settlement you are awarded. Commercial trucks weigh thousands of pounds and are much larger than other vehicles, which results in significant damage and injuries.
However, not only are truck accidents more severe and even tragic but filing a personal injury claim is much more complex when trucking companies are involved. Trucking companies often have their own expert legal teams defending them, which can make recovering compensation and settling the case more of a challenge.
Common Truck Accident Injuries in Kentucky
One of the biggest concerns with truck accidents in Kentucky is how deadly they can be. Large trucks are often involved in fatal crashes due to their size and weight compared to other vehicles. And even when these accidents aren't deadly, they still often result in severe, life-changing injuries.
As such, victims of truck accidents deserve to be fully and fairly compensated to help pay for their medical expenses, other financial losses, and all that they have suffered as a result of the accident. Unfortunately, getting trucking companies and their insurance companies to pay up can be difficult without an experienced attorney protecting your rights.
Below are just a few of the many truck accident injuries a person can suffer from and need help paying for after an accident:
Head trauma
Neck injuries
Crushed or amputated limbs
Internal organ damage
Loss of bodily functions
Fractured bones
Lacerations
Paralysis
Permanent impairment
How Can a Truck Accident Injury Lawyer Help Me?
While you are not required to work with a truck accident injury lawyer, doing so can benefit you and your case in many ways. When you file a truck accident injury claim, an attorney can:
1. Help determine liability
When dealing with truck accidents, multiple potentially liable parties can be involved. If the truck driver was operating the truck negligently, then they could be to blame for the accident. However, there are also situations where the trucking company could be at fault, the owner of the truck, the truck manufacturer, or even a third party like the cargo or shipping company. However, tracking down these parties and their potential involvement in the accident is not easy without the help of a lawyer.
2. Help investigate and gather evidence
The more evidence you can gather to prove what happened after a truck accident, the better. A truck accident lawyer will have the skills and experience needed to investigate the accident and uncover evidence that can be used to support your case. This includes getting access to phone records, logbooks, the truck black box, employee records for the truck driver, information about the cargo company, documents pertaining to the truck maintenance and manufacturer, etc.
3. Understand federal truck regulations
There are specific laws and regulations that truck drivers and trucking companies must adhere to. If they fail to comply with these regulations, they can be held liable for any accidents that occur as a result. An experienced truck accident injury lawyer will be familiar with these federal regulations and will know what to look for, which can aid in the investigation and determining what happened and who was at fault.
4. Deal with the insurance company
Personal injury claims and lawsuits often involve a lot of back and forth with the insurance company involved, which can be overwhelming for someone who doesn't have experience. A truck accident injury lawyer can handle these communications for you, making sure the insurance company is handling the case fairly and is not trying to use anything against you to reduce your settlement.
5. Negotiate a fair settlement
There are many factors involved in truck accident cases that can play a role in how much money the case is worth. However, even if a victim deserves a certain amount, there is no guarantee that the insurance company or any other parties involved will actually pay that amount. This is where having a lawyer defending you can be crucial. They can fight for your rights and ensure you are awarded the full and fair settlement you deserve, which can include taking the case to court if necessary to maximize your compensation.
Trust McCoy & Sparks—Premier Truck Accident Injury Lawyers in Central Kentucky
If you are involved in an accident with a large commercial truck, our team of experienced truck accident injury lawyers can help. We know how complicated truck accident cases can get and are dedicated to helping our clients get the compensation they need and deserve to help pay for their medical expenses and other damages.
Recognized as one of Central Kentucky's best law firms, McCoy & Sparks works to help victims in need, representing thousands of clients in Central Kentucky with a focus on providing premium service and delivering superior results.
You owe us nothing unless we recover compensation for you. Make the right call to (844) 4KY-WINS for a risk-free consultation with one of our attorneys today.