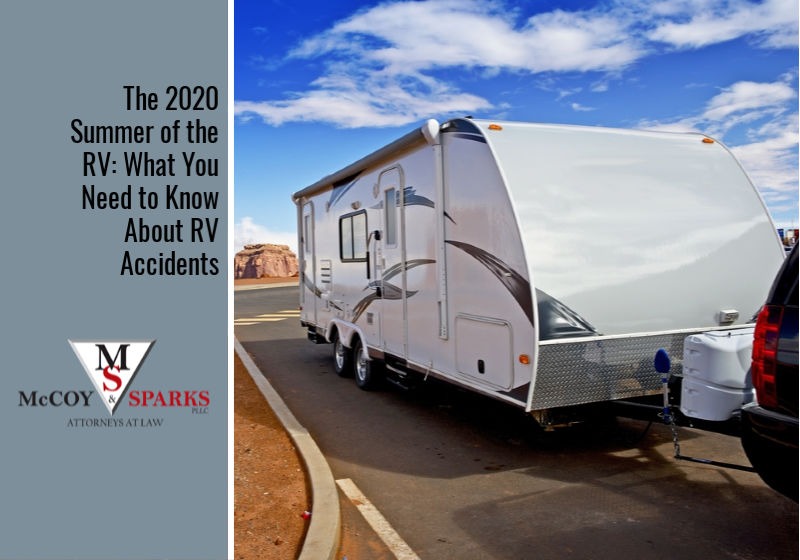 Summary: With an expected resurgence in RV travel this summer, it's crucial to stay informed about the causes of RV and motorhome accidents. RVs are incredibly heavy and can sometimes pair tired or inexperienced with high speeds. It's a dangerous combination. Before an accident occurs, you need to make sure you have proper insurance coverage. Afterward, McCoy & Sparks take care of the your needs.
As Americans kiss their typical summer vacation plans goodbye and focus on social distancing in 2020, it seems that there's never been a more popular time to buy or rent a recreational vehicle (RV) and travel across the countryside exploring the great outdoors.
There's less risk involved: You can travel with all of your meals, avoid hotels, and safely get away from your home office and breathe some fresh air for a little while.
Perhaps this is why both The New York Times and Forbes Magazine have deemed 2020 "the Year of RV Travel."
Gas prices are currently incredibly low. And while AAA expects Americans to take 150 million fewer trips this summer, a decline of 15 percent, they only are expecting to see a slight dip in the number of Americans traveling by car or RV—about 3 percent fewer trips by car or less. So if you're thinking your RV trip will be all about hitting the open road, you may run into more traffic than you think.
Traveling by RV may be a brand new experience for you, or it may feel like just another summer. Either way, it's a smart idea to be informed about the dangers of RVs so you can stay safe as you travel in a socially distanced style, experiencing the majesty of the United States.
If you're planning to take a road trip by car? You may see more RVs on the road. How can you avoid a collision with a massive RV when you're traveling?
What Makes RVs So Dangerous
The average RV or motorhome weighs around 5,200 pounds before being loaded up with gear and water. Once it's been loaded up, RVs are estimated to weigh an average of 7,200 pounds. Careening down the highway at 60 miles per hour, that can be a very dangerous—and sometimes even lethal—combination if something goes wrong.
If you combine this incredible force with an inexperienced RV driver or a driver who has logged many hours on the road, you can end up with a major problem headed down the turnpike. Also, some people feel that riding in an RV gives you the freedom to remove the seatbelt. While this may feel liberating, it is not advised and can lead to much more severe injuries.
Common Causes of RV Accidents
When we think of RVs, the usual demographic is retired seniors enjoying their newfound freedom. But as families strive to find ways to travel together amidst safety concerns, a younger generation of RVers is hitting the road.
RVs must undergo crash and rollover tests, but many accidents still happen as a result of driver error. Mistakes can happen, and knowing what they are and how to prevent them can stop your vacation from taking a dangerous turn.
What are the most frequent causes of RV accidents?
Speeding
High winds
Driver fatigue
An overloaded RV
An unbalanced or unevenly loaded RV
Rollovers
Miscalculating turns or taking turns too sharply
Miscalculating stops or trying to stop too fast
Unfamiliarity with RV blind spots
A detached trailer (either the RV coming detached or the car hitched to the back of the motorhome)
Something else to keep in mind? Many trailer-style RVs have a notoriously short wheelbase, which means the axles are too close to the front of the trailer for safe weight distribution, which also can lead to a major accident when traveling at high speeds. These accidents even can cause rollovers, which can lead to major injuries and even fatalities.
There are also some instances of faulty tires on RVs and motorhomes leading to loss of control on the road, which in 2018 had already contributed to 95 deaths and other serious accidents. With RVs, there are all kinds of reasons that accidents can happen. Staying informed is key to doing everything you can to stay safe.
RVs, RV Insurance and Kentucky's No-Fault Laws
Kentucky is one of several states that have some kind of no-fault insurance laws for accidents. This means that each driver pays for their own insurance policy to receive treatment for medical bills and financial losses. In Kentucky, this is called personal injury protection (PIP), and these benefits cover up to $10,000 in medical bills, lost wages and other financial costs.
Kentucky also has no-fault thresholds in play, which means that if your medical costs exceed a certain amount, you can file a liability claim or a lawsuit to help pay for your expenses. In Kentucky, you can file a personal injury liability claim or a lawsuit if you meet one of the following criteria:
The accident led to over $1,000 in medical bills.
The accident led to life-altering injuries such as permanent disfigurement; fracture of a weight-bearing bone; a compound, compressed, or displaced fracture of any bone; any kind of permanent injury; or any permanent loss of a body function.
Additionally, insurance for your RV is a must. To protect yourself and others, RV insurance is required by every state in the country. The amount of insurance coverage you need varies by state, so before you head out on your next adventure, check in with your insurance agent to ensure you're covered for your entire trip.
If You've Been Injured in an Accident Involving an RV
RVs can do major damage. That much weight traveling so fast can cause terrible injuries. Some RVs and motorhomes do not hold up well in accidents and can collapse upon rolling. It can be a scary, life-threatening event. There's a lot of information to sift through, including who is at fault and how the RV manufacturer potentially factors into the accident.
If you have been injured in an accident involving an RV or motorhome, you may have a lot of questions about how to proceed. If you've been injured, the most important thing you can do is seek immediate medical attention. And then? Contact us.
At McCoy & Sparks, we always are working in your best interest. We'll listen to your needs and concerns and then advocate for what's right for you. RV accidents can be traumatic. Moving forward after a collision can be a challenge. We'll help you.
Contact us today to see what we can do for you after your RV accident.
Trust McCoy & Sparks—Premier Personal Injury Attorneys in Nelson County
Recognized as one of Central Kentucky's best law firms for over a decade and counting, McCoy & Sparks works to help people in trouble, representing thousands of clients in Central Kentucky with a focus on providing premium service and delivering superior results. Regardless of the type of case, our goal is to develop a strategy that best serves your personal needs, then draw upon our courtroom skills to help you reach the best possible result.
We start by getting to know you. Next, we will explain all your options, giving you the pros and cons of each choice so that you will be empowered to make informed decisions. You owe us nothing unless we recover compensation for you.
Make the right call to (844) 4KY-WINS for a risk-free consultation with one of our attorneys today.