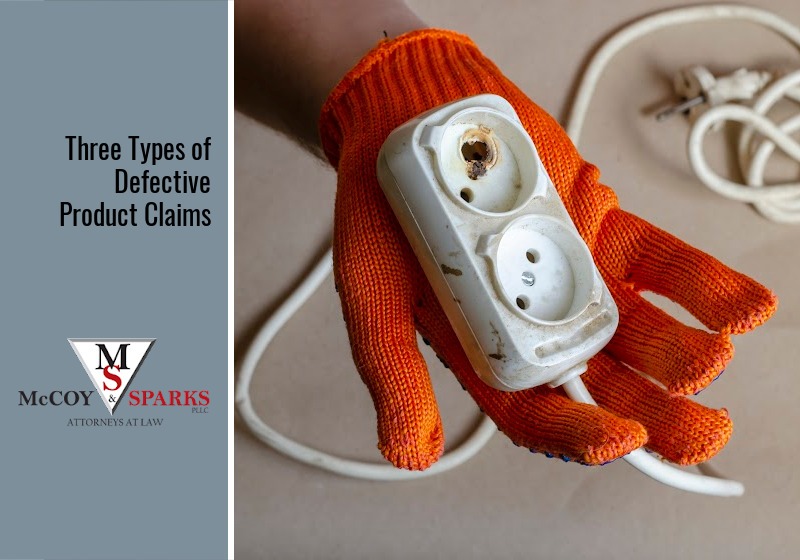 Each of us uses a variety of products in our day-to-day lives, from mechanical to electrical and beyond. When purchasing these products, we may look at reviews for ease of use or choose instead based on price or aesthetic quality.
No matter how we choose the products we purchase and utilize, we all share the same expectation: They work as advertised, and they work safely.
While realizing that a product we've spent money on is defective can be a frustrating experience that complicates our day, it can also be dangerous. Defective products can lead to serious injuries, birth defects and, in some cases, even death.
You may wonder exactly what types of defects are out there when it comes to products. Here are the main three types that, when resulting in injury, may result in a defective product claim.
1. Design Defect
When this type of defect occurs, something in the product's design is flawed. While the product was made as intended, the design of the product or a part is dangerous to consumers. In many cases, the designer could have reasonably foreseen danger and sought alternative economical designs to eliminate the product's threat to consumers. Because of the nature of the design, this means that all of the products are affected and contain the threat.
An example of a design defect would be a baby toy that includes small parts that can easily become loose and be swallowed or a piece of furniture with only three legs that can tip and fall.
2. Manufacturing Defect
A manufacturing defect occurs when something in the manner the product is made is flawed; in other words, it is assembled incorrectly according to the product's design. Whereas a design defect is intended in the sense that it is correctly assembled, a manufacturing defect is unintentional. In this way, manufacturing defects often affect specific or individual products within a line rather than all of them.
An example of a manufacturing defect would be using the wrong type of screw during assembly or the presence of toxic chemicals in the factory when products are being made.
3. Warning Defect
These types of defects refer to a product providing insufficient instructions or warnings to the consumer. These warnings should be present on the product as labels, in clear writing on the packaging or in instructions for use.
Examples of warning defects include a product with no label or with a font that is too small to reasonably read or a product with a label or manual intended for a different item.
Commonly Defective Products
While any product has the potential to be defective, the following are often found to cause injuries to consumers:
Products for children or babies, including toys, furniture, strollers and foods.
Furniture, such as beds, chairs, desks, bookcases, entertainment consoles and TV mounts.
Household appliances, such as toasters, ovens, microwaves, air fryers and more.
Household electronics, such as televisions, gaming consoles, chargers, cables and more.
Vehicles, such as SUVs, convertibles, smart cars and more.
Medical devices, such as defibrillators, stents, implants and contraceptive devices.
Pharmaceuticals, such as pills, compounds and therapeutics.
Cleaning products, such as cleansers, chemicals and more.
Because of the many parties involved in the designing, manufacturing and marketing of products, product liability cases can be complicated. If you or a loved one has experienced an injury from a defective product, don't hesitate to contact the experienced Kentucky product liability lawyers at McCoy & Sparks for a risk-free consultation on your case.
Trust McCoy & Sparks—Premier Personal Injury Attorneys in Central Kentucky
Recognized as one of Central Kentucky's best law firms for over a decade and counting, McCoy & Sparks works to help people in trouble, representing thousands of clients in Central Kentucky with a focus on providing premium service and delivering superior results.
Regardless of the type of case, our goal is to develop a strategy that best serves your personal needs, then draws upon our courtroom skills to help you reach the best possible result. We start by getting to know you. Next, we will explain all your options, giving you the pros and cons of each choice so that you will be empowered to make informed decisions.