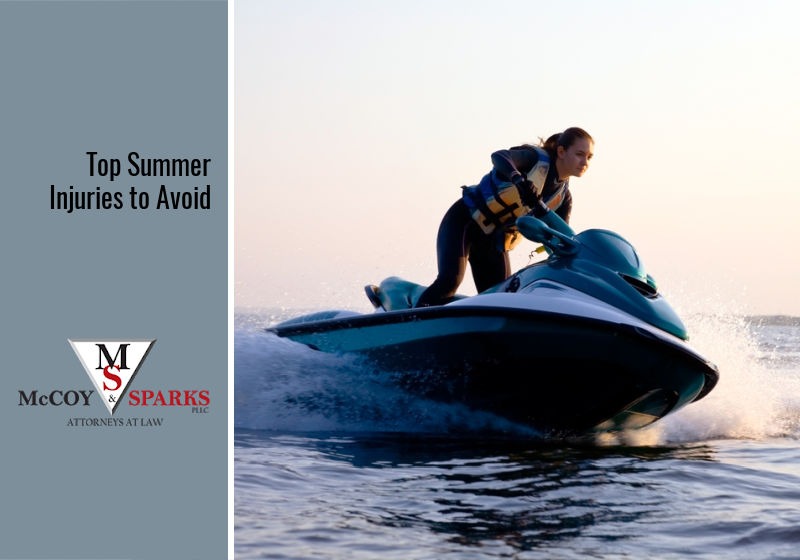 I've Been Injured This Summer. What Are My Options?
Scorching temperatures and longer days; summer is officially here. While things look a little different this year, many families will still take road trips to vacation destinations, and we're seeing a major increase in Americans spending time in the great outdoors during the pandemic.
Road trips, vacations, and more quality time spent outside with family sounds wonderful, but the potential exists for serious injuries that can spoil the enjoyment, and some of those injuries can impact you far into the future.
Common Summertime Injuries
Whether you stay at home or venture out to explore the countryside, all kinds of injuries can happen when temperatures climb.
Boating & Jet Skiing Accidents
In lakes, reservoirs, and other bodies of water across the country, boating is a hugely popular summer activity, and it seems harmless enough. But beware: boating accidents can happen on any body of water, including Lake Cumberland, Rough River Lake, Taylorsville Lake, Kentucky Lake, or any of the many amazing lakes Kentucky has to offer.
Boats can collide with other boats, static objects, or capsize in certain circumstances. The cause may be due to malfunction, lack of boating experience, boating under the influence, or disregard for boater safety regulations. Regardless of the reason, injuries from a boating accident can be severe. Head injuries, back injuries, broken bones, and lacerations can happen, but one of the biggest dangers is drowning.
Alcohol is frequently at play in boating accidents. In 15 percent of fatal boating accidents in 2016, alcohol was a major factor.
You may or may not have heard horror stories about jet ski-related accidents, but this popular summer recreational activity can cause a great deal of harm and take many lives each summer. In 2017, 47 people were killed in personal watercraft-related accidents. Several Kentuckian's die each year on Kentucky waterways.
Those injured in boating and jet skiing accidents may be able to take legal action depending on who was negligent and caused their injuries; whether it was a boat renter that allowed an inexperienced operator to use a boat or a parts manufacturer whose product caused a malfunction.
Trampoline Injuries
Jumping on a trampoline may seem like harmless fun, but it comes with a high risk for children who are hoping to get a little air under them. The dangers are so high that the American Academy of Pediatrics strongly advises against the use of trampolines at home.
Kids can incur all kinds of injuries in a trampoline accident, from sprains and fractures of their arms and legs to severe head, neck, and spine traumas. While there are recommendations for making trampolines safer (which includes constant adult supervision), not all parents follow these guidelines, which can put your child at risk when they are playing with friends.
Other Injuries
What other kinds of injuries happen during the summer? Here are a few summertime activities that can lead to injury:
Bicycle injuries and accidents involving a cyclist and a vehicle
Dog bites
Playground injuries
ATV, moped, and mini bike injuries
Volleyball, baseball, and softball-related injuries
Injuries at an amusement park, fair, or carnival
Swimming-Related Injuries
We all want to cool off with a refreshing dip in the pool or lake, but when this activity turns harmful, there can be severe, sometimes fatal consequences.
Slip and Fall Incidents
Slips and falls are a dangerous risk especially when people are coming back wet from the beach or a pool. You may be able to take legal action after suffering a slip and fall at a hotel if you were significantly injured because a hotel did not take action to prevent a foreseeable accident by addressing a hazard. This applies to many kinds of accidents other than slip and falls like pool accidents, restaurant injuries, and harmful room conditions.
Other Injuries
Men, children, and minorities are at a higher risk for pool-related injuries, including drowning, injuries from a pool's drain portal, entrapment, and diving board injuries. On average, 283 drowning deaths and 2,700 emergency room-treated submersion injuries occur each year involving children younger than 5 who were in a pool or spa. In most cases, these children had not been seen for 5 minutes or less and were in the care of one or both parents when the drowning or injury occurred.
Other injuries can occur when a swimmer hits their head on a diving board and incurs a traumatic brain injury, or when someone dives into a pool or body of water where the water was too shallow.
Steps to Take if You or a Loved One are Injured This Summer
As with any accident any other time, it's important to do the following:
Get immediate medical attention
Exchange information with anyone who injured you, even if you have to go back to the hotel, pool, or recreation area the next day
Gather witness statements
Take photos or video
Call your insurance company
Be careful when talking with any insurance company or adjustors. If they are the at-fault parties' company, they often want to deny responsibility and/or pay out as little as possible. Give them only basic information, and don't agree to being recorded. And DON'T SIGN anything. Recovering the maximum compensation you deserve can be complicated and time-consuming. Consult an experienced personal injury lawyer and let them do the heavy lifting to get you what you deserve.
Trust McCoy & Sparks – Premier Personal Injury Attorneys in Central Kentucky
Recognized as one of Central Kentucky's best law firm for over a decade, McCoy & Sparks works to help people in trouble, representing thousands of clients in Central Kentucky with a focus on providing premium service and delivering superior results. If the injury occurs out-of-state, we can use our network on connections to help you locate the right lawyer.
Regardless of the type of case, our goal is to develop a strategy that best serves your personal needs, then draw upon our courtroom skills to help you reach the best possible result. We start by getting to know you. Next, we will explain all your options, giving you the pros and cons of each choice so that you will be empowered to make informed decisions. You owe us nothing unless we recover compensation for you. Make the right call to 1-888-4KY-WINS for a risk-free consultation with one of our attorneys today.