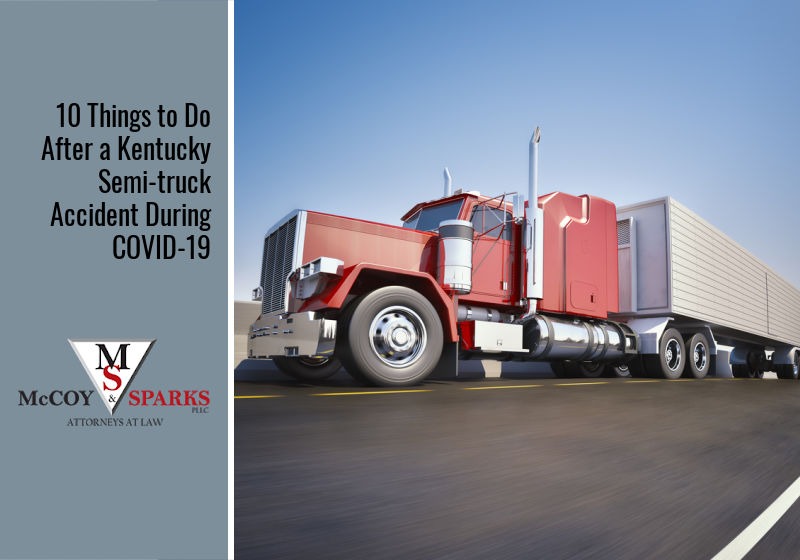 What you'll learn reading this article:
Semi-trucks are still on the roads during COVID-19.
If you're in a truck crash, you'll need these 10 important tips.
It's your right to hire an experienced attorney and get the compensation you deserve.
A virus can't stop a speeding truck. During the COVID-19 pandemic, semi-trucks are still rolling across Kentucky's roads bringing food, medical supplies, and all kinds of packages to everyone who needs them. Along the way, catastrophic road crashes are still happening.
Semi-truck accidents are some of the most devastating on Kentucky's roads. While they represent just 6.5% of all Kentucky road incidents, truck crashes account for almost 12% of all of our state's road fatalities including thousands of vehicle-related injuries every year.
In just a few moments, your life could change forever in a semi-truck crash. Would you know what to do next? Let's look at 10 important things to do after a truck accident in Kentucky.
#1: Remain at the Scene
Stay at the scene and leave your car exactly where it stopped as long as it's safe to do so. If you leave the scene of the accident, you could be charged with a crime, and you could lose valuable information.
#2: Call 911 and/or Wait for Help
Dial 911, or if you are too injured, wait for someone else to summon help. Mentally assess yourself for injuries. Understand that emergency personnel will assist people in order of priority based on the severity of their injuries..
#3: Document Everything
Don't miss your opportunity to document the scene through photos, videos, and audio. Remember to collect any paperwork from police and other authorities. This could be your only chance to capture how the accident looked immediately after the crash.
Note the weather, location, road debris, any tire marks, and amount of light. If it's too dark to take photos or video, take audio clips. If a witness is willing to talk openly to you, record them with their permission or take notes and ask for their contact information. This evidence may be extremely valuable to you later.
#4 Exchange Information According to Law
If possible, gather the following information from the other driver: their name, phone number, driver's license number, license plate number, insurance carrier, policy number, and the trucking company's name and contact info. Under Kentucky law, after a crash you must provide: your name, your address, your vehicle's registration number, and your driver's license if requested.
#5: Don't Chat Too Much
Avoid rambling on about the accident because you may regret it later. People will be listening to what you say. It's best to just provide basic information and stay tight-lipped about the circumstances until you speak to your lawyer. Avoid commenting on the accident on social media.
#6: Contact a Semi-truck Accident Lawyer
As soon as possible, reach out to a Kentucky lawyer who handles semi-truck accidents. An experienced attorneys can best advise you of the proper steps to take moving forward.
It's essential to hire an excellent lawyer who has years of experience going up against big trucking companies and their insurance carriers. These can be challenging cases and you want a devoted and talented advocate by your side.
#7: Know the Value of Your Case
Semi-truck crashes routinely accumulate more than $100,000 in costs. In fact, these accidents can result in millions of dollars in damages due to the high cost of medical care, vehicle repairs, lost wages, pain and suffering and more..
#8: Report Your Accident to the Police and DMV
Be sure to report the accident with the Department of Motor Vehicles and the police. It's not just a good idea – it's the law. In Kentucky, any vehicle accident with more than $500 in damages must be reported to the police. If the police are not called to the scene, take the safe route and report it.
#9: Stay in Touch With Your Lawyer
Although some truck accident cases settle quickly, the trucker's insurance company could decide to prolong litigation. Keep in touch with your lawyer. Promptly provide any additional information they request in order to move things along expediently .
#10: Keep an Accident Checklist in Your Car
Print out this accident checklist and keep it in your car's glove compartment. An accident can scramble your senses, so it will be useful to have this information nearby if you're ever in a truck crash on Kentucky's roads. Stay safe out there!
Trust McCoy & Sparks – Premier Personal Injury Attorneys in Central Kentucky
Recognized as one of Central Kentucky's best law firms for over a decade and counting, McCoy & Sparks works to help those in need, representing thousands of clients in Central Kentucky with a focus on providing premium service and delivering superior results. Regardless of the type of case, our goal is to develop a strategy that best serves your personal needs, then draw upon our courtroom skills to help you reach the best possible result. We start by getting to know you. Next, we will explore your legal options, giving you the pros and cons of each choice so that you will be empowered to make informed decisions. You owe us nothing unless we recover compensation for you. Make the right call to 1-844-4KY-WINS for a risk-free consultation with one of our attorneys today.