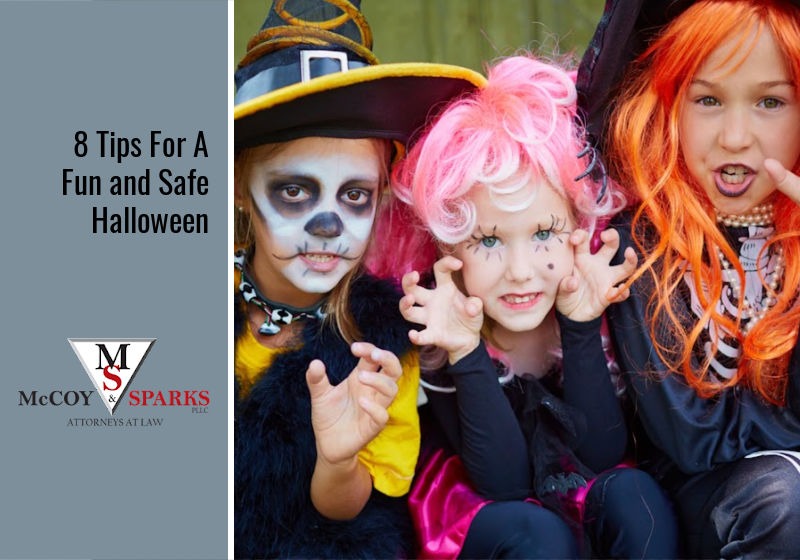 As most pandemic-related restrictions have lifted, children and parents alike are preparing for the upcoming Halloween season. Though excitement about trick-or-treating this year is high, it's important to be mindful and take precautions to stay safe and ensure everyone has a good time.
Aside from COVID precautions, there are a number of other things that can go wrong on Halloween. Studies have shown that Halloween is one of the most dangerous days of the year, with pedestrians having a 50% higher chance of dying in an accident on this day than any other. Children, in particular, are twice as likely to be hit by a car and killed than other pedestrians on Halloween.
However, as a parent or guardian, there are steps you can take to reduce the risk of an accident or any other incidents occurring:
1. Talk to Your Kids About Road Safety
It's easy for young kids to forget road safety when running around in a costume having fun with their friends. Having discussions with them in the days leading up to Halloween can help ensure they stay safe while walking the streets. Make sure they stick to sidewalks and only cross at designated intersections or crosswalks. While walking on sidewalks, have them slow down and stay alert of their surroundings—such as keeping an eye out for cars pulling into or out of driveways.
2. Use Flashlights, Glow Sticks, and Bright Costumes
Use brightly colored costumes to reduce their chances of not being noticed by drivers. If a dark costume is unavoidable, make sure they walk with a flashlight or put glow sticks around their neck, wrists, or in their candy bag or bucket. You can also use reflective vests or clip-on devices that flash to increase their visibility.
3. Adult Supervision is Essential
Younger children should never trick-or-treat alone, but even older kids shouldn't be without supervision. No matter how much your kids might beg for you to hang back, it's always in their best interest to have an adult around just in case. To make it less awkward for them and more fun for yourself, get together with other parents and make a night of it. The more pairs of eyes you have, the better.
4. Check the Fit of Costumes
Costumes that don't fit properly can make it more difficult for your kids to move around. It's essential to check that everything fits properly and that nothing is hanging down or dragging on the ground. They can lose focus of their surroundings when they are uncomfortable in their costume, or they could even trip and fall into the street or in front of a car backing out of a driveway.
5. Use Precaution When Using Makeup, Wigs, and Masks
Makeup, wigs, and masks should never hinder your child's vision. If the makeup gets in their eyes, it can blur their vision, and even masks and wigs that fit properly might not be the best choice if they make it difficult to see. Additionally, some makeup, masks, and wigs may use materials that can cause an allergic reaction or be itchy and uncomfortable. Always ask your child before you leave home if any part of their costume is bothering them, and check ingredients and materials before making purchases if your kids have allergies.
6. Trick-Or-Treat in Groups
Moving around the streets in groups increases visibility. It's a lot harder to miss a hoard of kids crossing the street than one individual little one. It's also less likely that a kid will get lost or abducted when they are with a group. Trick-or-treating is more fun with all of your friends anyway. So call up other parents and plan for all of your kids to go out together.
7. Bring Your Phone for Emergencies
If you have an older kid that is trick-or-treating, remind them to keep their phone (if they have one) away while walking around to avoid distractions. As a supervising adult, it is okay for you to bring your phone for pictures and to have a way to contact authorities or emergency responders in case of an accident. Still, you, too, should avoid using it the entire time. It's easy to step in front of a car or oncoming traffic when you are distracted by your phone, and it's easy to lose track of your kids as well.
8. Check Their Candy When You Get Home
This one should go without saying, but it's always a wise choice to check your kid's candy before they start munching down. The extent to which you check it is up to you. A simple check for any broken wrappers or anything else suspicious will likely be okay, but if you want to do a more thorough examination, it won't hurt. Of course, if your kids have any allergies, you'll also want to pull things out that they cannot have, but it can help to have them announce any allergies when they go door-to-door.
Trust McCoy & Sparks—Premier Personal Injury Attorneys in Central Kentucky
If you or your child are injured in a car accident on Halloween, our team of experienced attorneys is here to help. Recognized as one of Central Kentucky's best law firms for over a decade, McCoy & Sparks works to help people in trouble, representing thousands of clients in Central Kentucky with a focus on providing premium service and delivering superior results.
Regardless of the type of case, our goal is to develop a strategy that best serves your personal needs, then draws upon our courtroom skills to help you reach the best possible result. We start by getting to know you. Next, we will explain all of your options, giving you the pros and cons of each choice so that you will be empowered to make informed decisions. You owe us nothing unless we recover compensation for you. Make the right call to (844) 4KY-WINS for a risk-free consultation with one of our attorneys today