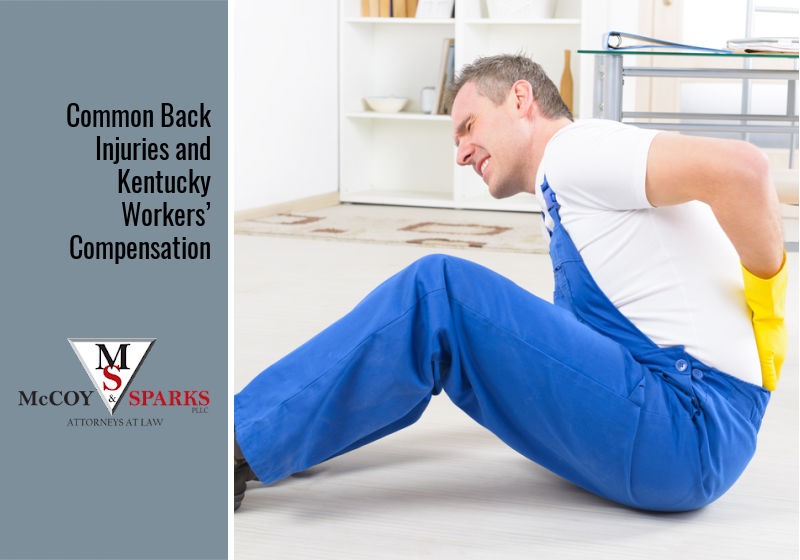 According to the Bureau of Labor Statistics, back injuries are among the top three most common types of injuries sustained in the workplace. These injuries can occur due to physical labor and repetitive movements or simply from strain while sitting or standing all day. Lower back injuries are particularly an issue in the workplace for these reasons.
If you have suffered a back injury due to a workplace accident or from strain and repetitive physical labor at work, you may qualify for workers' compensation benefits. Our Kentucky workers' compensation lawyers have years of experience handling back injury cases and can help you file your claim and ensure you are awarded the benefits you deserve.
Most Common Back Injuries Sustained at Work
A person can sustain a wide range of back injuries depending on the type of work they do. For example, someone who works in a more dangerous industry performing physical labor is more likely to sustain severe back injuries. In contrast, someone who sits at a desk all day might only suffer minor back injuries, like back strain, due to poor sitting posture or a chair that doesn't provide enough support.
As a whole, some of the most commonly reported back injuries in workplace settings include:
Herniated disc
Back sprain
Back strain
Sciatica
Spinal fractures
Pinched back nerves
Repetitive movement trauma
How to Prove a Back Injury at Work
Workers' compensation is a benefit provided to workers injured on the job, regardless of who is at fault. As such, there is technically no need to prove who was at fault for what caused the back injury for you to recover benefits.
That being said, you cannot simply say you have a back injury from work and expect your word to be enough evidence. If the back injury occurred as a result of an accident, you would need to file an incident report to show that you were injured as a result of something that happened at work. You will also need to seek medical attention for your back injury to prove that you were, in fact, injured.
If the back injury is due to strain or an injury from repetitive movement over an extended period, you can still recover benefits, but proving that the injury is work-related will be a bit more challenging. Back injuries, such as lower back strain that gradually worsen due to working conditions, are more challenging to prove.
In these cases, you will need evidence showing that changes to your back are not due to natural aging processes but are a result of your job duties and workplace conditions. Understandably, this can be difficult to do. It helps if you started seeing a doctor as soon as you noticed the back pain so there is medical proof of why your back injury worsened over time.
However, even if you waited to see a doctor for your back pain, you can still recover workers' comp benefits so long as you can prove that your back issues are from work and nothing else. The best way to do this is to work with an attorney who has experience handling workplace back injury cases.
Workers' Compensation for a Back Injury at Work Settlement
Workers' compensation settlements for back injuries can vary greatly. The amount of money you receive will depend on your individual situation. Specifically, you will receive benefits based on your average weekly earnings and the extent of your injury, as workers' comp primarily covers lost wages and medical expenses.
For example, if you suffer a minor back sprain and only need to miss a week of work, then your benefits will be much less than if you injured your spinal cord in a serious work accident and need months to recover. You can even receive benefits long-term for a permanent disability suffered from a back injury.
Again, each case is unique, and the settlement of benefits you are awarded will depend on your individual circumstances. When you work with a workers' compensation attorney, they can help you gather all the evidence you need to prove how severe your back injury is and how much it is affecting your life to ensure you are awarded the full and fair amount you deserve.
Trust McCoy & Sparks—Premier Workers' Compensation Back Injury Lawyer in Central Kentucky
At McCoy & Sparks, our workers' comp back injury lawyers know what it takes to ensure our clients are paid the full and fair benefits they deserve. We can help you file your claim, ensure all information is correct on your paperwork, deal with denials or appeals, and make sure your benefits are fairly calculated so you are paid the full amount you are owed.
You owe us nothing unless we recover compensation for you. Make the right call to (844) 4KY-WINS for a risk-free consultation with one of our workers' compensation attorneys today.