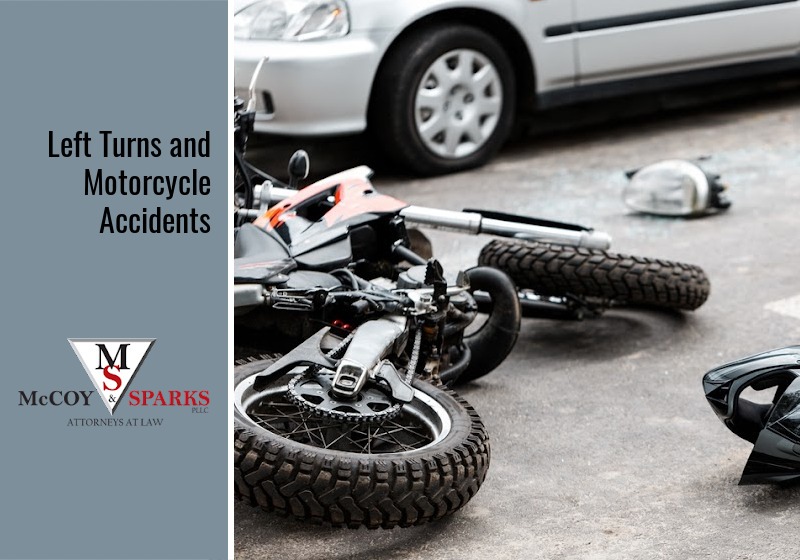 Along with all the power, freedom, and love of the open road experienced by motorcyclists, there also comes danger. Motorcyclists are more vulnerable than car occupants in accidents simply because they are not surrounded by metal and fiberglass frames, reinforced roofs, or airbags. Unfortunately, they are also at risk from other vehicle drivers' mistakes.
According to the NHTSA, motorcyclists were about 29 times more likely than passenger vehicle occupants to die in a motor vehicle crash and were 4 times more likely to be injured. In 2019, 5,014 motorcyclists died in traffic accidents in the United States.
Yes, motorcyclists are at risk of being rear-ended or sideswiped, but most of the danger comes from drivers making left turns into them. This frequently happens at intersections but can occur at any point where the driver turns left to cross traffic.
Why Does This Happen So Often?
A study published by Texas Tech University professor, Patricia Delucia suggests that smaller objects are perceived by the brain as being a further distance away than larger objects. This is usually true. However, it is not always true; sometimes smaller objects are just smaller. For example, motorcycles are smaller than cars.
Drivers considering making left turns experience a phenomenon where their brains seem to perceive motorcycles as being further away than they are. Delucia concluded that "The size-arrival effect potentially can lead drivers to misjudge when a vehicle would arrive at an intersection and is considered a contributing factor in motorcycle accidents."
In other cases, drivers don't see the motorcycle at all. The parts of the car's frame that support the roof and hold the windshield in place (called A-pillars) have increased over the years to withstand collisions and hold airbags. This means that they have also increased blind spots, leaving pedestrians, cyclists, and motorcyclists at risk.
Distracted driving is also a problem. If a driver is talking to a passenger or glancing at a text, he or she can easily misjudge the distance of an oncoming motorcycle — or not see it at all.
Some Statistics:
The split second that a driver has to gauge the speed and distance of oncoming vehicles and make the decision whether to trust the break in traffic and turn is called "driver workload."
Approximately 61% of all crashes at intersections involve left hand turns.
Research suggests that eliminating at least some left turns would make driving a lot safer.
41% of all motorcycle crashes are due to drivers failing to see motorcycles.
Motorcyclists represent just 3% of all registered vehicles but account for 14% of yearly traffic-related deaths.
About 67% of multiple-vehicle accidents occur when the other driver violates the biker's right-of-way.
The Governors Highway Safety Association (GHSA) reports that in 2017, 13.3% of Kentucky accidents involved motorcycles.
In 2019, there were 87,090 motorcycles registered in Kentucky.
Motorcycles were involved in 1,460 total collisions in Kentucky in 2019; 86 of these accidents were fatal.
In 2019, 29% (38,451) of all Kentucky collisions happened at intersections; 122 of these collisions were fatal.
Recent Motorcycle Accidents At Kentucky Intersections:
September 6, 2021: A 34-year-old motorcyclist was killed in a collision with an SUV at the intersection of Richmond Road and Fontaine Road in Lexington.
August 11, 2021: An SUV and motorcycle collided at the intersection of Scottsville Road and Woodhurst Street in Bowling Green.
August 10, 2021: A 48-year-old motorcyclist was killed at the intersection of Kentucky 54 West and Hawsville Road when a delivery truck turned in front of his motorcycle.
August 2, 2021: A motorcyclist died on Fern Valley Road in Louisville after striking a Ford Escape making an opposing left turn.
If you are a driver concerned about safe driving around motorcyclists, read the following tips:
Do not try to race the lights at an intersection.
Signal for your left-hand turns at least 150 feet before you make them.
Pause for an extra second before making a left turn. Consider how far away that motorcycle really is.
Yield the right of way to other traffic.
Be conscious that anyone in the crosswalk could stop or change their pace; don't just assume that they will be gone by the time you turn.
Be aware of your blind spots. Don't end up being that person who cries, "But I didn't see him!"
Stay off of your phone. Distracted driving can be fatal.
If you are a motorcyclist concerned about your risk around other drivers, read the following tips:
Wear reflective clothing.
Make sure that your headlights are bright.
Consider a brightly painted bike; the last thing you want to do is to blend in.
Slow down at intersections.
Anticipate what other drivers will do. Always be aware that there is a possibility that the driver of the car heading towards the intersection hasn't seen you.
If you have been injured in a Kentucky motorcycle accident, consult an experienced motorcycle accident attorney. At McCoy & Sparks, PLLC, our motorcycle accident lawyers take a great interest in the success of every one of our clients. We firmly believe that a person who has been hurt in a motorcycle accident deserves to receive fair compensation for their injuries. With decades of combined experience, our firm is not scared to stand up for you in battle with an insurance company.
Call 844-4KY-WINS or Contact Us online for a free consultation.