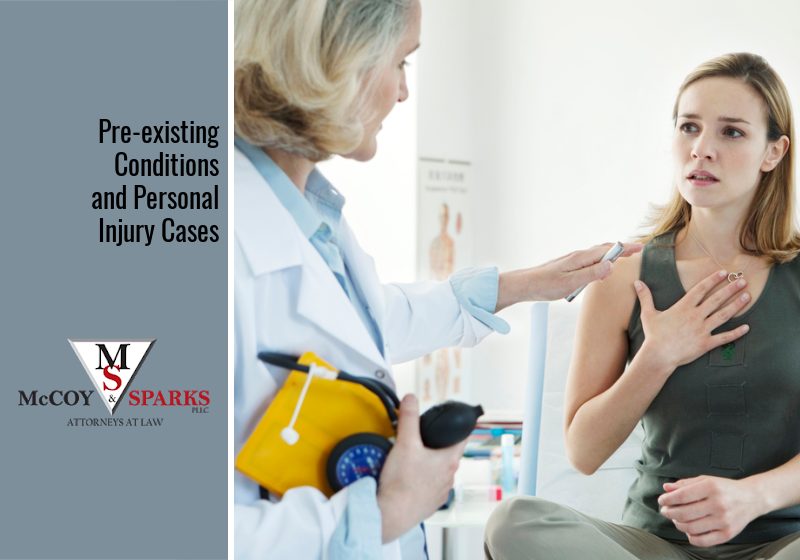 If you've been injured by the negligence of another person, you are entitled to compensation. Whether you receive that compensation through a settlement or taking the liable person to court, you and your loved ones do not have to shoulder the financial burden of your injuries.
Unfortunately, many people worry that because they have pre-existing conditions, that their insurance or the insurance of the at-fault person will not cover the costs associated with their injury, or will fight to lower their settlement. Don't be derailed by these worries.
What is a Pre-Existing Condition?
By definition, a pre-existing condition is a health condition that exists prior to the date of a certain event, for instance, the start of health insurance coverage, or the date of an accident that caused injury.
Conditions that are usually considered "pre-existing" can be chronic illnesses, or can be short-term. Some examples of classic pre-existing conditions include:
Diabetes
Cancer
Asthma
Pregnancy
When it comes to personal injury cases, if you were suffering from an illness or injury prior to your accident, that does not mean that the accident itself did not cause you harm, exacerbate your condition, or create new injuries. The law acknowledges this reality.
Can Insurance Deny My Claim Due to a Pre-Existing Condition?
While we may want to think that insurance companies are for us, their business in designed first for profit. That means that if they can find to lower a settlement, raise premiums, or deny a claim, they usually will.
One of the ways they will attempt to do this in personal injury cases is by claiming the pain and suffering of a victim is pre-existing, and try to link it to other health conditions the victim may have.
By having an seasoned attorney on your side, you can make certain that you receive FULL AND FAIR compensation, even if you have pre-existing conditions. While you cannot receive compensation for an injury that already existed before your accident, any additional worsening, arousal, or aggravation of your condition should be compensated.
How Can I Prove My Condition was Exacerbated?
Evidence becomes important when fighting with an insurance company to prove your injury. After an accident, it is important to preserve and maintain the following:
Physical evidence from the accident (if possible), such as clothing you wore, shoes, and any damaged property
Photographs of the accident site, your injuries, and any property damage that occurred
The names and phone numbers of all witnesses
Accident reports and any witness statements or video surveillance of the accident
Medical diagnoses and appointment notes from your medical care
Medical bills
Additionally, our attorneys will work with economic advisors to calculate the financial impact of your injuries on your livelihood, such as lost wages and future wages, and may consult medical experts to show how the accident worsened your condition or created new injuries.
Having a pre-existing condition does not mean you are disqualified from compensation after a personal injury caused by the negligence of another person, company, or product. If you or a loved one has been injured in Kentucky in a car accident, pedestrian accident, slip and fall accident, or by a poorly manufactured or designed product, you have the right to seek compensation.
Contact the trusted attorneys at McCoy & Sparks for a risk-free consultation to discuss your injury and how to address your pre-existing conditions to get you the damages you deserve.
Trust McCoy & Sparks—Premier Personal Injury Attorneys in Nelson County
Recognized as one of Central Kentucky's best law firm for over a decade and counting, McCoy & Sparks works to help people in trouble, representing thousands of clients in Central Kentucky with a focus on providing premium service and delivering superior results.
Regardless of the type of case, our goal is to develop a strategy that best serves your personal needs, then draws upon our courtroom skills to help you reach the best possible result. We start by getting to know you. Next, we will explain all your options, giving you the pros and cons of each choice so that you will be empowered to make informed decisions.
You owe us nothing unless we recover compensation for you. Make the right call to 844-4KY-WINS for a risk-free consultation with one of our attorneys today.