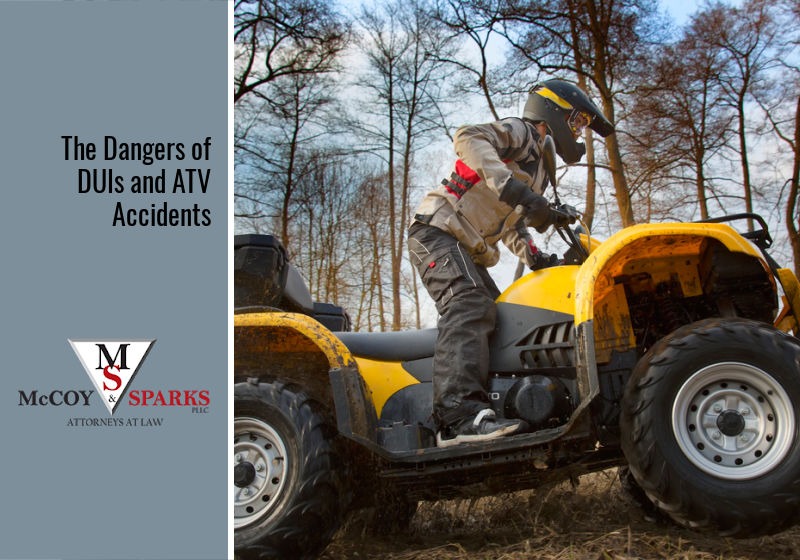 Summary: Kentucky ranks fifth in the nation for fatalities associated with ATV accidents, but when alcohol is involved, it's a true recipe for disaster. Under Kentucky law, ATV operators can be charged with a DUI anywhere, even on private property. Operating an ATV under the influence is illegal and can lead to life-threatening injuries. McCoy & Sparks has the expertise to advocate for you if you've been injured in an alcohol-related ATV accident.
Across the nation, Kentucky ranks fifth for the total number of fatalities associated with all-terrain vehicle (ATV) accidents. Throughout the country, ATV accidents account for 500 to 600 fatalities every year, according to the Consumer Protection Safety Commission. A great number of these fatalities are the result of an intoxicated driver. When drivers operate ATVs while intoxicated, they put their own lives at risk and also the lives of their riders and those around them.
There are laws to prevent ATV operators from driving while intoxicated, but these laws are ignored all too often, which can lead to serious injuries and even death.
Off-Roading and DUIs in Kentucky
Don't think that just because an accident happened on a dirt path, in the woods, on someone's private property or in a field that any ATV operator is immune to Kentucky's driving-under-the-influence (DUI) laws. In fact, Kentucky is one of a handful of states in which it is illegal to drive drunk anywhere within state borders. In a car or on a four-wheeler, a person can be arrested for a DUI even if they don't leave the comfort of their own property within the state of Kentucky.
Operating an ATV or other recreational vehicles like snowmobiles or motorboats while drunk is illegal in all 50 states. Drivers who are under the influence can receive similar penalties for operating a recreational vehicle while under the influence as they would if they were driving a motor vehicle on a public road.
The Perils of ATV Accidents
ATV accidents happen all too often, and they can have serious consequences. ATVs can weigh between 360 and 600 pounds, but some can weigh as much as 800 pounds. Most ATVs top out at 65 miles per hour, but some of the more powerful models can go as fast as 80 miles per hour. With that much weight and speed, operators must use ATVs with extreme caution, which cannot happen if the operator is under the influence.
Across the nation, drivers with a blood-alcohol concentration (BAC) level of 0.08 percent or higher are considered alcohol impaired by law. When this impairment is compounded with the speed and weight of a four-wheeler or other ATV, it can be quite dangerous.
What kind of injuries can happen in an ATV accident?
Broken bones
Head injuries
Neck injuries
Spinal cord injuries
Back injuries
Brain injuries
The Deadly Combination of ATV Accidents and DUIs in Kentucky
In addition to being high on the charts for ATV accidents, according to the Centers for Disease Control and Prevention, Kentucky fared far worse than the national average in fatalities related to drunk driving accidents. Nationwide, the average number of fatalities related to drunk driving was 3.3 people per 100,000. In Kentucky, that number rises to 4 people per 100,000.
This combination of higher numbers of dangerous ATV accidents and drunk driving tendencies can make for a life-threatening situation and traumatic injuries that can turn your world upside down.
One Client's Experience With McCoy & Sparks Following an ATV Accident
We had a client come to us following his injury resulting from a serious ATV accident. His friend was driving an ATV with reckless abandon, and our client was thrown from the vehicle and severely injured. We listened to his needs and determined the best course of action for him, using his concerns to chart our course in advocating for him.
Our client's case went to court but was settled prior to going to trial. We were able to get our client a settlement of $1,499,000, which he was able to use to move forward after being gravely injured.
We'll Advocate for You Following an Alcohol-Related ATV Accident
At McCoy & Sparks, we're well versed in protecting our clients' best interests following both drunk driving accidents and ATV accidents. We are committed to helping you get the help you need to recover from your injuries.
If you or a loved one has been injured in an ATV accident and you suspect alcohol was a factor, the most important thing you can do is find a personal injury attorney who can advocate for you. Our team at McCoy & Sparks is committed to representing your interests.
ATV accidents can lead to incredibly serious injuries. You need a serious personal injury attorney who can handle the gravity of your situation.
A drunk-driving ATV injury doesn't have to define the rest of your life. McCoy & Sparks is here to help. Call us today at (844) 4KY-WINS, or contact us for a free case consultation.
Trust McCoy & Sparks—Premier Personal Injury Attorneys in Central Kentucky
Recognized as one of Central Kentucky's best law firms for over a decade and counting, McCoy & Sparks works to help people in trouble, representing thousands of clients in Central Kentucky with a focus on providing premium service and delivering superior results.
Regardless of the type of case, our goal is to develop a strategy that best serves your personal needs, then draws upon our courtroom skills to help you reach the best possible result. We start by getting to know you. Next, we will explain all your options, giving you the pros and cons of each choice so that you will be empowered to make informed decisions.
You owe us nothing unless we recover compensation for you. Make the right call to (844) 4KY-WINS for a risk-free consultation with one of our attorneys today.