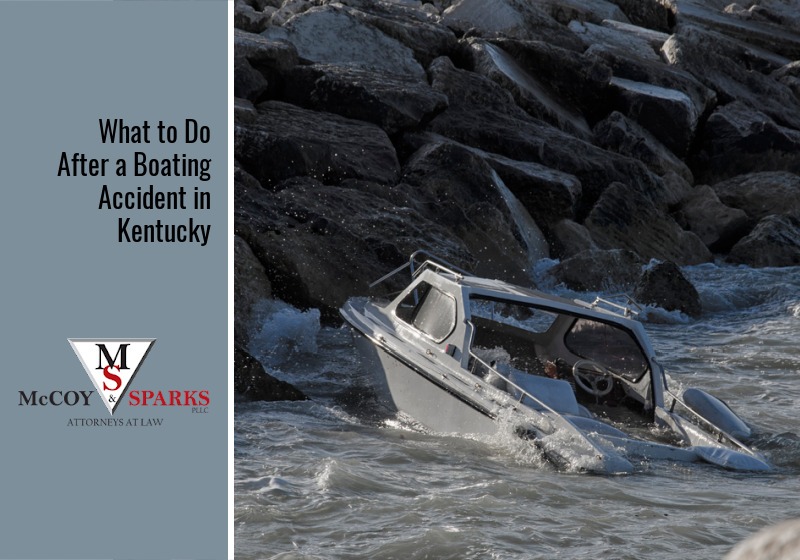 We may not be adjacent to an ocean, but the residents of Kentucky love their boats, lakes, and rivers. Central Kentucky is home to several waterways: Taylorsville Lake, Nolin Lake, Herrington Lake, Guist Creek Lake, Barren River, Rough River, and the Ohio River are close; and Lake Cumberland is less than two hours away. We have many opportunities to take our own boat out or to rent a boat and enjoy fishing or recreation on the water.
Kentucky Boat Statistics
There are approximately 166,760 boats registered in Kentucky. Unfortunately, just as with cars, boating accidents are bound to happen.
In 2020 alone, there were 44 serious boating accidents in Kentucky, resulting in $1,046,350 worth of damage.
Even worse, these accidents caused 29 people to have serious injuries and 9 people to die.
National Boating Accident Statistics:
Nationally, 2020 was a dangerous year for recreational boaters. Compared to 2019, the number of accidents increased 26.3%, the number of deaths increased 25.1%, and the number of injuries increased 24.7%.
Alcohol was the leading known contributing factor in fatal accidents, accounting for 18% of the deaths.
77% of the deaths occurred on boats where the operator hadn't undergone safety instruction.
According to the U.S. Coast Guard Office of Auxiliary and Boating Safety, the top ten primary contributing factors in all U.S. accidents were:
Operator inattention
Operator inexperience
Improper lookout
Excessive speed
Machinery failure
Navigation rules violation
Alcohol use
Weather
Hazardous waters
Force of wave/wake
Kentucky has strict laws when it comes to alcohol and boating:
DRINKING IN PUBLIC AND PUBLIC INTOXICATION
(KRS 222.202)
Kentucky law specifically prohibits the drinking of alcoholic beverages in public places (this excludes establishments licensed to sell such beverages) and the waterways of this state are considered public places. But anyone that has been on a Kentucky (or any) waterway lately knows that this law is not regularly enforced.
But what is enforced is that persons who are manifestly under the influence of alcoholic beverages to the extent that they may unreasonably annoy or endanger themselves or others shall be subject to arrest. Being intoxicated anywhere can be dangerous. It is particularly dangerous on the water.
In the event that you are involved in a boating accident in Kentucky, there are certain procedures that you must legally follow.
According to state law, you must file a formal written report with the Kentucky Department of Fish and Wildlife at (800)25-ALERT if any of the following conditions are true:
Damage over $500 by or to the vessel or its equipment
Injury (requiring medical help beyond first aid) or loss of life and/or
Disappearance of any person on board a vessel.
This is the timeframe in which you have to report:
48 hours if there is loss of life within 24 hours of the accident
48 hours if a person involved is injured and cannot perform usual activities
48 hours if a person disappears
10 days if an earlier report is not required but becomes necessary; and/or
10 days if the boat or property damage is in excess of $500 or total boat loss.
If you have been injured in a Kentucky boat accident and feel that it was due to someone else's negligence, you are entitled to make a personal injury claim against them for the same types of expenses that you would incur in any vehicle collision. For example:
Medical bills
Lost wages
Lost potential future wages
Pain and suffering
You will need to contact an experienced personal injury attorney to investigate your accident and find evidence to prove that your injuries were a result of the other person's negligence or lack of reasonable care.
Of course, accidents on the water are not always as clear-cut as one boat crashing into another. Sometimes, there are other parties who need to be held responsible. For example:
Boat pilot/operator
Boat owner
Boat rental business
Boat passenger
Jet-ski operator
Propeller manufacturer (this would be a product liability lawsuit)
It can be a difficult prospect to prove negligence and receive compensation, especially if the person responsible for your injury doesn't have boater's insurance (only Utah and Arkansas require this, but it is certainly available in all states). However, you deserve to be compensated for your injuries.
Serious injuries take place in many forms. If someone is injured and another is at fault, then they should be liable for the injury and may be made to compensate the victim. Our experienced attorneys can help.