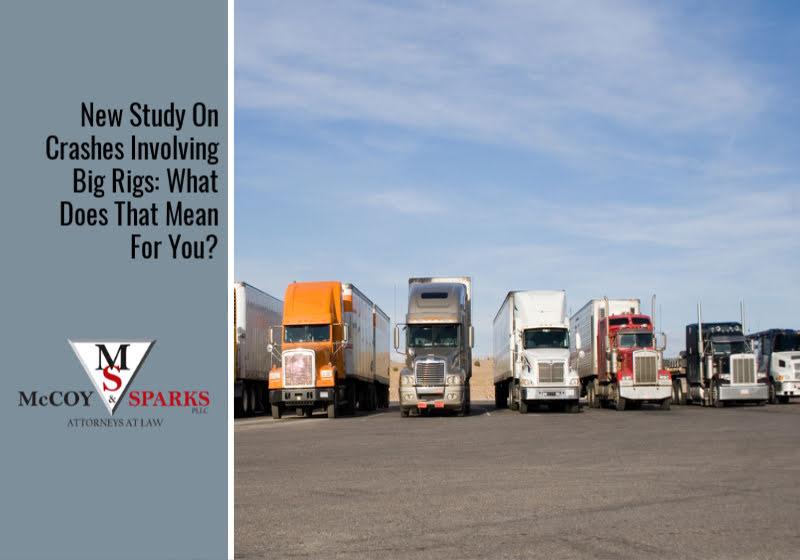 The Federal Motor Carrier Safety Administration (FMCSA) is studying the reasons for semi-truck crashes and is inviting the public to comment on the design of the study.
The Federal Motor Carrier Safety Administration (FMCSA) conducted the last comprehensive Large Truck Crash Causation Study (LTCCS) in 2001–2003. This study gave both the agency and the safety research community valuable insight into the factors that contribute to crashes involving at least one commercial motor vehicle, also known as a semi, tractor-trailer or big rig.
Since the results of this study were made public over 15 years ago, much has changed in both the trucking industry and the driving conditions around the country. One of the biggest changes has been in technology such as fleet management systems, in-cab navigation like GPS and safety features. The FMCSA is planning new study that will include distractions like texting and other mobile phone use when gathering data.
How Will The New Study Be Conducted?
Right now, the FMCSA is asking Nelson County residents and other members of the public to comment on how they should conduct the study. You can comment online, by fax at 1-202-493-2251 or by mail at Docket Management Facility; U.S. Department of Transportation, 1200 New Jersey Avenue SE, West Building Ground Floor, Room W12-140, Washington, DC 20590-0001. Comments must be received by March 16, 2020. If you aren't commenting online, you must include the following information: Agency name – FMCSA, docket number FMCSA-2019-0277, as well as the answers to the following questions:
Should FMCSA pursue a nationally representative sampling approach or can convenience sampling serve the needs?
What type of study are you recommending (e.g. nationally representative vs. convenience sampling), and what are the pros and cons of this approach?
How important is it for the new study results to be comparable with findings of the original?
What other sources of data can enrich the new study, and how can they be identified and included?
The original study used a nationally representative approach and collected data on crashes at 24 sites recorded on the National Highway Traffic Safety Administration's (NHTSA) National Automotive Sampling System Crashworthiness Data System.
What Will the Study Focus on and How Will Results Be Used?
The FMCSA notes, "many changes in technology, vehicle safety, driver behavior and roadway design have occurred that affect how a driver performs." Since 2009, fatal crashes involving large trucks have steadily increased to 4,415 fatal crashes in 2018, or 52.6%, and increased 5.7% over the years 2016 to 2018. The agency expects the new survey to take into account:
The increase in distraction caused by cellphones and texting
The effects of in-cab navigation and fleet management systems
Safety equipment such as automatic emergency braking systems
The updated study, says the FMCSA, will also develop a baseline of truck crash factors and "help guide mitigating crash avoidance strategies to prevent future crashes," even in Level 4 (high automation) and Level 5 (full automation) driving. "Knowing more about driver behaviors will identify areas where new driving automation systems can be of help and aid in formulating performance metrics and standards that may need to be considered if they are to reduce crashes involving large trucks," the proposal states.
One big challenge for the study is finding quality data and understanding data on impaired truck and car drivers using marijuana, says Ryan Smith, a project manager for the National Transportation Safety Board (NTSB). He says researchers have warned against using the federal Fatality Analysis Reporting System data to understand drug impairment.
Unlike drivers impaired by alcohol, those using marijuana may fail a drug test, but still not actually be impaired to drive. He also notes alcohol is the only drug that makes drivers much more likely to be involved in a crash and
cautions there are a number of problems in assessing impairment issues via data, including:
Drugs impact each individual differently.
Not all drugs are included in drug testing panels. For example, there are about 100 different cannabinoids.
Some testing for alcohol provides results about other drugs.
Drug databases may be missing critical information about drug matrixes and time between driving arrest and specimen collection.
"The concern is that people are using data improperly and coming up with these conclusions that are not in journals but are in news reports. Some of the findings are being twisted and can actually be doing more harm."
Current Causes of Big Rig Crashes
The original study finds driver-related action or inaction is a factor in the vast majority of crashes where the critical reason for the crash is assigned to the large truck. While there are many reasons for any kind of accident, the Kentucky Transportation Cabinet's 2018 data lists the main culprits:
Driver error. Driving drowsy, drunk or drugged driving, reckless driving or distracted driving.
Load securement. We've all seen things come flying off the back of trucks or accidentally dumped on a freeway.
Tire failure. Again, you see strips of tires often on the side of the road.
Defective brakes. Although this is the third most common cause of semi accidents, bad brakes were the number one single cause of fatalities.
Tow hitch failure. This would mean the trailer detaches from the truck.
Oversized load. The load is too tall or too wide.
Lighting defects. This can mean headlights or other lights, like brake lights and turn signals.
Steering failure.
Distracted Driving Big Focus of New Study
Current research shows commercial vehicle drivers who text are more than 23 times more likely to be involved in an accident. Those dialing mobile phones are six times more likely. The FMCSA has a whole set of rules against distracted driving, and these can inform your legal case if you're involved in an accident with a tractor-trailer.
Distracted driving, whether it's caused by phone use or by eating and drinking, is a form of negligence. Whenever it's behind truck collisions, it usually opens the way for personal injury claims. The injured may file a claim against the trucking company but they really want an experienced personal injury lawyer to evaluate the case first under Kentucky's rule of pure comparative negligence. If the case seems strong enough, then your lawyer may assist with gathering proof of negligence and negotiating a settlement.
Trust McCoy & Sparks – Premier Personal Injury Attorneys of Nelson County
Recognized as Nelson County's best law firm for over a decade and counting, McCoy & Sparks works to help people in trouble, representing thousands of clients in Central Kentucky with a focus on providing premium service and delivering superior results. Regardless of the type of case, our goal is to develop a strategy that best serves your personal needs, then draw upon our courtroom skills to help you reach the best possible result. We start by getting to know you. Next, we will explain all your options, giving you the pros and cons of each choice so that you will be empowered to make informed decisions. You owe us nothing unless we recover compensation for you. Make the right call to 1-844-4KY-WINS for a risk-free consultation with one of our attorneys today.