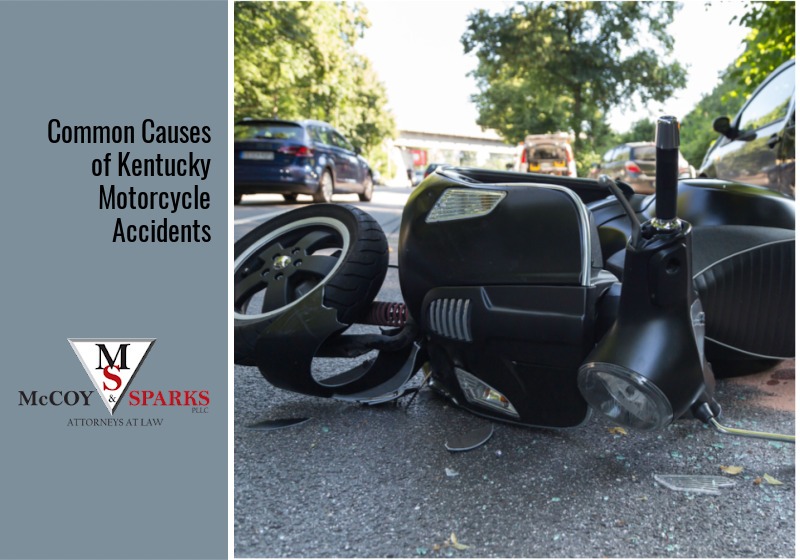 While everyone on the road faces some of the same problems when it comes to accident-causing behaviors or events, motorcyclists also encounter some unique challenges not faced by drivers in cars and trucks.
Due to the distinct differences between a motorcycle and other vehicles, motorcyclists also tend to face more severe injuries when involved in accidents. For instance, motorcyclists are 35 times more likely to be involved in a fatal accident than cars for every mile traveled.
Here are some of the most common causes of motorcycle accidents in Kentucky.
Adverse Weather Conditions
While bad weather can be dangerous for any vehicle, it can be particularly treacherous for motorcycles. Slick, wet or icy roads can create problems with traction and steering for motorcycles that four-wheel vehicles are less likely to face. High winds can also cause oversteering and difficulty for the driver handling the bike. If possible, avoid riding when weather conditions are less than favorable.
Improperly Maintained Bike
When a motorcycle isn't properly taken care of or its tires become misaligned, the likelihood of an accident occurring is much higher. Storing your bike properly in a garage or with a cover and keeping up with regular maintenance such as scheduling oil changes, checking tire pressure, replacing brake pads and more can ensure you a safer ride.
Poorly Maintained Road or Obstacles in the Roadway
Construction zones or roadways that haven't been properly maintained can be hazardous to motorcyclists. Loose construction materials or debris, toppled cones, and uneven, crumbling pavement can all lead to accidents.
Aggressive Drivers
Many drivers do not like motorcycles and can allow your presence to anger or annoy them; in fact, incidents of road rage against motorcycles are on the rise. Be sure to always follow proper traffic rules and share the road amicably on your end.
Inexperienced Drivers
Motorcyclists with a lack of road experience can make mistakes under pressure that more seasoned drivers would handle differently. Because of this, young and new drivers are more likely to be involved in motorcycle accidents.
Of particular importance is understanding when you are passing through another vehicle's blind spot. Unfortunately, many car drivers do not do their due diligence when checking their blind spots for motorcycles when changing lanes or turning left, resulting in accidents and injuries.
Driving Under the Influence
Driving under the influence of alcohol or drugs is deadly for both the driver, any passengers and others on the road. For motorcyclists, driving drunk or high can be especially catastrophic, creating problems with steering, alertness and even staying on the bike properly.
Never drive drunk or high, and never let a loved one get on their bike in this condition. As a motorcyclist, learn the signs of drunk driving and keep on particular lookout for cars that are driving erratically, have trouble staying in their lane, or are starting and stopping. Should you find yourself on the road with a suspected drunk driver, pull over or safely pass the driver. When possible, get their license plate number and report their behavior.
To better protect yourself on the road, always follow proper safety procedures and wear a helmet. Helmets can be lifesaving and reduce injury for both motorcycle drivers and passengers.
If you or a loved one is injured in a motorcycle accident in Kentucky caused by the negligence of another, you have rights. Consulting a qualified Kentucky personal injury attorney can be the first step to recovering your losses after a motorcycle accident.
Trust McCoy & Sparks—Premier Personal Injury Attorneys in Nelson County
Recognized as Nelson County's best law firm for over a decade and counting, McCoy & Sparks works to help people in trouble, representing thousands of clients in Central Kentucky with a focus on providing premium service and delivering superior results.
Regardless of the type of case, our goal is to develop a strategy that best serves your personal needs, then draws upon our courtroom skills to help you reach the best possible result. We start by getting to know you. Next, we will explain all your options, giving you the pros and cons of each choice so that you will be empowered to make informed decisions.
You owe us nothing unless we recover compensation for you. Make the right call to (844) 4KY-WINS for a risk-free consultation with one of our attorneys today.