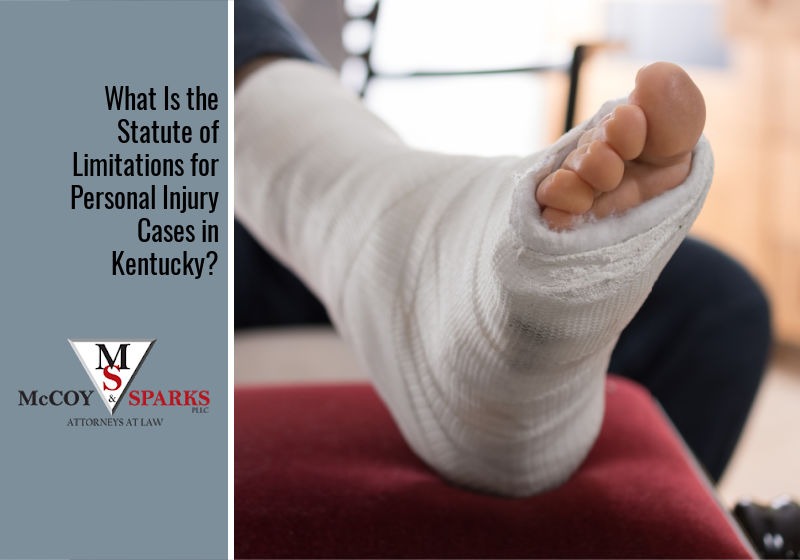 While the Kentucky personal injury statute of limitations for most personal injury claims in Kentucky is one year from the date of the injury, there are many exceptions to this rule. Understanding just how the statute of limitations works is essential to seeking compensation for your Kentucky personal injury.
Breaking Down the Statute of Limitations
A personal injury claim refers to a person's right to seek a civil remedy, or compensation, for the conduct that resulted in injury.
Understanding the various exceptions and the ins and outs of the Kentucky personal injury statute of limitations is an important step to seeking damages. You need an experienced lawyer to perform this analysis. If you do not bring forth a case before the Kentucky personal injury statute of limitations expires, you may lose your chance to make a recovery.
The general statute of limitations, or time limit for bringing a legal action for personal injury is one year in Kentucky. Whether your case is one of negligence, strict liability or intentional harm, this deadline is the same.
However, the clock may not start when you think it does in every case, as exceptions exist to account for things such as when the injury was discovered. The biggest exception to the general rule is for motor vehicle accidents. See below.
Exceptions to the Rule
In many cases of personal injury, the injured party may not realize right away that they are injured. Because of this, the clock truly begins once the injury or harm has been discovered.
Defining the Date of Discovery
For some, the discovery of the injury may be immediate. In other cases, however, it may be much later. An example would be a medical malpractice case involving a tool or sponge being left within a surgical cavity. Such an injury may not be discovered until the injured party suffers from symptoms. If, five months after a surgery, the patient discovers a sponge was left inside their abdomen, they may have a year from that date to file a lawsuit.
Medical Care
Another common exception can be found if you are still under the negligent doctor's care, as the doctor could conceal acts of negligence for an extended time. Because of this, many times the clock may not begin to run while you remain actively cared for by the physician.
Minors
If the injured party is a minor, they typically are given one year from the date they turn 18 years old to file a personal injury lawsuit in Kentucky. There are some limitations to this exception.
Motor Vehicle Reparations Act
In Kentucky, motor vehicle accidents make up the majority of personal injury claims and as such have their own specific statute. Known as the Motor Vehicle Reparations Act, this statute allows for a two-year timeline that begins two years from the date of the last personal injury protection (PIP) payment, or two years from the injury date if no PIP payments are made.
Wrongful Death
In the case of wrongful death, the Kentucy personal injury statute of limitations begins from the date of death or, alternatively, from the date the deceased has an executor or administrator appointed (as long as that appointment happens within one year of the death).
Loss of Consortium
In the case of significant injury, a child, parent, or spouse may have a separate cause of action for loss of consortium. This is essentially the loss of love and affection between those relations. These claims are usually controlled by a one-year limitation.
Injured in Kentucky?
The deadline for you to file a lawsuit in your case is fast approaching if you've suffered a personal injury in Kentucky as the result of:
While 12 months (or two years in auto accidents) may seem like ample time in the abstract, this time can go by quickly, especially after an accident that has resulted in physical, emotional and financial burdens.
Don't miss your opportunity to seek compensation for what you've experienced; contact a trusted Kentucky personal injury attorney for a risk-free consultation today.
Trust McCoy & Sparks—Premier Personal Injury Attorneys in Nelson County
Recognized as Nelson County's best law firm for over a decade and counting, McCoy & Sparks works to help people in trouble, representing thousands of clients in Central Kentucky with a focus on providing premium service and delivering superior results.
Regardless of the type of case, our goal is to develop a strategy that best serves your personal needs, then draws upon our courtroom skills to help you reach the best possible result. We start by getting to know you. Next, we will explain all your options, giving you the pros and cons of each choice so that you will be empowered to make informed decisions.
You owe us nothing unless we recover compensation for you. Make the right call to (844) 4KY-WINS for a risk-free consultation with one of our attorneys today.
Video Transcript
Most claims, generic claims, are covered by a one-year statute, and that's one year from the date of injury, but there are tons of exceptions.
There's a discovery rule, which means it doesn't necessarily start at the day of the injury if you didn't discover it until much later. And the classic example: You go in for surgery, a doctor leaves a sponge in. You may not start feeling the ramifications for that sponge for months. It essentially is one year from when you discover the existence of that.
Then there are other exceptions. Are you still under the doctor's care? A lot of times the courts rule that the statute of limitations doesn't start to run against you in that one year as long as you're actively under the doctor's care because doctors could conceal the fact that there was a negligent act; they can mislead you. There are rules to get you around the one-year statute, but it is a one-year statute for getting medical negligence or slip and fall cases.
The largest category of injury claims is motor vehicle accidents. Kentucky has a very specific statute that's called a Kentucky Motor Vehicle Reparations Act. It provides a two-year statute, so any car accident case involves a two-year statute. Because law refuses to be simple, it is not two years from the date of the accident, it is two years from the last PIP payment.
As we talked about earlier, PIPs are what you use to pay your medical expenses and your lost wages. Well, that's obviously much later than the day of the accident. A lot of times, they're not paying until three, four months later, so it's two years from your last PIP payment on a car accident case.
Then the other broad category of cases would be a wrongful death case, and that is one year from the date of death or one year from the date that the person has an executor or an administrator appointed, provided that that appointment occurs within one year of the date of death.