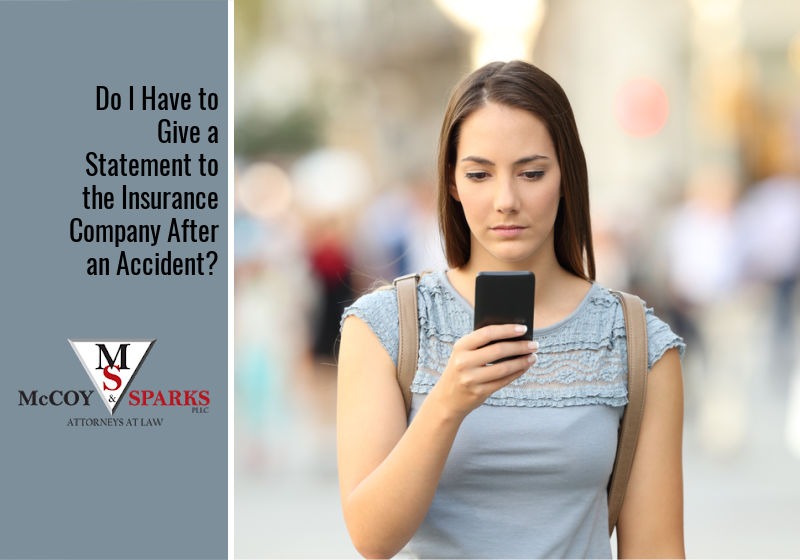 What To Say To Insurance After An Accident?
After an accident, it's common for the opposing driver's insurance company to ask for a statement. You may wonder what to say to insurance after an accident and if you are required to provide a statement. The answer is that you are generally under no legal obligation to provide a statement to the at-fault driver's insurance company after an accident.
When you hire a lawyer to represent you after an accident, your attorney will be able to discuss the purpose behind the insurance adjuster's request for a statement. You are within your rights to say no, but there sometimes can be a reason to say yes.
When it's your coverage, the answer is even more complicated. Some insurance companies have policies that require a statement and full cooperation in order to fulfill the policy. In these cases, you certainly don't want to void your policy by refusing to talk. Having an attorney help you to understand the fine print about when a statement is required and when it isn't can be a benefit to your case. Having experience to negotiate the limits of that statement is also important.
What Should I Say to Insurance After An Accident?
After an accident, you should always contact your insurer and let them and let them know an accident occurred. That's why you're insured!
Apart from providing the necessary details to start an insurance claim — such as the other driver's information, the time of the accident, your policy number, etc. — you may be tempted to discuss more than is necessary and end up providing a statement without realizing it. Unless you understand your rights in the case, you won't know if what your saying is helping or hurting your ability to recover. Be careful.
Here are some tips to help you navigate what to say when alerting an insurance company to your accident.
What should I say to insurance after an accident? Provide necessary details — and no more. Don't feel like you need to launch into a long, play-by-play of the accident and what led up to it, and your opinions on fault and degree of injury. Providing honest information without excessive narration is the best way to go. When asked questions, answer honestly but don't provide additional information voluntarily. If you can't recall something, don't try to approximate; you may end up providing inaccurate information that could hurt you later.
Don't apologize. We tend to compulsively say things like "sorry" when discussing accidents with those in authority. Avoid this! Even if you believe you are partially at fault, this is not the time to say so. This may make you feel like you are being dishonest, but the truth is, the investigation will reveal the necessary information. In the moment, your interpretation of what happened shouldn't include assigned fault because you simply don't have all of the information. Be honest, but don't give opinions.
Don't say "I'm fine." Even if you believe you only have minor injuries, soft tissue injuries can take time to show symptoms, and you should never say you have no or minor injuries without being medically cleared. If you are injured, you should also avoid providing details to the company until a later date Most injuries do heal, but some develop into more serious long-term problems with time. Don't give them incorrect words that they can (and will) use against you later.
Some insurance companies will try to get to you quickly and make an offer they hope you take. Unless you really understand the value of your case, why would you sell it to the insurance company for a steeply discounted rate?
Once you accept a settlement, you cannot receive additional compensation. Accepting the settlement may also forfeit your right to a much larger recovery under different policies. Because of these risks, it can be very beneficial to hire an attorney as soon as possible after an accident.
If you or a loved one has been injured in a motor vehicle accident and you have any doubts about an insurance company requesting a statement, whether it's the opposing driver's insurance or your own, you can reach out to a qualified attorney today for a risk-free consultation.
Trust McCoy & Sparks—Premier Personal Injury Attorneys in Nelson County
Recognized as Nelson County's best law firm for over a decade and counting, McCoy & Sparks works to help people in trouble, representing thousands of clients in Central Kentucky with a focus on providing premium service and delivering superior results.
Regardless of the type of case, our goal is to develop a strategy that best serves your personal needs, then draws upon our courtroom skills to help you reach the best possible result. We start by getting to know you. Next, we will explain all your options, giving you the pros and cons of each choice so that you will be empowered to make informed decisions.
You owe us nothing unless we recover compensation for you. Make the right call to (844) 4KY-WINS for a risk-free consultation with one of our attorneys today.
Video Transcript
Usually, the opposing insurance company will ask to take your statement because that's who the claim is going to be against. And you're under no obligation whatsoever to do that. Sometimes your own insurance company will want to take your statement. I allow that sometimes and sometimes I don't. I typically have a discussion with the adjuster to find out the purpose of the statement. You have to be careful here. I don't like giving statements, I don't like to have my clients give statements, but some policies have a provision in it, in the policy booklet, that says, "In order for this policy to apply, you have to cooperate in our investigation."
So you don't want to void a policy by just saying, "Nope, you can't talk to my client." It has to be handled individually. Sometimes you can simply ask the adjuster, say, "Well, let me ask you, what information are you seeking from my client? If you'll get that to me, I'll get it. And I'll have an answer for you today." That's enough sometimes. Sometimes they're adamant, "Nope, we have to." And if they say, "We have to take your client's statement or else the policy's going to be canceled," I'd probably allow my client to give a statement to their own insurance. But again, I would also belt that down, vendors and agreements that wouldn't be provided in the other party that it would not be released.