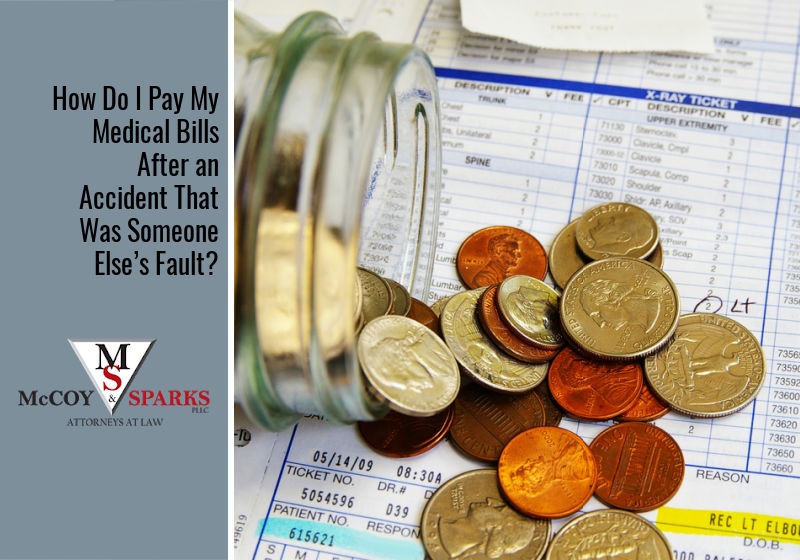 Summary: According to Kentucky law, there are several avenues to get your medical bills paid when someone else is at fault while you wait to file a recovery claim. Personal injury protection, health insurance, medical care coverage and workers' compensation are all available options to help pay your bills, even with pre-existing conditions, when you have to prove causation. McCoy & Sparks can help.
When you're hurt and someone else is to blame, you may have concerns about who is going to pay for your medical treatment. After all, you weren't planning to get injured, you weren't at fault and you shouldn't have to incur the steep costs of medical care.
Personal injury suits can help recoup the costs of your medical care, but these can sometimes take a long time to settle, and if they go to court, it can take even longer.
So how can you get the help you need to pay for your medical bills? What options do you have to cover your costs now?
Personal Injury Protection and Kentucky Law
So, how are medical bills paid after a car accident? When dealing with medical bills (especially following a car accident), it's important to remember that Kentucky is a no-fault state. Many people think this term refers to responsibility for an auto accident, which is not exactly true.
No-fault coverage is also called personal injury protection, or PIP, which is a better description of your coverage. For basic out-of-pocket medical costs for an injury following an automobile accident, PIP covers a certain amount of your bills, typically the first $10,000.
All Kentucky drivers are required to have at least $10,000 in PIP coverage except for motorcyclists, and you can purchase as much as $50,000 in coverage from your insurance provider to cover your bills.
But what if your injuries are extensive and you have large medical bills? This is where many people need help. The first $10,000 of medical expenses are paid regardless of fault. Recovering amounts over this, however, requires that you file a claim or a lawsuit and prove that someone was at-fault in causing the expense.
Also, per Kentucky law, you can file a suit when your personal medical expenses exceed $1,000, but there are exceptions to this limitation, including:
A fractured or broken bone.
Permanent disfigurement.
Death.
Permanent injury.
Permanent loss of bodily function.
Other Personal Injury Protection Payment Processes
Another way that your medical bills can be covered? Through coordination of your PIP and your primary health insurance, like Anthem, Blue Cross Blue Shield or Medicare. Without Medicare or private insurance coverage, you become responsible for paying your medical bills out of pocket.
But if everyone involved in the wreck acknowledges that the other party is at fault and that your medical bills are reasonable and related to your injury, it should become the responsibility of the party at fault. But dealing with their insurance company on these issues can be tricky to say the least.
Pre-Existing Conditions and Proving Causation
In some instances, causation can become an issue. What does causation refer to? The Stanford Encyclopedia of Philosophy puts it best: "But for the defendant's action, would the victim have been harmed as [they were]?"
When a person has a pre-existing injury and they are injured thanks to the actions of someone else, this can muddy the water even more. Why? Insurance companies like to hide behind these pre-existing injuries, claiming that, because the victim was already being treated for pain or some other health issue, the party at fault did not cause the harm.
In other words, if someone is already being treated for a neck injury with regular visits to a chiropractor but then these injuries are aggravated or worsened by an accident, some insurance companies will claim that their insured party didn't cause any injury. At McCoy & Sparks, we have extensive experience in dealing with these tactics.
Kentucky law is favorable to plaintiff's with pre-existing conditions. The accident doesn't have to be the only cause of the persons injury. The question is often whether it was a substantial factor in aggravating or arousing the condition. For example, perhaps a person previously had neck pain that was managed through chiropractic appointments or physical therapy and they could still go to work and live their lives. But following the accident, it can no longer be managed, and all they can do is go to the doctor and take various pain medications to try and get the pain under control. A strong argument can be made that the aggravated injury is the only injury for which you seek compensation.
At McCoy & Sparks, we have an exceptional nurse paralegal on our team. She will wade through medical records with nuance and differentiate between what is an old, pre-existing injury and what is a new injury caused by the accident. We know how to give you the best chance of winning.
Special Circumstances
There are a few other ways that you can get assistance paying for your medical bills based on how the injury happened, like slip and fall accidents or work-related incidents.
Premises Liability and Slip and Fall Accidents
When you've been hurt in a slip and fall accident, you are responsible for paying for your bills unless the property owner's liability insurance includes something called "Medpay" coverage. When the property owner has med pay coverage, their insurance company will usually cover the injured person's medical bills to the limits of the policy, which means you might be able to get some assistance paying for your bills depending on the property owner's insurance coverage.
Work-Related Injuries
If you've been hurt at work, you should file a workers' compensation claim. Your employer's workers' compensation insurance will likely pay your medical bills without you having to pay as much as a deductible.
Get Help from Experienced Personal Injury Attorneys
You don't need to wade through medical bills on your own. A personal injury attorney who is well versed in Kentucky law, insurance claims and the intricacies of your case can help you locate reasonable paths to get your medical bills paid.
At McCoy & Sparks, we're here for you from the very beginning. We understand that it can take a while to prepare, file and settle a case, and we'll help you identify ways to get your bills paid when they start to roll in.
Contact us today for a free case consultation, or give us a call at (844) 4KY-WINS, and we'll get you the help you need.
Trust McCoy & Sparks—Premier Personal Injury Attorneys in Nelson County
Recognized as Nelson County's best law firm for over a decade and counting, McCoy & Sparks works to help people in trouble, representing thousands of clients in Central Kentucky with a focus on providing premium service and delivering superior results.
Regardless of the type of case, our goal is to develop a strategy that best serves your personal needs, then draws upon our courtroom skills to help you reach the best possible result. We start by getting to know you. Next, we will explain all your options, giving you the pros and cons of each choice so that you will be empowered to make informed decisions.
You owe us nothing unless we recover compensation for you. Make the right call to (844) 4KY-WINS for a risk-free consultation with one of our attorneys today.