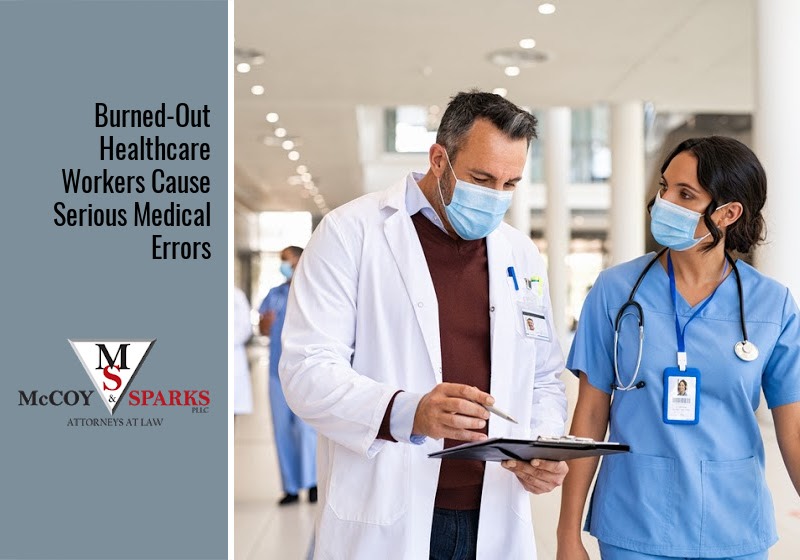 What you'll learn reading this article:
Physician burnout was already on the rise before the COVID-19 pandemic.
Medical mistakes are happening every day in Kentucky.
If you're injured due to a medical error, you can sue for compensation.
Before the COVID-19 pandemic hit, healthcare workers were already facing another type of crisis: burnout. A National Academy of Medicine study from October 2019 found record-high levels of stress among doctors, nurses, and other healthcare workers.
The NAM study describes "overwhelming job demands and insufficient job resources" for healthcare professionals, which can cause "physical, psychological, and emotional stress, including burnout – a workplace syndrome that is characterized by high emotional exhaustion, high depersonalization, and a low sense of personal accomplishment from work."
So what happens now that these same healthcare professionals are working longer, even more stressful hours during and after a pandemic?
A National Epidemic of Medical Mistakes
Tired, burned-out healthcare workers are more prone to making medical mistakes. A Stanford University School of Medicine study found that physicians showing signs of burnout self-reported more than double the average number of medical errors and their work units were associated with three to four times as many errors.
Before the coronavirus pandemic, medical mistakes were already "a national epidemic," in the words of Stanford Medical. Healthcare errors contribute to somewhere between 100,000 and 200,000 deaths per year in the U.S.
Here's another stunning statistic from the Stanford study: 10% of doctors admit they made at least one serious medical error in the past three months alone. What if your doctor was that 1 in 10 who made a mistake and harmed you?
Holding Kentucky Healthcare Providers Responsible for Medical Errors
The medical profession holds inherent risks. All medical providers take the Hippocratic Oath, which begins, "First, do no harm." Still, medical errors are one of the reasons healthcare providers carry insurance. Despite everyone's best efforts, mistakes happen.
In Kentucky, medical mistakes are happening at our healthcare facilities every day. A recent report found that Kentucky ranked 33rd in the country for its percentage of hospitals having an "A" ranking for patient safety. Out of 52 Kentucky hospitals, 25 received a C grade or lower due to the incidence of surgical errors, preventable infections, and other serious patient safety issues.
After a medical mistake, you can hold the doctor and facility responsible by filing a lawsuit. Kentucky has no cap on the amount of medical malpractice damages that can be awarded.
You may be able to recover compensation for:
Your existing medical bills
The cost of your ongoing medical care
Pain and suffering that causes mental and emotional damage
Your lost wages
But don't wait too long to file a lawsuit. Injured patients must act fast to recover compensation in Kentucky. Our state has a statute of limitations of one year, and the may clock start ticking the moment you discover your injury. There are some exceptions, but don't take any unneeded chances that could destroy your legal rights.
Talk to a Kentucky personal injury attorney who handles medical errors and malpractice claims. Whether your doctor was tired, stressed, overworked, or just plain irresponsible, you deserve to be compensated for the life-altering impact of their medical mistake.
Trust McCoy & Sparks – Premier Personal Injury Attorneys in Central Kentucky
Recognized as one of Central Kentucky's best law firm for over a decade and counting, McCoy & Sparks works to help people in trouble, representing thousands of clients in Central Kentucky with a focus on providing premium service and delivering superior results. Regardless of the type of case, our goal is to develop a strategy that best serves your personal needs, then draw upon our courtroom skills to help you reach the best possible result.
We start by getting to know you. Next, we will explain all your options, giving you the pros and cons of each choice so that you will be empowered to make informed decisions. You owe us nothing unless we recover compensation for you. Make the right call to 1-844-4KY-WINS for a risk-free consultation with one of our attorneys today.