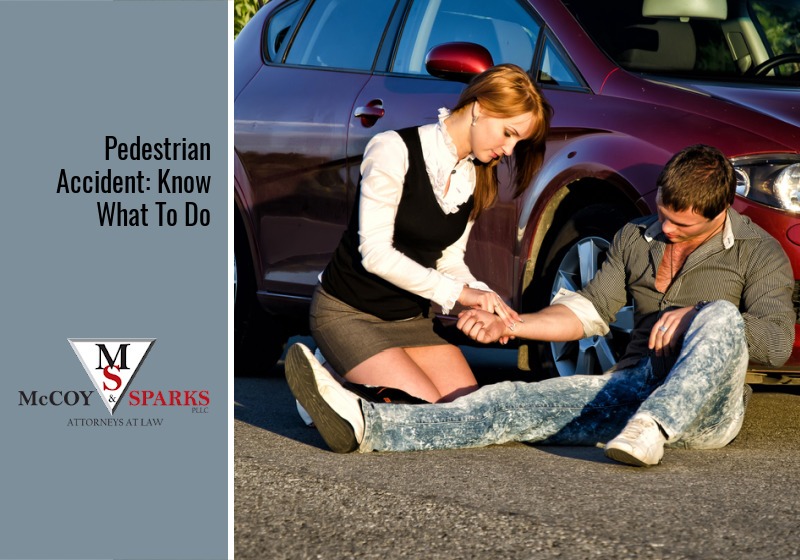 Summary: As a pedestrian, you never know when a vehicle could hit you and cause physical, emotional, and financial damage. There are certain important things you should do after your pedestrian accident.
Imagine taking your daily walk when a vehicle strikes you out of nowhere and leaves you with severe injuries. You go to the hospital, have emergency surgery, and learn you'll endure a long and difficult recovery period.
Now what? How will you pay your medical bills if you can't even work? What should you do next?
As Kentucky pedestrian accident personal injury lawyers, we see situations like this all the time. We'd like to share some important things you can do to protect yourself in the aftermath of a pedestrian accident.
Your First Priority: Your Health and Safety
Get medical attention as your top priority after the accident. If you were knocked into traffic or are left sitting somewhere dangerous, move to a safe spot and call 911 to report your injuries.
Even if you're not sure whether you were injured or how serious it is, call for help. According to the National Institutes of Health, pedestrian accident injuries often involve conditions like shock, concussions, traumatic brain injuries, and delayed symptoms, meaning you can't properly assess yourself and need medical help.
Fast treatment is the best for your health and also will make it more difficult for insurance companies to deny your claim.
Kentucky law requires motorists to carry liability insurance and PIP insurance. PIP (Personal Injury Protection) coverage provides up to $10,000 to cover medical expenses and lost wages that are attributable to a vehicle collision. When a vehicle strikes a pedestrian, PIP is triggered, regardless of who is at fault.
Request a copy of the police report and, if you are physically able to, take photos and videos of the scene of the accident. Ask witnesses for their contact information. By doing these things, you're building a mountain of valuable evidence. Recovering money above the PIP benefits will depend upon proof of fault for the collision.
Common Causes of Kentucky Pedestrian Injuries
Pedestrian accidents can happen almost anywhere and anytime. At McCoy & Sparks, we've seen a wide variety of situations where pedestrians suffered serious injuries due to the actions of a motorist.
Here are some examples of common causes of pedestrian accidents in Kentucky:
Unmarked crosswalks. Poorly marked and unmarked crosswalks are confusing for everyone on the road. They contribute to failure-to-yield accidents where neither the pedestrian nor the motorist is sure who has the right of way.
Drinking and drugged driving. When someone is under the influence of alcohol or drugs, their reaction time is reduced and their awareness of pedestrians may be almost zero. Remember, even over-the-counter medications and prescription drugs can impair someone enough to hit a pedestrian. Under Kentucky law, you can make a claim against someone who used either illegal or legal substances before hurting you.
Distracted driving. Here in Kentucky and across the nation, distracted driving is a huge problem. Maybe the person who hit you was sharing a TikTok video on their phone. Maybe they were paying more attention to a cheeseburger than the road. A skilled injury attorney knows how to dig up evidence you can use to hold them accountable.
Weather-related accidents. Did the person who hit you try to blame the weather? Maybe it was snowing or storming outside. This doesn't automatically free them from blame. Drivers are obligated to take extra caution in bad weather.
Driving errors and violations. We see plenty of situations that involve improper turns, speeding, swerving, and dangerous maneuvers. If a driver runs you over because of their poor driving, you may be able to win a case against them – whether the police cite them with a violation or not.
As an Injured Pedestrian, You Can Demand Compensation
Don't let the motorist or their insurance company bully you into staying quiet about your injuries. Insurance companies sometimes try to blame pedestrians for these accidents or convince them it's not worth making a claim.
Generally speaking, an injured pedestrian can seek compensation for both economic and non-economic damages. Your economic damages involve your monetary losses through medical bills, property damage, and lost paychecks. Non-economic damages refer to your emotional distress, loss of physical intimacy, and pain and suffering from the accident.
Finally, we'd like to point out that even if you are partially at fault for the accident, you can still recover compensation. Kentucky is a comparative negligence state, meaning the court will look at how much blame you hold compared to the other person. If you are partially to blame, your compensation will simply be reduced somewhat by your proportion of the responsibility.
As you can see, it pays to do the right things after a pedestrian accident. We're here to help you. McCoy & Sparks will give you a free case evaluation online or call us at 1-844-4KY-WINS to talk about your pedestrian accident.
Trust McCoy & Sparks—Premier Personal Injury Attorneys in Central Kentucky
Recognized as one of Central Kentucky's best law firms for over a decade and counting, McCoy & Sparks works to help people in trouble, representing thousands of clients in Central Kentucky with a focus on providing premium service and delivering superior results.
Regardless of the type of case, our goal is to develop a strategy that best serves your personal needs, then we draw upon our courtroom skills to help you reach the best possible result. We start by getting to know you. Next, we will explain all your options, giving you the pros and cons of each choice so that you will be empowered to make informed decisions.
You owe us nothing unless we recover compensation for you. Make the right call to (844) 4KY-WINS for a risk-free consultation with one of our attorneys today.