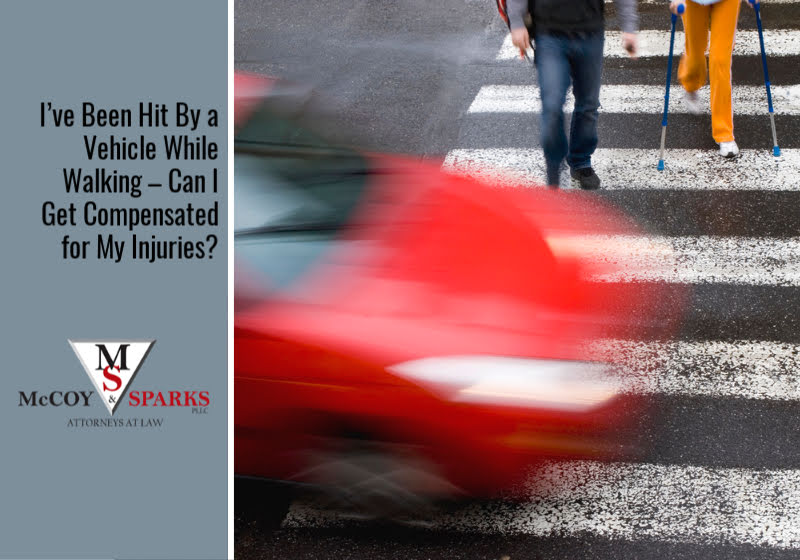 In the United States, 25% of pedestrian accidents occur on rural roads and highways … and this number is rising.
You see it on the news, time after time. A person walking on a street is hit by someone driving a car, bus, commercial vehicle – even a motorcycle. A pedestrian accident can occur anywhere, including rural areas where you don't see much traffic or street signage. This means the dangers of pedestrian accidents and the serious, catastrophic injuries they can cause -as well as the fatalities- are just as real in rural Kentucky as anywhere else.
According to the United States Department of Transportation, 25% of pedestrian accidents occur on rural roads and highways, a statistic that is rising. The Governors Highway Safety Association (GHSA) estimates fatality rates for pedestrian accidents increased 15.2% between 2016 and 2017 alone.
Common Causes of Pedestrian Accidents
Pedestrians should watch out for the most common causes of pedestrian accidents, which include:
Unmarked crosswalks – Crosswalks should be clearly marked so drivers are aware of the possibility of a pedestrian crossing the street. If crosswalks aren't marked, drivers may not be prepared and they may be unable to reduce their speed in time.
Left-hand turns by motorists – Pedestrians are three times more likely to get hit by a driver turning left than a driver turning right, because the driver is likely concentrating on the intersection. The pedestrian may be looking the other way to check for oncoming traffic. In this case, the driver will likely be to blame, since their top priority should be looking out for pedestrians.
Aggressive driving – Drivers who are in a rush can be less focused on watching for hazards; they're more interested in how they can save time. This can lead to negligent driving and they may be speeding. Drivers should always think about safety. If they're found to have caused the accident due to negligent behavior, they will be held responsible.
Alcohol use by drivers and walkers – Alcohol use can contribute heavily to any type of car accident. If the driver is over the legal drinking limit for operating a vehicle, they will be more inclined to engage in reckless behavior and have slower reaction times. Their response times will also be compromised. If the pedestrian has been drinking, they may not be acting in the interests of safety – they may be jaywalking, not watching for oncoming traffic or may wander onto a roadway.
What Does Kentucky Law Say About Pedestrian Accidents?
The law in Kentucky safeguards the pedestrian and the pedestrian must also follow the law in Kentucky. Kentucky statute KRS 189.570 addresses not only how people driving motor vehicles must behave when they encounter a pedestrian as well as laws a person must follow while walking in or on a roadway. Keep in mind the term, "pedestrian" also includes those in wheelchairs.
Pedestrians must obey the instruction of any official traffic control devices unless otherwise directed by a police officer or other officially designated persons. This means not crossing the street until you see the "walk" signal at a crosswalk.
If there are no traffic lights or "walk" signals, the driver must yield the right-of-way to a pedestrian crossing the roadway, or when the pedestrian is approaching so closely from the opposite half of the roadway as to be in danger. You also must use a crosswalk if there is one available on an adjacent intersection.
Be aware that if you are crossing a street and there is no marked crosswalk, you must yield the right-of-way to vehicles.
Every operator of a vehicle must exercise due care to avoid colliding with any pedestrian and must give warning by sounding the horn when necessary and exercise proper precaution if there's a child or an obviously confused or incapacitated person on the roadway.
As a pedestrian, it is against the law for you to suddenly step off the curb or other safe spot and walk or run in the path of a vehicle.
There are many other rules pedestrians must follow, most of which use common sense: Don't hitchhike, don't walk along the side of a road when inebriated and walk on the shoulder rather than the roadway.
What Should I Do If I'm Walking and Am Hit by a Vehicle?
If you've been involved in a collision accident, fault must first be established so a personal injury claim can be made. The fault will be attributed according to the circumstances. As with any other type of accident, what you say and do right after an accident can have a big impact on your personal injury claim.
Call 911 and ask for help, and let the dispatcher know you're a pedestrian who's been hit by a vehicle.
Seek immediate medical attention. Don't turn down a trip to the hospital. If first responders don't take you, visit the emergency room, your doctor or an urgent care center as soon as possible, preferably the same day.
Gather evidence. Get the make, model, year, license plate number and VIN number of the vehicle that hit you. If there are any company names associated, be sure to get that information as well. Also get the owner's contact information.
Take photographs or video.
Get statements from witnesses, as well as names and addresses.
Pedestrian injuries from auto accidents can be serious and expensive. You deserve fair compensation from the driver of the vehicle that hit you for your medical bills, lost wages and pain and suffering. The driver's insurance company will deny your claim without solid proof the driver was negligent, and that the driver's negligence was the direct and proximate cause of your injuries. Navigating insurance, liability questions and everything else connected with filing a personal injury lawsuit can be complicated so find a personal injury lawyer you can trust.
Trust McCoy & Sparks – Premier Personal Injury Attorneys of Nelson County
Recognized as Nelson County's best law firm for over a decade and counting, McCoy & Sparks works to help people in trouble, representing thousands of clients in Central Kentucky with a focus on providing premium service and delivering superior results. Regardless of the type of case, our goal is to develop a strategy that best serves your personal needs, then draw upon our courtroom skills to help you reach the best possible result. We start by getting to know you. Next, we will explain all your options, giving you the pros and cons of each choice so that you will be empowered to make informed decisions. You owe us nothing unless we recover compensation for you. Make the right call to 1-844-4KY-WINS for a risk-free consultation with one of our attorneys today.