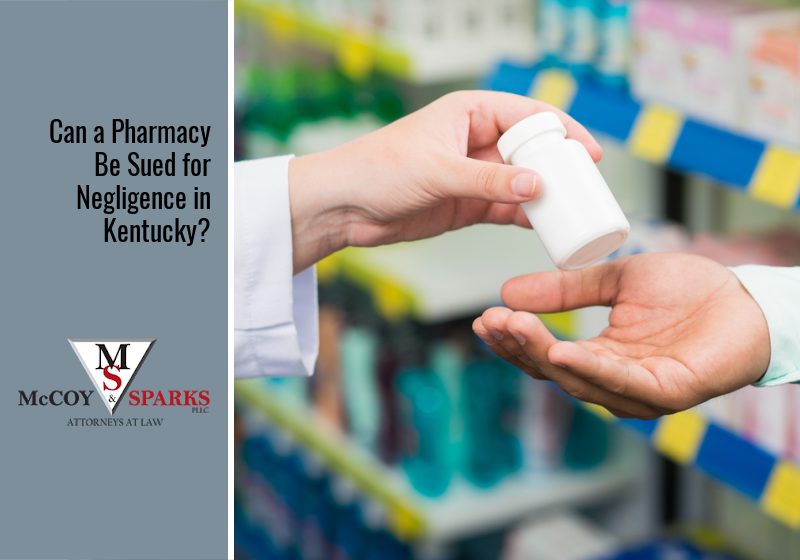 Summary: Medication errors cause 1.3 million injuries each year. There are all kinds of ways that a pharmacy or pharmacist can be found negligent, from forgetting to conduct a patient review to dispensing a wrong dose or the wrong medication– and the results can be life-altering and even fatal. If your pharmacy has committed malpractice, McCoy & Sparks can help.
Hospital pharmacies are often the source of egregious and harmful mistakes. In one study of hospital pharmacies, out of 140,755 medication doses in a seven-month timeframe, 5,075 of those doses contained errors, or about 3.6 percent. And of those incorrect medication doses, the hospital pharmacist only detected 79 percent of the errors. What happened in the rest of those case?
Can you sue a pharmacy for medical negligence? The short answer is "Yes."  But essentially only if you suffer an injury from the error.
Common Types of Pharmacy Negligence
There are all sorts of ways that pharmacists can make a mistake when dispensing drugs. What kinds of ways can pharmacists exhibit negligence?
Dispensing the wrong drug
Dispensing the incorrect amount of a drug
Giving the wrong dosage of a drug
Not conducting a patient review for adverse effects
Giving incorrect directions for drug usage
Not giving any directions on the proper uses of a drug
Dispensing defective or expired drugs
Dispensing errors are usually entirely preventable. Why do these kinds of dangerous mistakes happen? In this study, the most common causes of pharmacy dispensing errors were as follows:
Being busy (21 percent)
Being short-staffed (12 percent)
Being subjected to time constraints (11 percent)
Fatigue of healthcare providers (11 percent)
Interruptions during dispensing (9.4 percent)
Look-alike or sound-alike medications (8.5 percent)
In all of these instances, the errors could have easily been avoided, saving the patients from complications.
How Pharmacy Negligence Can Affect You
1.3 million people are injured by medication errors each year. What can happen if you've been the victim of pharmacy negligence, either in the hospital or via your local pharmacy?
You may never know that you've experienced a medication error. You may experience no side effects. However, some patients have experienced permanent harm and even death. Medication errors can cause all kinds of adverse drug effects (ADE), ranging from minor to life-threatening ADE.
Significant ADE happens if a medication error causes little to no threat to the patient's life function. This may look like physical tiredness, constipation, muscle cramps, inability to sleep, headaches, and pedal edema (swelling of the feet and legs).
Serious ADE results in persistent alteration of life function as a result of medication error. Side effects of a serious ADE include a gastrointestinal bleed, a symptom that requires hospitalization, an altered mental status or excessive sedation, an allergic reaction, shaking, chills, fever, or hypoglycemia.
Life-threatening ADE means that the patient is experiencing alterations or symptoms that put them at risk of death if they are not treated. This often looks like respiratory failure, cardiac arrest, and anaphylaxis.
About Pharmacy Negligence & Medical Malpractice
Can a pharmacy be sued for medical negligence in Kentucky? The answer is "yes."
Pharmacy negligence is usually considered a kind of medical malpractice, which means that you have to be able to prove the following things:
That your pharmacist had a duty or standard of care to you. This means that you have the right to expect that your healthcare professionals –including your pharmacist– will provide you with care that lives up to medical standards as acceptable medical treatment.
That you suffered an injury as a result of some kind of negligence. This doesn't just mean that there was a negative outcome from your treatment, it means that the negative outcome like an injury was the result of negligent behavior. I could have been killed or harm is not enough. There must be real, actual harm.
That your injuries have resulted in significant damage. Malpractice suits are hard to litigate and can be quite expensive. Your injuries typically need to have resulted in disability, loss of income, unusual pain, suffering and hardship, or significant medical bills.
Get the Help You Need After Pharmacy Negligence
If you suspect that you have been the victim of pharmacy negligence, you need to contact a personal injury attorney who is skilled in representing patients who have experienced medical malpractice. Whether it was a hospital pharmacy or your local pharmacist, you should seek help if you have experienced pharmacy negligence.
At McCoy & Sparks, we are well-versed in medical malpractice law and are prepared to advocate for your individual needs. You're never "just another client to us." We are here to help you. To find out more about what we can do for you after pharmacy medical malpractice, contact us today or give us a call at 1-844-4KY-WINS.
Trust McCoy & Sparks – Premier Personal Injury Attorneys in Central Kentucky
Long recognized as one of Central Kentucky County's best law firm for over a decade and counting, McCoy & Sparks works to help people in trouble, representing thousands of clients in Central Kentucky with a focus on providing premium service and delivering superior results.
Regardless of the type of case, our goal is to develop a strategy that best serves your personal needs, then draw upon our courtroom skills to help you reach the best possible result. We start by getting to know you. Next, we will explain all your options, giving you the pros and cons of each choice so that you will be empowered to make informed decisions. You owe us nothing unless we recover compensation for you.
Make the right call to 1-844-4KY-WINS for a risk-free consultation with one of our attorneys today.