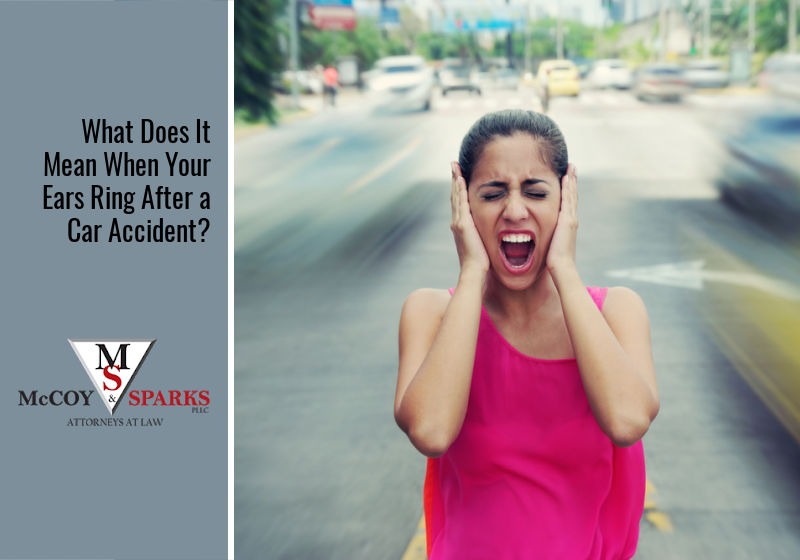 If you've been in a car accident, your first reaction is probably one of shock. Once that wears off, you may check yourself for injuries.
One symptom you might experience is tinnitus, or ringing in your ears. Any "phantom" noise you perceive is considered tinnitus, and it can occur at a variety of pitches, volumes, and in one, both, or alternating ears. Tinnitus itself is not an injury, but rather a symptom. You also don't have to have been in an accident to have ringing in the ears, as it can affect people at any age for a multitude of reasons.
What are the Common Causes of Tinnitus?
Here are the most common causes of tinnitus linked to car accidents:
Result of loud noise: Exposure to the loud noises of a car accident can be enough to trigger ringing in the ears. From the screeching tires and brakes to the sound of metal crashing on metal, the sound of the airbags deploying, and not to mention the screaming, the sounds of an accident can be traumatizing. Sometimes, such noise can be loud enough to rupture an eardrum or fracture ear bones.
Head injuries: Any injury to the ear bone can cause tinnitus, as can injuries to the skull that affect structure or hearing. Traumatic brain injuries (TBIs) can also affect hearing.
Neck injuries: As with head injuries, injuries to the neck or spine that damage nerves can affect hearing and cause ringing in the ears.
Whiplash: Whiplash, a specific type of neck injury that can often have a delayed onset of symptoms, and is known to cause tinnitus by jarring the skull and brain as the head is thrown back and forth along with the neck. Whiplash is common in rear-end collisions.
Injuries affecting blood flow: Any injury to an artery or vein in the head or neck could result in tinnitus.
Stress: It goes without saying that a car accident can be stressful, and stress can result in the sensation of ringing in the ears. It is also often linked to high blood pressure.
As you can see, the tinnitus may be the result of an underlying injury, or simply a reaction to stress or loud noise. If you suffer from tinnitus after a car accident, it is important to see a doctor to get thoroughly checked, especially as many injuries can be delayed in the onset of symptoms.
Can Tinnitus be Permanent?
Unfortunately, some tinnitus can be permanent. If you suffer tinnitus after a car accident that does not resolve itself, you may have an overlooked injury. While it is generally a temporary symptom of some other condition, it can also become chronic, especially for those who suffer other conditions like hearing loss or had traumatic neck or head injuries.
Despite being a symptom itself, tinnitus can result in additional negative complications. Tinnitus has been known to cause:
Sleep problems
Fatigue
Trouble concentrating
Memory problems
Problems with balance
Dizziness
Headaches
Stress
Depression
Anxiety
Irritability
If you or a loved one has suffered a car accident that resulted in chronic tinnitus that has affected your livelihood, you may be qualified to seek compensation. Contacting an attorney to discuss your case with a risk-free consultation can be the first step to getting your life back. Qualified personal injury lawyers will investigate your case, calculate your damages, and discuss your options for pursuing a claim.
Trust McCoy & Sparks—Premier Personal Injury Attorneys in Central Kentucky
Recognized as one of Central Kentucky's best law firms for over a decade and counting, McCoy & Sparks works to help people in trouble, representing thousands of clients in Central Kentucky with a focus on providing premium service and delivering superior results.
Regardless of the type of case, our goal is to develop a strategy that best serves your personal needs, then draws upon our courtroom skills to help you reach the best possible result. We start by getting to know you. Next, we will explain your legal options, giving you the pros and cons of each choice so that you will be empowered to make informed decisions.
You owe us nothing unless we recover compensation for you. Make the right call to 844-4KY-WINS for a risk-free consultation with one of our attorneys today.