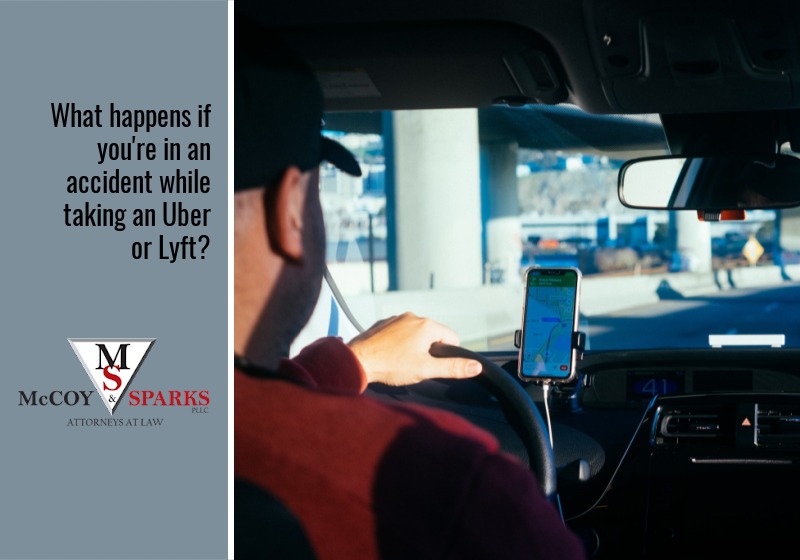 Summary Statement: Ridesharing is an increasingly popular mode of transportation, but what do you do following a collision if you're the passenger of an Uber or Lyft driver? Learn about these rideshare companies' insurance policies, how Kentucky law differs, and how to get the help you need.
Rideshare app usage is at an all-time high as platforms like Uber and Lyft expand their services to more and more cities across the country. There are all kinds of benefits.
There is a link between the decrease in the total number of drunk driving deaths with the introduction of apps like Lyft and Uber. And some organizations even are offering credits for free Uber rides in parts of Kentucky to cut down on drinking and driving during holiday seasons. Ridesharing even can cut down on car congestion and air pollution.
Despite these benefits, there are still many downsides to rideshare programs like Uber and Lyft. While Uber claims that there were only 49 Uber-related fatalities in 2017 over 8.2 billion miles, it did not disclose any information about injuries resulting from nonfatal accidents.
Uber also has its own definition of what constitutes an "Uber-related" crash, and it excludes all the time drivers spend with their app open looking for a ride match. This means that this data potentially could be quite biased.
The bottom line? It's hard to say for sure how frequently injuries happen during ridesharing.
What we do know? It definitely happens. And when it does, you need support to help you move forward after an injury.
How Rideshare Insurance Works
There always has been some question about both Uber and Lyft and when each company's insurance kicked in. Of late, these policies have been revamped. For both rideshare organizations, insurance is divided up into different periods that depend on where the driver is in the process and whether they have made a match with a passenger and are en route to pick them up, are actively transporting a passenger, or their vehicle has no passengers and no matches. Here's what you need to know:
Uber's Insurance Policy
Period 1 (the app is on, but no match is made): Each driver is covered for auto liability, personal injury, and uninsured or underinsured motorist insurance. Uber insures up to $50,000 per person for personal injury claims and up to $150,000 in auto liability insurance per accident for bodily injury.
Period 2 (the app is on, and the driver is on their way to pick up a passenger) and Period 3 (there is an Uber passenger in the vehicle): Each driver is insured for auto liability, personal injury, and uninsured or underinsured motorist insurance as well as contingent collision and comprehensive insurance. Uber insures up to $50,000 per person for personal injury claims and up to $1.25 million in auto liability insurance per accident for bodily injury and property damage.
Lyft's Insurance Policy
Period 1: Each driver is insured for auto liability insurance with up to $50,000 per person in bodily injury and $100,000 per accident for bodily injury.
Period 2 and Period 3: Each driver is insured for auto liability, personal injury, and contingent collision and comprehensive insurance. Lyft insures up to $1 million per occurrence for personal injury claims and $1 million per occurrence for auto liability claims.
Both Uber and Lyft require their drivers to carry additional insurance because many insurance companies have a "business use exception" clause that keeps them from covering these kinds of scenarios. Uber and Lyft's insurance policies kick in once a driver's additional personal insurance policies are exhausted.
Kentucky's No-Fault Insurance Policies
Kentucky is one of around a dozen states that offer "no-fault" insurance. Typically, no-fault insurance means that passengers file claims up to $10,000 with their own personal injury protection (PIP) plan for medical bills, property damage, lost wages from injuries and similar damages.
Where Kentucky differs is that vehicle owners are given the option to opt-out of no-fault policies when they are choosing their insurance policy, which is referred to as "choice no-fault." These vehicle owners are not entitled to the benefits of the PIP plan from their own insurance, but they do have the option to pursue a liability claim against an at-fault driver. It also opens these drivers up to being sued themselves if they are found to be at fault in a collision.
This opt-out policy can complicate matters in any personal injury claim but especially so when a driver is operating under a rideshare platform. A qualified attorney well versed in Kentucky personal injury law as it pertains to auto insurance can help determine the best course of action for you if you are injured while riding in an Uber or Lyft.
When You Are Injured in a Rideshare Accident
What should you do if you are injured in any accident no matter who is driving? If you are injured, obviously your immediate medical needs take precedence. However, as much as possible, it is your responsibility to do the following:
Stay at the scene.
Check on all occupants of all involved vehicles if you are physically able.
Call the police.
Exchange information, including name, phone number, address, license plate number, driver's license number and basic insurance information.
Talk to witnesses.
Seek immediate medical attention for all injuries no matter how minor they seem.
There are documented cases of Uber investigators trying to downplay accidents and mitigate their own financial responsibility. An accident involving a rideshare app complicates things.
You may also want to take a screenshot of your app at the time of the accident and ensure that you have a full, detailed police report, pictures and video of the accident scene, and be sure to see a doctor immediately for any injuries.
Hire a Personal Injury Attorney
To properly handle the intricacies of Kentucky insurance and personal injury law and to navigate the uncertainties of dealing with large companies that want to offer low settlements, you need to hire an attorney you can trust that has your best interest at heart.
A collision-related injury is never easy to deal with, but it can be especially difficult when ridesharing is involved. Our team at McCoy & Sparks can advocate for your needs with care, compassion and attention to detail.
Contact us today for more information on how we can help.
Trust McCoy & Sparks—Premier Personal Injury Attorneys in Central Kentucky
Long recognized as one of Central Kentucky's best law firms for over a decade and counting, McCoy & Sparks works to help people in trouble, representing thousands of clients in Central Kentucky with a focus on providing premium service and delivering superior results.
Regardless of the type of case, our goal is to develop a strategy that best serves your personal needs, then draw upon our courtroom skills to help you reach the best possible result.
We start by getting to know you. Next, we will explain all your options, giving you the pros and cons of each choice so that you will be empowered to make informed decisions. You owe us nothing unless we recover compensation for you.
Make the right call to (844) 4KY-WINS for a risk-free consultation with one of our attorneys today.