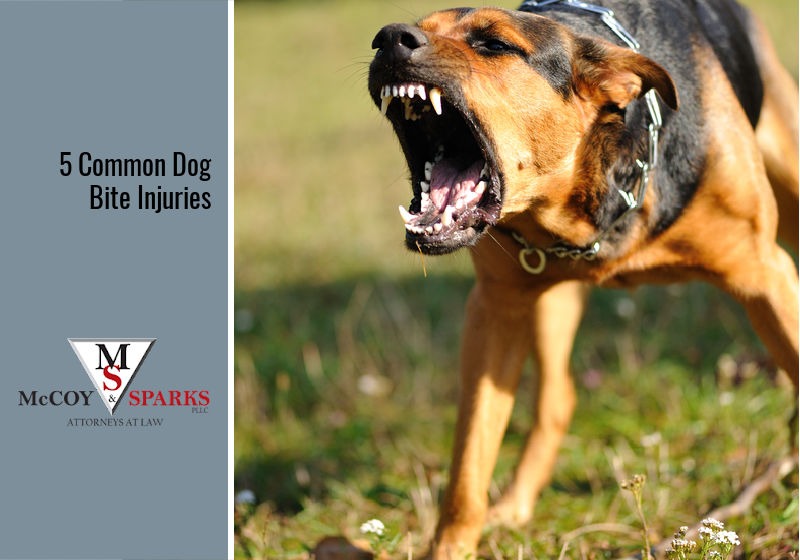 Dog bites are exceedingly common in the United States. These attacks can leave victims with devastating injuries. Every year in the US, over 4 million people suffer from dog bites, and tragically, children make up 66% of dog bite victims.
These attacks can be both physically and emotionally traumatic. Any type of animal attack is terrifying, but being assaulted by a dog can leave victims with crippling fear. There are over 57 million pet dogs in the United States, so it's challenging to stay away from these usually-friendly but potentially dangerous animals.
A dog attack can leave you with numerous injuries, but there are five common dog bite injuries. In this blog, you'll learn about these different types of injuries and Kentucky dog bite laws. 
Kentucky Dog Bite Laws
Kentucky has statutes that dictate a dog owner's consequences in the event that their dog attacks. KRS 258.235 outlines many different rules for owning a dog, and KRS 258.235 (4) states that "Any owner whose dog is found to have caused damage to a person, livestock, or other property shall be responsible for that damage." This means that if a dog hurts you, your child, your pet, or your property, you're entitled to compensation from the dog's owner.  
If you or a loved one suffers from a dog bite injury, you have every right to seek compensation from the dog's owner in civil court. You may be able to recover compensation for property damage, medical bills, lost wages, pain and suffering, and more.
1. Lacerations and Scarring
Dog attacks frequently leave victims with serious lacerations and permanent scarring. Dog bites often require stitches and bandages, and you may even need to undergo expensive surgeries.
These painful and common dog bite injuries may deform the area of your body that the dog attacked, and permanent scarring is not uncommon. According to the American Society of Plastic Surgeons (ASPS), doctors performed over 20,000 reconstructive surgeries as a result of dog bites in 2018 alone.  
Tragically, many victims of dog attacks suffer from permanent facial scarring, and facial deformities can be both physically and emotionally painful.
2. Puncture Wounds
Dog attacks often result in significant puncture wounds because of canines' sharp teeth and claws. If a dog punctures your skin, you need to seek immediate medical attention. These wounds are usually deeper than lacerations, meaning they're more likely to cause an infection.
When you go to the doctor, they'll likely clean and treat your wound thoroughly and also prescribe an antibiotic to prevent infection.
3. Infection
A dog bite is especially likely to get infected because the attack involves the animal's mouth. Although dogs have cleaner mouths than humans, their bites can still cause infections.
If your wound becomes infected, you'll experience increased pain and discomfort. The wound will likely swell and become tender to the touch. You may also experience redness, heat, and pus.
In the event you notice any of these symptoms, you need to seek immediate medical attention. Infections can become life-threatening when left untreated.
Although incredibly rare, dog bites can also transmit rabies. Beginning symptoms of rabies include weakness, discomfort, headache, and fever. As symptoms progress, victims will experience confusion, anxiety, and cerebral dysfunction. When left untreated, rabies is fatal.
4. Disabilities
Depending on the severity of the attack and where the dog bit you, you may suffer from permanent disabilities. Some dog breeds are capable of biting off your hand or permanently disabling a body part.
Permanent disabilities are more common in cases involving children because of their smaller frames. Sadly, some child victims of dog attacks have experienced permanent visual impairments.
5. Emotional Injuries
In addition to life-altering physical impairments, a dog bite can also leave a victim with permanent emotional injuries. Types of emotional injuries include anxiety, depression, emotional distress, and post-traumatic stress disorder.
Emotional injuries can result from a traumatic attack or from the victim's injuries. For example, someone may suffer from depression or post-traumatic stress disorder as a direct result of experiencing an amputation after a dog attack.
These common dog bite injuries are significant and life-changing. Holding the owner of a dangerous dog responsible for your injuries is crucial to ensure your healing and protect others from possible harm in the future.
Recovering Damages After a Dog Bite in Central Kentucky
If you suffer from an injury caused by a dog attack in Kentucky, you have every right to recover compensation from the dog's owner. You can file a claim and present evidence indicating that the defendant's dog bit you and that you suffered losses as a direct result of your attack.
Considering filing a personal injury claim in Kentucky? You need attorneys who have experience handling dog bite personal injury cases. An experienced personal injury attorney will assist you by gathering evidence and presenting your case effectively. There is no designated dog bite injury compensation amount. Your lawyer will work to maximize the amount of money you receive for your property damage, medical bills, lost wages, loss of future earnings, pain and suffering, emotional distress, and more.
For lawyers experienced in handling dog bite cases, contact the legal experts at McCoy & Sparks Attorneys at Law at 844-459-9467. You can also get a free case consultation here.