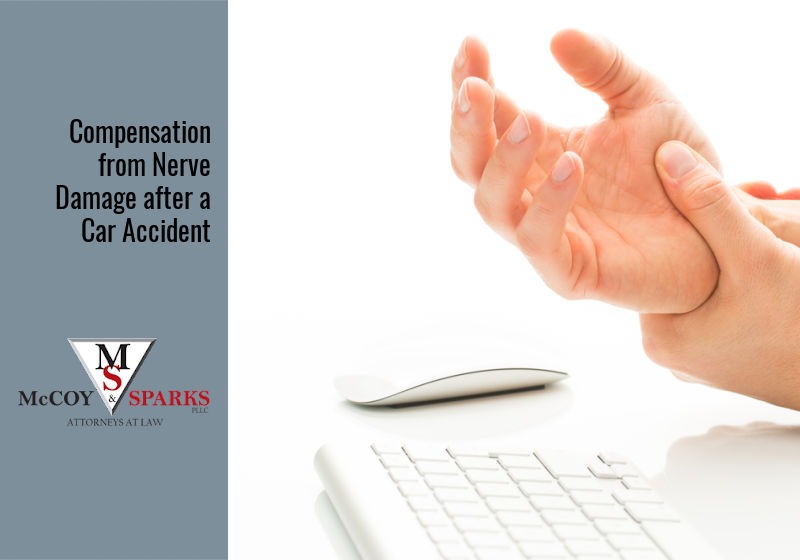 Nerve damage is just one of many long-term injuries that can be caused by a car accident.
Our bodies are full of nerves and nerve endings, and even a small injury to one of these nerves can cause lasting pain and suffering. Presented in the right way, these injuries can produce large settlements or verdicts.
Working with an experienced Kentucky car accident attorney increases your ability to get reasonable and appropriate compensation for your claim.
What Kinds of Nerve Damage After a Car Accident Can Occur?
While there are trillions of nerves in the human body, all of them fall into one of three categories:
Autonomic Nerves are the nerves that control your body's involuntary (or partially voluntary) activities. This includes your body's ability to regulate its temperature, blood pressure, heart rate, and respiration.
Motor Nerves are the nerves that control voluntary movement. They do this by relaying information between your brain and muscles via the spinal cord.
Sensory Nerves are the nerves that respond to pain and other physical sensations like heat and cold. They relay information that is taken in by the skin and muscles and relate that to the brain.
An accident can cause damage to any of these types of nerves or more than one type at the same time.
Symptoms of Nerve Damage
Some of the common symptoms of nerve damage after a car accident include:
Numbness in your extremities
Tightness in your feet or hands (imagine having gloves and socks on that are too small)
Muscle weakness, especially in the extremities
Unable to keep a firm grip on objects
Buzzing, tingling, or stinging sensation in your extremities
Types of Nerve Damage
Neurapraxia is the mildest possible form of nerve damage. When a nerve is stretched or compressed, it can become sore, painful, and sensitive. The good news about neurapraxia is that it usually resolves on its own or with simple at-home treatments like massage, cold compresses, and massage.
If you experience neurapraxia after an accident, you may need to see a medical professional, seek massage or chiropractic services, and purchase over-the-counter or prescription medications to alleviate the pain. Always keep track of these expenses in case of a lawsuit or personal injury claim related to your injuries.
Axonotmesis occurs when the axons and myelin sheath are damaged. The axons are what convey information between the nerves within the nervous system, and the myelin sheath is the covering that protects these nerves.
Axonotmesis often requires more extensive treatment than neurapraxia. For example, you may need physical therapy or occupational therapy to recover. It may take up to a year for axonotmesis to resolve.
Neurotmesis is, unfortunately, common in severe car accidents. It is the most severe kind of nerve damage that one can experience. These injuries result in the nerve being cut. In a serious car accident, the victim may experience an open wound, head injury, spinal cord injury, or another major bodily injury resulting in a severed nerve.
In these cases, accident victims may need surgical treatment, as well as ongoing therapy. Full recovery from neurotmesis is less likely than other nerve injuries.
What Gets Covered in a Nerve Damage Car Accident Settlement?
A nerve damage car accident settlement can cover medical costs associated with your injuries, including long-term care like physical therapy, occupational therapy, chiropractic treatments, and ongoing doctor's appointments. The largest yet most difficult to value damage is pain and suffering.
Like other accident claims, you will also want to keep track of expenses related to your damaged vehicle, missed work, and pain and suffering.
McCoy & Sparks–Central Kentucky's Leading Attorneys for Nerve Damage Settlements
The residents of Central Kentucky know they can trust the experienced and knowledgeable legal team at McCoy & Sparks to get them the compensation they deserve for nerve pain after a car accident.
When you work with the car accident attorneys at McCoy & Sparks, you can be confident that we will take the time that is needed to understand your case, inside and out. We put together a strong legal strategy to meet your needs and get you the compensation you need.
We know how difficult it can be to navigate life with nerve pain, and we are here to alleviate the financial and emotional stress of your injuries!

Check out our case results to see stories of people we have helped here in Central Kentucky.

Contact McCoy & Sparks Attorneys at Law, your Central Kentucky car accident lawyers at 1-844-4KY-WINS or fill out our online form to set up a free consultation. Our offices are located at 212 W. Stephen Foster Ave. in Bardstown, Kentucky.