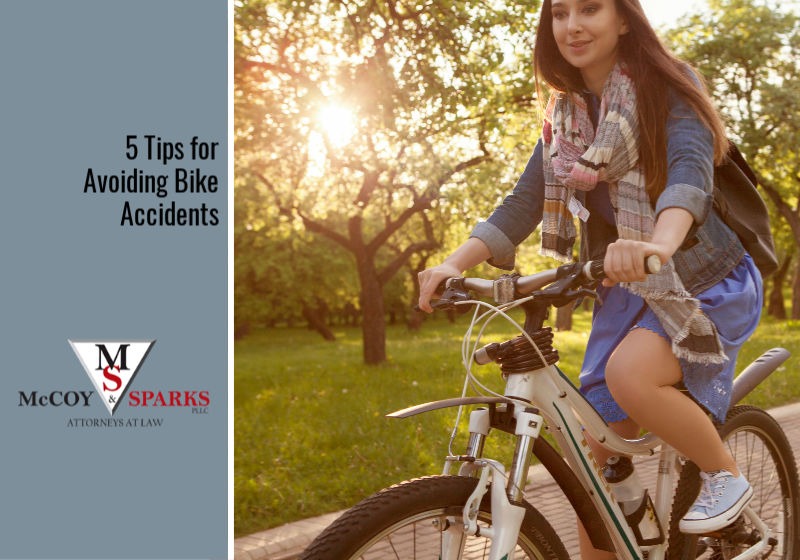 Many accidents involving bicycles and motor vehicles can lead to grave injuries– and they are easily prevented if drivers and cyclists take extra precautions and stay alert. If you're a cyclist who has been injured in a collision, contact our team today.
As the weather warms and we spend time outdoors, more people have their eye on summer activities. Many cyclists have already inflated their tires and strapped on their helmets, which means motorists should always be on alert.
30 percent of all bike injuries happen when a cyclist is struck by a car. Here's how you can empower yourself to avoid an accident with a bike rider in your area.
1) Comply with the 3-Foot Passing Law
Currently, 18 states have laws that specify a minimum safe passing distance for drivers in vehicles to pass cyclists. In most instances, this minimum distance is 3 feet to allow at least 3 feet (or more, when safe) between a car and a cyclist, to prevent sideswiping them.
Kentucky's 3-feet passing law took effect on July 14, 2018, but you should also consider regulations put in place in other states– not as a rule, but more of a helpful guideline to safely share the road.
In New Mexico, the safe passing distance is 5 feet, and in New Hampshire, they account for speed in their legislation as well. Motorists in New Hampshire must allow 3 feet when passing, but for every 10 miles over a 30 mile-per-hour speed limit, drivers are asked to give an extra foot of passing space between their vehicle and a cyclist.
2) Be Aware When Driving In and Around Parking Lots
We may all drive much slower in parking lots, but that doesn't mean they aren't dangerous. 25 percent of all parking lot accidents happen when a vehicle is backing up. The danger is that a person on a bike is much harder to see than a car, van, or truck, making cyclists extremely vulnerable to a serious accident in a parking lot.
Whenever you are in a parking lot, you need to proceed with caution, especially when backing up. There may be bike riders or other pedestrians nearby.
Another thing to consider? One of the most frequent kinds of car-bicycle collisions is when a bicyclist pulls out of a driveway, alley, or parking lot and is unseen by the driver. Keep your eyes open for cyclists entering the roadway and stay alert.
3) Always Look Twice– And Know Where to Look
Another frequent kind of motor vehicle-bicycle collision is when a motorist turns right and doesn't see a bicycle approaching on the passenger side of the car, cutting them off and hitting them. This is a common misstep for otherwise cautious drivers who don't know to check for cyclists approaching on the right.
Make sure you stop completely and double-check your passenger-side mirror for cyclists when turning right, especially if you know that cyclists may be approaching.
4) Yield the Right-of-Way
Whenever a cyclist is on the road, they automatically have the right-of-way. This means that you should never underestimate the speed of a cyclist and try to speed ahead of them to make a turn or when passing through an intersection. 12.57 percent of all bicycle-motorist accidents in Kentucky happened when the driver of the vehicle did not yield the right-of-way.
Other major contributing factors are 28.95 percent of all accidents involving a motor vehicle and a bicycle happen when the driver of the vehicle wasn't paying attention, and another 2.34 percent were distracted, and 0.58 percent of drivers in bicycle-vehicle collisions were on their cellphones. Not only should you yield to cyclists and slow down, but you should also keep your focus on the road at all times.
5) Be Alert to the Kinds of Bike Accidents that Happen Often
You can help prevent bicycle-vehicle crashes simply by being aware of what kinds of traffic scenarios lead to accidents. Here are additional common causes of bike accidents that you should know about:
Motorists driving out at a controlled intersection when the cyclist had the right-of-way
Drivers or backseat passengers opening a car door into an oncoming cyclist's path
Motorists turning left into the path of an oncoming bike rider
Cyclists riding on the wrong side of the street
Cyclists making an unexpected left turn
Bike riders crossing the street at a crosswalk
Other factors include weather conditions, poor visibility, and low light conditions, so be aware of these situations as well. More than half of all bike accidents happen after dark.
Bike Injuries Can Be Serious
Unlike the occupants of a car, cyclists are entirely exposed, which makes a collision much more serious for them. Bike accidents prove to be fatal all too often. In 2018, 857 cyclists in the US were killed in an accident involving a motor vehicle. Here are the common types of injuries seen when bike riders are involved in traffic-related crashes:
Head trauma
Neurological damage
Spinal cord injury
Disc bulge or ruptured disc
Bone fractures
Internal injuries
Anyone planning on riding a bike should don a helmet and educate themselves on what they can do to help prevent accidents as a cyclist.
Kentucky's Bicycle Accident Attorneys
At McCoy & Sparks, we represent bike riders who are the victim of a collision as well as family members who have lost a cyclist in a fatal accident with a negligent driver. If you or someone in your family has suffered injuries in an accident involving a bicycle and a motor vehicle, our team at McCoy & Sparks can help.
Reach out today to learn more about the compassionate representation you'll receive with our team at McCoy & Sparks, so you can move forward with your life after the trauma of a bike accident.
Trust McCoy & Sparks – Premier Personal Injury Attorneys in Nelson County
Long recognized as Nelson County's best law firm for over a decade and counting, McCoy & Sparks works to help people in trouble, representing thousands of clients in Central Kentucky with a focus on providing premium service and delivering superior results. Regardless of the type of case, our goal is to develop a strategy that best serves your personal needs, then draw upon our courtroom skills to help you reach the best possible result. We start by getting to know you. Next, we will explain all your options, giving you the pros and cons of each choice so that you will be empowered to make informed decisions. You owe us nothing unless we recover compensation for you. Make the right call to 1-844-4KY-WINS for a risk-free consultation with one of our attorneys today.