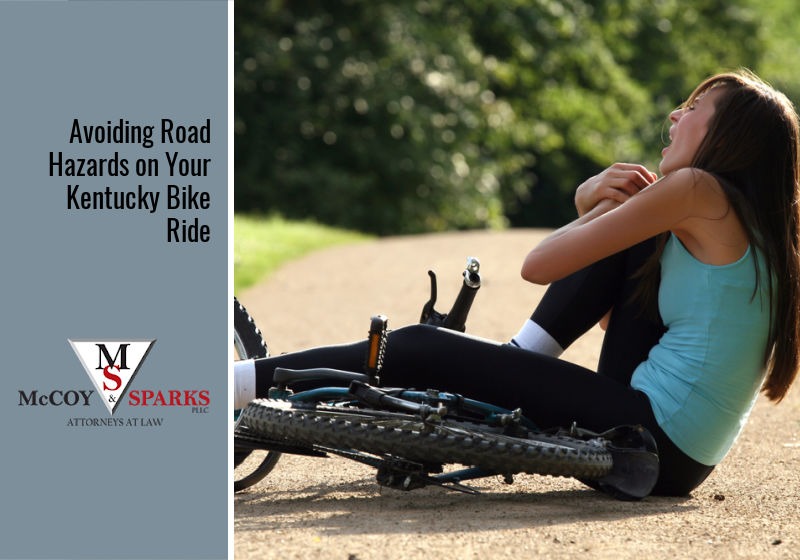 Bicycling can be a fun and environmentally friendly pastime for many as well as a healthy and relatively inexpensive mode of transportation.
Unlike motorists, bicyclists are much more susceptible to injury from road hazards due to the size of the bike and their relative exposure to the elements and other drivers. Because of this, it is important for cyclists to be aware of the common hazards they may encounter while on the road and take precautions against bicycle accidents when possible.
Common Road Hazards You May Encounter
While going on a bicycle ride, there are some road hazards you are more likely to encounter than others. Road hazards can not only harm a bicyclist's bicycle but can cause accidents or injuries for the rider, particularly if the encounter occurs near a busy roadway. Bicycles are easily tipped or flipped, and riders can be thrown from their seat into the road, traffic or foliage.
Here are some of the frequent obstacles that you could happen upon while bicycling in Kentucky:
Potholes: Potholes can cause bicyclists to be thrown from or lose control of their bikes and can occur both on sidewalks and roadways.
Ineffective or Disturbed Signage or Lighting: Signs posted for construction and detours and other warning signs or occurrences can be confusing to riders. Additionally, lampposts and road signs that have been disturbed or have quit functioning properly can pose additional risks to cyclists, creating unevenly lit and marked pathways.
Drain Grates: Bike wheels have been known to get caught in sewer grates used for flood control, and other sewage infrastructure such as manholes can cause problems for cyclists when they have broken or improperly placed covers.
Rail and Trolley Tracks: Unused railways can cause hazards for cyclists, especially when going at a high speed. Bicycle wheels are just the right size to get caught between rails, and unused or unmaintained tracks can include rusting nails and uneven surfaces.
Debris: Whether environmental debris such as sticks and branches from a storm or man-made debris such as loose construction equipment or trash, debris and litter can affect a bicyclist's ability to steer, puncture tires and otherwise cause accidents.
Additional hazards can be weather related, such as flooding on roadways from heavy storms.
Always be aware of the forecast when you plan to take your bike out for a spin and wear proper safety gear such as a helmet, padding and reflective clothing. This is especially important when riding at dusk, dawn or during conditions that otherwise would affect visibility for you and others on the road.
When cycling, you should always be on the lookout for other cyclists as well as motorists.
What to Do If You're in an Accident Involving a Road Hazard
If you or a loved one is injured in an accident that was caused by or worsened by a road hazard, there are a few steps you should take:
Get medical attention. Be sure to see to your health and any injuries as soon as possible.
Report the incident. You will want to help ensure other cyclists are not injured by the same hazard and have a record of your incident.
Take photographs or video recordings of the scene. Be sure to get multiple angles of the road hazard. Additionally, photograph your injuries.
If other drivers or cyclists are involved, exchange information. Get insurance and contact information like you would in a car accident.
Identify witnesses. If anyone saw what happened, get their contact information.
Contact a personal injury attorney (aka McCoy & Sparks). Discuss your case with a qualified lawyer to learn the options you have when it comes to seeking compensation for your injury.
Preserve evidence. Place your clothing, shoes, helmet, bicycle and any other gear in a safe place. Take photographs of each item.
Avoid posting about the accident. Social media broadcasting of an injury is tempting, especially when someone else is at fault. It is best to avoid sharing online about personal injury cases, however, as it can harm your case.
Trust McCoy & Sparks—Premier Personal Injury Attorneys in Central Kentucky
Recognized as one of Central Kentucky's best law firm for over a decade and counting, McCoy & Sparks works to help people in trouble, representing thousands of clients in Central Kentucky with a focus on providing premium service and delivering superior results.
Regardless of the type of case, our goal is to develop a strategy that best serves your personal needs, then draws upon our courtroom skills to help you reach the best possible result. We start by getting to know you. Next, we will explain all your options, giving you the pros and cons of each choice so that you will be empowered to make informed decisions.
You owe us nothing unless we recover compensation for you. Make the right call to (844) 4KY-WINS for a risk-free consultation with one of our attorneys today.