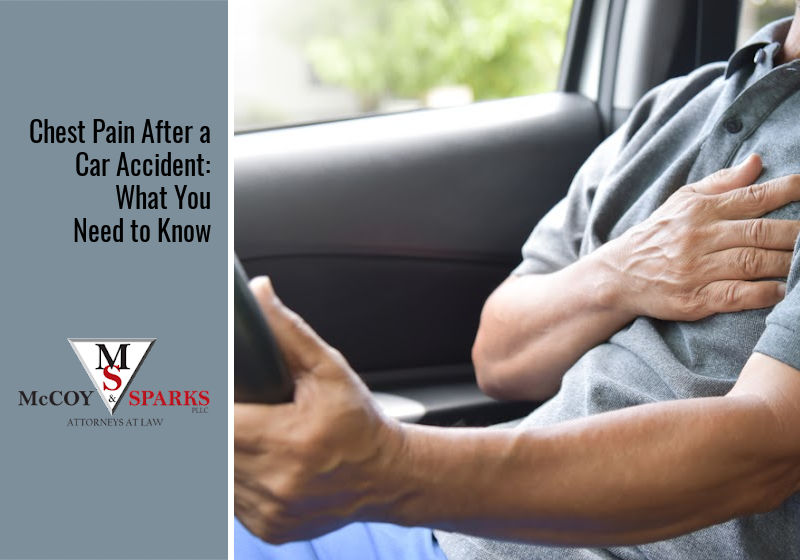 Chest pain after a car accident should not be taken lightly. Though chest pain can be brought on for many reasons, some of which are not serious, you should never ignore chest pain.
In many cases, the symptoms of chest pain can be similar to symptoms of more severe and life-threatening injuries. If you think your pain might simply be the result of stress or anxiety after a car accident, you should still get checked out by a medical professional just to be sure.
Delaying treatment for chest pain not only puts your life at risk but can also negatively impact your car accident claim. If you intend to file a claim to recover compensation for the accident, proof that you sought immediate medical attention will help support your case and can help you win a higher settlement.
Below, we'll review all that you need to know about chest pain after a car accident to keep you safe. If you have further questions after reading this and need help with a claim, please don't hesitate to get in touch with one of our experienced Kentucky car accident attorneys.
Causes of Pain in the Chest After a Car Accident
Chest pain is common after car accidents. When a vehicle rapidly decelerates or comes to a sudden stop, the force exerted on the body can propel the passenger forward, which can result in pressure or blunt force being exerted on the chest.
Of course, many people also feel shocked, stressed, and anxious after car accidents, which can also cause shortness of breath and chest pain. However, there is no way to tell if the symptoms you are experiencing are due to an actual injury or simply the result of shock or stress without being checked out by a medical professional.
If you have chest pain, no matter how minor it feels, you should always seek medical attention as soon as possible to be safe. Car accident injuries that can result in chest pain include:
Muscle damage or strain
Bruised sternum
Punctured or collapsed lung
Pulmonary contusions
Cardiac contusions
Cardiac arrest or heart attack
Liver, spleen, or kidney damage
These injuries and chest pain can happen for many reasons, but the following are the three most common causes of chest injuries and chest pain after a car accident:
1. Blunt Force Trauma
It is common in car accidents for passengers or the driver to be propelled forward into the dashboard or the steering wheel. When this happens, the impact to the chest causes blunt trauma, which can result in pain and internal injuries. A person can also be thrown into other parts of the car or ejected, which can also cause blunt trauma to the chest area.
2. Airbag Deployment
Airbags save thousands of lives every year, but they can also do damage. Airbags deploy very quickly and the force of the airbag hitting the chest can cause some bruising and even some internal damage. However, the injuries suffered as a result of hitting an airbag are typically less severe than if the airbag had not deployed.
3. Seatbelts
Similar to airbags, seatbelts also save lives but can also cause injuries. The chest strap of a seatbelt is meant to keep the body from being propelled forward and hitting parts of the car or from being ejected. However, that same strap can also put a lot of pressure on the chest, which can cause some bruising and injuries.
Keep in mind that though chest pain from a seatbelt in a car accident is not pleasant, it is much better than the more severe injuries you would likely suffer if you weren't wearing a seatbelt. According to the NHTSA, over 50% of those killed in car accidents were not wearing seatbelts.
How to Tell if Chest Pain After a Car Accident is Serious
There is no way for the average person to truly tell if their chest pain is serious without being seen by a medical professional. If there is no outward sign of damage or injury, it does not necessarily mean that an injury is not present.
In some cases, there may even be delayed chest pain after a car accident, which means you might not experience any symptoms at all until a few hours or a day later. However, waiting to get checked out by a doctor until symptoms are present could put your life at risk, as by the time the chest pain appears, it could be too late.
Whether symptoms are immediately present or not, it's always best to see a doctor after having been in a car accident, just to be safe. If you experience any of the following symptoms, seek medical attention right away:
Pain or discomfort in the chest
Pain when you take a deep breath, cough, sneeze, or laugh
Pain when you move your chest or bend over
Tenderness when the chest is touched
Bruising in the chest area
Filing a Claim for Chest Pain After a Car Accident
If you are experiencing chest pain after a car accident, the first thing you should do is seek immediate medical attention. Your health and well-being should always be your number one priority.
However, after you have sought medical attention, it is important that you reach out to an attorney as soon as possible to help you handle your claim. Kentucky is a no-fault state, which means you will first file a claim through your PIP auto policy to recover no-fault benefits.
These PIP benefits can help you cover medical expenses related to your chest pain and injuries. However, it is not uncommon for PIP coverage to only cover a portion of your accident-related expenses.
If you need further coverage, you may need to file a claim against the guilty party, but doing so will require working with an attorney to prove that the damages you have suffered are severe enough to require more compensation. You may even be able to file a lawsuit against your insurance company if they fail to provide you with the no-fault benefits you are owed.
How Our Premier Personal Injury Attorneys in Central Kentucky Can Help
If you are suffering from chest pain after a car accident, our team can assist you. We have the experience and the skill required to help our clients win their cases and get the full and fair compensation they deserve for their pain, suffering, medical bills, and other potential damages.
Whether you want to ensure your insurance company pays you the full no-fault benefits you deserve or you need to file a personal injury lawsuit against the at-fault driver, we are here to help.
McCoy & Sparks is continually recognized as one of Central Kentucky's best law firms. We represent thousands of clients in Central Kentucky with a focus on providing premium service.
You owe us nothing unless we recover compensation for you. Make the right call to (844) 4KY-WINS for a risk-free consultation with one of our Kentucky car accident attorneys today.