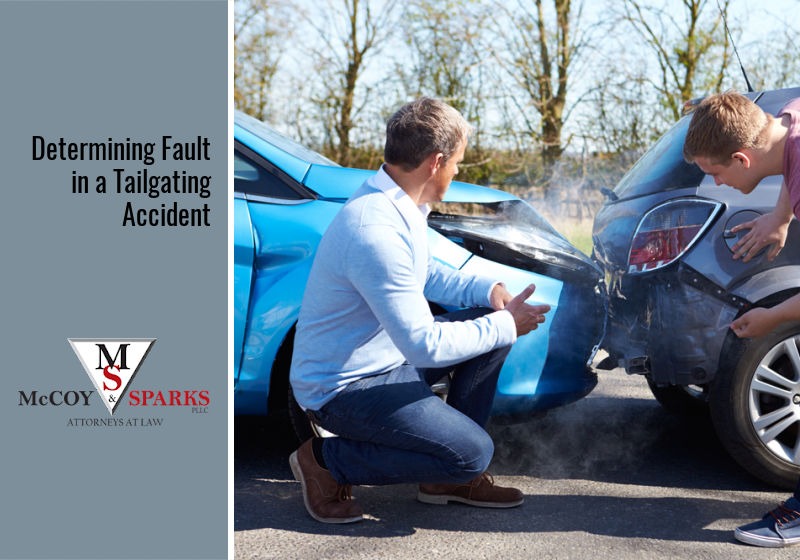 Practicing safe driving involves giving 100% of your focus to the task at hand. Safe drivers avoid distractions, never drive while under the influence of drugs or alcohol, and also know the importance of leaving an appropriate distance between vehicles when traveling on the road. Drivers acting aggressively or being careless may follow too closely to the car in front of them. This practice is called tailgating and it is a common form of aggressive driving seen in Kentucky and across the country.
After being involved in a tailgating accident, you may wonder who will be considered at fault for the collision and what steps you need to take to ensure your needs are taken care of. It is important as a victim in Kentucky to be informed of the details of the laws in your area as well as what you should do to protect yourself after an accident.
What Is Tailgating in Driving?
When a driver fails to keep an appropriate distance between their vehicle and the one in front of them, this is considered tailgating. It is generally advised to keep a distance of three seconds between your car and the car you are following. If road conditions are dark, wet, or otherwise difficult to travel, that time should increase to 4 to 5 seconds. Tailgating, or failing to keep at least three seconds between vehicles, is dangerous and can be considered aggressive driving. This dangerous behavior is a common cause of rear-end accidents.
Tailgating Accident Statistics
There are nearly 2.5 million rear-end collisions that occur each year in the United States which makes up for 28% of all collisions reported. In Kentucky alone, there were 6,027 rear-end collisions in 2021 that resulted in 7 fatalities.
Tailgating causes accidents every year. What are some of the most common causes of tailgating behavior?
Aggressive driving behavior
Running late
Driving while fatigued
Impatience
Driving while under the influence of alcohol or drugs
Traffic congestion
Frustrated or angry driving
Overconfidence
Overconfidence is commonly exhibited in tailgating. Many drivers feel that they are paying close enough attention to the traffic in front of them that they can stop easily. Unfortunately, this is not the case. In most cases, regardless of your attentiveness, cars require a certain amount of distance to come to a complete stop, and following too closely will likely result in a tailgating accident.
Common Injuries After a Tailgating Accident
The term "fender bender" is often used when describing a rear-end collision, but this can be misleading. Rear-end crashes can cause serious injuries to those involved, especially if it is a chain reaction crash and the car in the middle sustains multiple hits. Common injuries from a tailgating accident include:
Broken bones/fractures
Whiplash
Herniated discs or other neck injuries
Chest injuries
Traumatic brain injuries (TBIs)
If you are involved in a tailgating accident, it is best to seek medical attention right away. Many of these conditions are not noticeable right away but can be diagnosed if you are seen by a doctor in a timely manner. Receiving medical attention will also help your case if you file a personal injury claim after your accident.
Who Is At Fault for a Tailgating Accident?
In most rear-end accident cases, the car in the back is determined to be at fault. However, the at-fault party's insurance may claim that you were partially to blame for the accident. For instance, you may have been speeding and needed to brake more aggressively than you would have if you had been following the speed limit.
Kentucky is a pure comparative fault state which means that if you do carry some of the fault for the accident, you can still receive compensation from the other parties involved. Your compensation will be reduced by the percentage of fault you are assigned. This means that if you are declared 10% at fault for the accident and awarded $50,000, you will receive $45,000 of the settlement.
Average Compensation for a Tailgating Accident
The amount of compensation awarded to a victim after a tailgating accident varies greatly. There are many factors at play including the percentage of fault, the severity of injuries, and insurance. A tailgating accident victim is eligible for compensation for damages including:
Economic damages including medical bills, loss of income, travel expenses, personal care, and property damage
Permanent scarring or disfigurement
Loss of enjoyment of life
Pain and suffering, both physical and mental
Ways to Prevent a Tailgating Accident
Most tailgating accidents are preventable. To keep yourself and your passengers safe, follow these guidelines to help prevent tailgating accidents:
Give yourself ample travel time
Obey the speed limit
Do not practice reckless driving behaviors
Allow a tailgating vehicle to pass you rather than brake checking
Compensate for poor driving conditions by giving extra space between cars
Do not drive while tired or under the influence of drugs or alcohol
Stay calm and do not drive while angry or upset
Eliminate distractions
Trust McCoy & Sparks—Premier Personal Injury Attorneys in Central Kentucky
Tailgating is a dangerous practice and can lead to serious car accidents. If you or a loved one have been involved in a tailgating accident in Kentucky, trust your case with the tailgating accident injury experts at McCoy & Sparks. You may be eligible for compensation and our attorneys will handle every detail of your case to make sure you are awarded what you deserve while you focus on your recovery.
Make the right call to (844) 4KY-WINS for a risk-free consultation with one of our Central Kentucky car accident attorneys today.