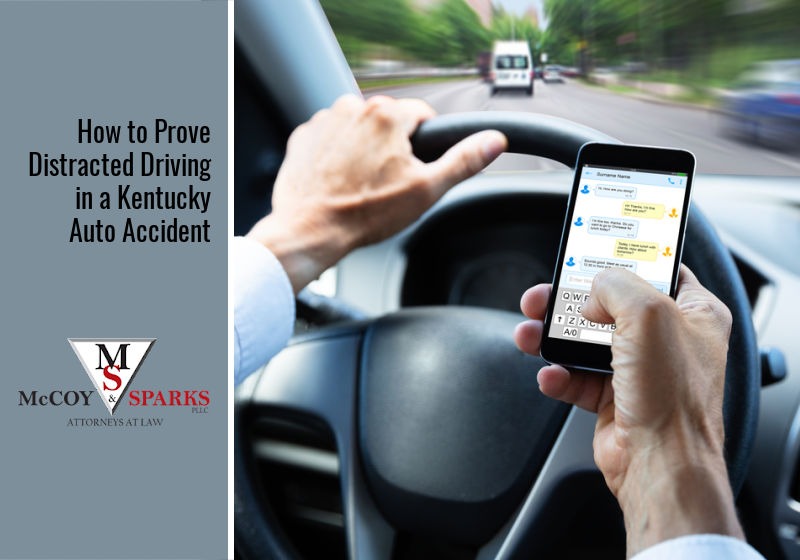 What you'll learn from this article:
Distracted driving is among the top causes of severe auto injuries.
Kentucky enacted new legislation to clarify distracted driving laws.
The right Kentucky auto accident lawyer will help you pursue the compensation you deserve after an accident.
What is distracted driving? It might seem innocent enough to take your eyes off the road for a moment while you check your phone or talk to someone in the car. But at 55 mph, just a few seconds of inattention is like driving the length of a football field with your eyes closed.
Distracted driving statistics can be shocking. It causes nine deaths every day across the nation. Right here in Kentucky, distracted drivers are creating dangerous and deadly situations on our roads, leaving thousands of people severely injured in auto accidents.
If a distracted driver causes your accident, how can you prove it? It's challenging to secure the evidence you need to hold a distracted driver responsible, but the right Kentucky auto accident lawyer can help you build a strong case. Plus, a new law could lend extra support.
Kentucky's New Distracted Driving Bill Helps Injured People
Although Kentucky is one of the worst states for distracted driving, injured victims recently got some good news. A new bill, Kentucky House Bill 258, could make it much easier to hold distracted drivers accountable.
House Bill 258 restricts the use of all electronic devices to hands-free operation while a driver is operating a motor vehicle. When a driver manually uses their phone while driving, they violate the law under the new bill. The sole exception is making a single swipe on the device, then continuing to maintain hands-free operation during driving.
This change in the law helps injured victims place the blame where it belongs: directly on distracted drivers. It works in conjunction with a previously passed bill, Kentucky House Bill 415, which bans drivers of all ages from texting and driving. Many felt that House Bill 415 didn't go far enough to restrict the use of all electronic devices while driving, which is why House Bill 258 gained support.
Distracted Driving Comes in Many Forms
Were you injured in a distracted driving crash? Talk to your personal injury lawyer about the circumstances of the accident and share your suspicions about the other driver's distraction. There could be evidence that shows their inattention in the moments leading up to the crash.
To build a strong case, you'll need to gather plenty of evidence that clarifies what happened just before the crash and how the other driver was distracted. Work with your lawyer to access vital evidence like cell phone data, app usage, social media use, data recorders, dash cam videos, road camera footage, and videos captured by nearby homes and businesses.
Police reports and witness statements can also make a significant impact on your case. When an eyewitness, expert witness, or police officer contributes their perspective on what happened, this can be highly persuasive evidence that backs up your side of the story.
Keep in mind that texting and driving accounts for only about one-third of all distracted driving crashes. The rest involve a wide range of other distractions, like food, talking, music, makeup, pets, and passengers. Almost anything that takes the driver's eyes, hands, or mind off the road can be considered distracted driving, including just daydreaming or zoning out.
Here in Kentucky, you can recover many types of compensation from a distracted driver who hurts you in a crash.
Past and future medical expenses
Past and future lost wages
Disfigurement, disabilities, and scars
Emotional and physical pain, trauma, and distress
Vehicle/property damage
When you're ready to pursue the compensation you need to recover from a distracted driving accident, reach out to the dedicated team at McCoy & Sparks. We have decades of experience standing up for injured people and we're here to fight for what you deserve.
Trust McCoy & Sparks – Premier Distracted Driving Attorneys in Central Kentucky
Recognized as one of Central Kentucky's best law firms for over a decade and counting, McCoy & Sparks works to help people in trouble, representing thousands of clients in Central Kentucky with a focus on providing premium service and delivering superior results.
Regardless of the type of case, our goal is to develop a strategy that best serves your personal needs, then use our courtroom skills to help you reach the best possible result. We start by getting to know you. Next, we will explain all of your options, giving you the pros and cons of each choice so that you will be empowered to make informed decisions. You owe us nothing unless we recover compensation for you. Make the right call to 1-844-4KY-WINS for a risk-free consultation with one a distracted driver accident lawyer today.\