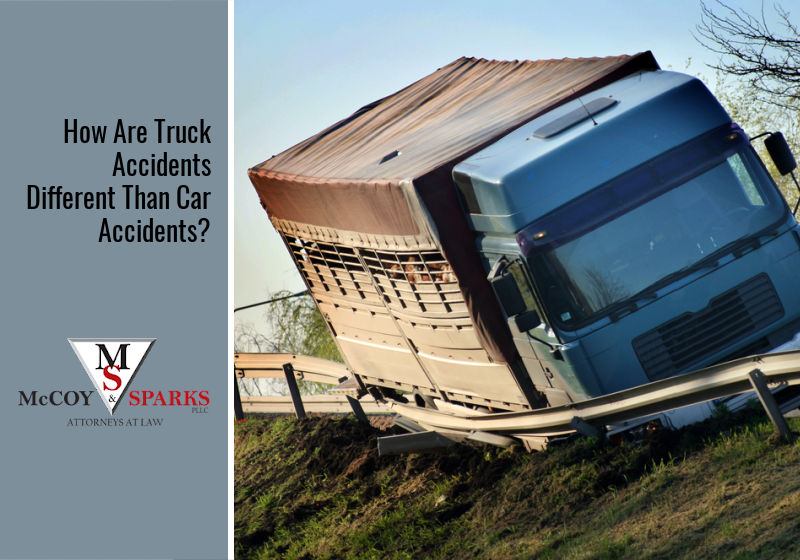 An accident is an accident, right? No one wants to be involved in an accident, and no matter how or where it happens, the results can be frustrating and even disastrous to deal with.
Though the general idea of an accident might stir the same feelings no matter what type of vehicles are involved, the fact of the matter is that truck accidents are often much worse than car accidents.
Getting into a car accident with a semi truck is much different than getting into a car accident with another vehicle of a similar size. Not only are the damages and injuries potentially more devastating, but the process of filing a personal injury claim for a truck accident can also be much more complex.
If you are injured in a Kentucky truck accident, our team can help. At McCoy & Sparks, we have years of experience handling both car accident and truck accident cases and know what it takes to ensure our clients get the settlements they deserve.
If you have legal questions, we have answers. Reach out to one of our car and truck accident lawyers today!
Truck Accidents Are More Complicated Than Car Accidents
Though many drivers tend to think of all car accidents as the same in terms of wanting to avoid them, truck accidents are something you should try even harder to avoid. Sure, any accident, even a car accident involving smaller vehicles, can have devastating results. But more often than not, accidents involving large semi-trucks are quite severe and even fatal.
Statistics show that nearly 5,000 people die every year in large truck crashes, and the majority of those who die and are injured are the occupants of smaller passenger vehicles. Specifically, 71% of deaths are car occupants, and only 17% are truck occupants. This is because trucks weigh thousands of pounds more than smaller cars and thus can do much more damage.
Furthermore, truck accidents are more complicated for various reasons besides deaths and injuries.
So, how are truck accidents different than car accidents? Let's find out.
Four Reasons Why Truck Accidents Are Different Than Car Accidents
Severe Damages and Injuries: We've already said it, but it's worth repeating. The most significant difference between car and truck accidents is that truck accidents are more deadly and thus should be avoided. Getting into an accident with a large semi-truck puts your life and the lives of your passengers at risk. Furthermore, even if the accident is not fatal, the emotional trauma from the event can result in PTSD in addition to the high cost of paying for damages and injuries.
Different Laws and Regulations: While there are laws and rules of the road that all drivers must obey, commercial truck drivers are subject to additional laws and regulations. These regulations can cover things such as distance traveled or hours on the road, load weight and securing loads properly, and lane requirements. Though these regulations are in place to protect both truck drivers and others on the road around them, it also makes filing an injury claim more complex because it means there is additional evidence that must be sorted through to determine whether the truck driver was abiding by these truck regulations.
Truck Accident Liability: Another factor that makes truck accidents different and more complex is determining liability or who is ultimately at fault. In a traditional car accident, while multiple parties can be held accountable, more often than not, it is the guilty driver that is to blame. With truck accidents, however, this is not always the case.
In a truck accident, more time must be spent to determine who is liable because it might not have been the truck driver's fault. Other potentially liable parties can include:
The truck owner: Because the driver is not always the same as the person who owns the truck.
The trucking company: The driver could be the owner-operator of the vehicle, but it is also possible that they are driving for another company, and that company could be held liable if they made a mistake that caused the driver to have an accident.
The freight company: If the company that owns and initially loaded the cargo made a mistake, it could also be held liable.
The truck mechanic or manufacturer: If the accident occurred as a result of a defect or mechanical failure, the fault could be traced back to the mechanic who worked on the truck or even the manufacturer who designed and supplied parts for the truck.
More Compensation: Trucking companies do have major insurance policies because there is more at stake, but this can make things both easier and more complicated in a personal injury case. It can make things harder because the trucking company will likely have a good insurance team to defend them. But if they are found guilty, it also means they have more money available to pay a larger settlement to the victim.
What to Do After a Truck Accident
Truck accidents can be scary and traumatizing, but the steps you take during and immediately following the accident can make a huge difference in how your case turns out.
The first thing you should do when in an accident with a truck is stay calm and get yourself to safety. Your health and safety should always be your number one priority.
Once you are safe, your second step should be to call for help from local authorities and emergency medical responders. You will need an official police report to be filed to support your case, and you will also want to have your injuries taken care of as soon as possible.
Gather as much evidence as possible. If you are able, it can be incredibly helpful for you to gather evidence of your own at the scene. While police are tasked with this, they are not always thorough and may miss something. Helpful evidence can include pictures of the accident scene, close-up pictures of the vehicles involved and the damage, pictures of your injuries, and any other pictures that can show how the accident occurred, such as bad weather or faulty signage. You should also gather witness information if possible so they can be called upon to give a statement if needed.
Contact an attorney. After the accident, contact an attorney as soon as possible and avoid speaking to the truck company or their insurance company. The trucking company or their insurance agent might try to trick you into saying something that can help them deny fault, so it's important to speak with an attorney first who can guide you through the legal process and help you avoid saying anything that can be used against you.
Trust McCoy & Sparks—Premier Personal Injury Attorneys in Central Kentucky
If you are involved in an accident with a large commercial truck, such as a semi-truck, our team of experienced personal injury attorneys can assist you. We know how complicated truck accident cases can get and are dedicated to helping our clients get the compensation they need and deserve to help pay for their medical expenses and other damages.
Recognized as one of Central Kentucky's best law firms for over a decade and counting, McCoy & Sparks works to help victims in need, representing thousands of clients in Central Kentucky with a focus on providing premium service and delivering superior results. Our goal is to develop a strategy that best serves your personal needs to help you reach the best possible result.
You owe us nothing unless we recover compensation for you. Make the right call to (844) 4KY-WINS for a risk-free consultation with one of our attorneys today.