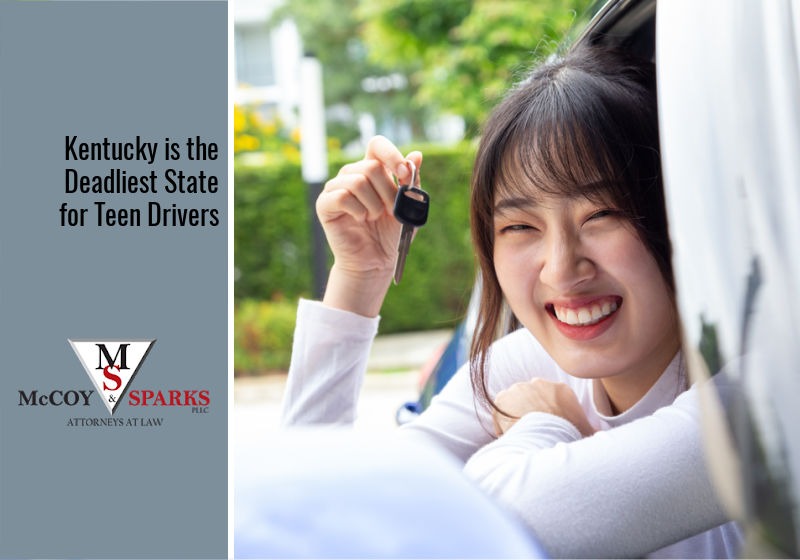 What you'll learn reading this article:
Kentucky has a very high rate of teen driver accidents.
Teen drivers are more prone to severe accidents for a variety of reasons.
You can pursue a claim for compensation after a teen driving crash.
Did you know Kentucky is the worst state in the U.S. for teen driver fatalities? Our state has 3.47 teen deaths per 10,000 licensed drivers, which is 140% above the national average.
Between 2013 and 2017, Kentucky had a total of 128 teen motorist fatalities. That's at least 16% more than any other state in America's top-five deadliest states for teen drivers: Mississippi, North Carolina, Montana, and West Virginia.
The high rate of teen driving fatalities in Kentucky is part of the reason our state's auto insurance rates are high. Kentucky is among the states with very costly auto insurance for drivers between the ages of 16 and 19.
Here's Why Teen Drivers are More Likely to be in Deadly Crashes
Teen drivers are more likely to cause crashes because they're inexperienced drivers who don't always understand the consequences of dangerous driving. Teens are likely to engage in risky acts like speeding, racing, aggressive driving, failure to yield, and drunk driving.
According to a study by the National Institutes of Health (NIH), teen drivers have immature cognition that causes them to exhibit overconfidence and risk-taking behaviors. NIH studies show that young males have an exceptionally high rate of crashes within the first 3 months of driving, which declines slowly over a period of 18 months to 2 years.
Distracted driving also plays a huge role in the high rate of teen driving accidents. The National Highway Transportation Safety Administration (NHTSA) reports that teens are easily distracted by:
Passengers
Smartphones
Music
Games
Feeling drowsy
Being intoxicated
In fact, the #1 road risk for teenagers isn't out on the road, but inside the car: passengers. Two-thirds of teens who die in car crashes are riding with other passengers who may be creating distractions for the driver.
After a Teen Driving Accident, Know Your Legal Rights
Just like any other driver on the road, a Kentucky teen is required to have auto insurance. When a teen or their passenger causes a crash, an injured victim can pursue an insurance claim. If they're uninsured, your insurance may apply or you can file a civil suit to seek compensation for your losses.
Keep in mind that there may be a third party who holds some responsibility for the crash. For example, you might be able to assign liability to an adult who allowed an underage teenager to drink alcohol at a social gathering before the accident.
If you're dealing with injuries and expenses after an accident with a teen driver, it's time to hold them accountable for what happened. Preserve any evidence from the crash, including photos of the scene, and contact McCoy & Sparks as soon as possible to talk about your options.
Trust McCoy & Sparks – Premier Personal Injury Attorneys in Nelson County
Recognized as Nelson County's best law firm for over a decade and counting, McCoy & Sparks works to help people in trouble, representing thousands of clients in Central Kentucky with a focus on providing premium service and delivering superior results. Regardless of the type of case, our goal is to develop a strategy that best serves your personal needs, then draw upon our courtroom skills to help you reach the best possible result. We start by getting to know you. Next, we will explain all your options, giving you the pros and cons of each choice so that you will be empowered to make informed decisions. You owe us nothing unless we recover compensation for you. Make the right call to 1-844-4KY-WINS for a risk-free consultation with one of our attorneys today.