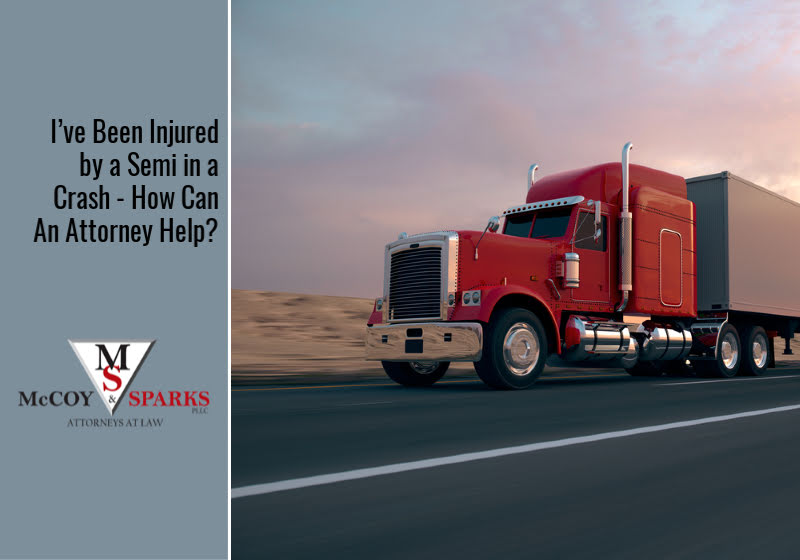 Big-rig accidents are five times more likely to cause serious injuries and death than accidents involving passenger vehicles.
Tractor-trailers are heavy, really heavy – they weigh between 16,000 and 20,000 pounds. A car, SUV, motorcycle or pickup truck is going to be the loser in any collision. Tractor-trailers – semis, 18-wheelers, big rigs, whatever you call them – are extremely dangerous when it comes to an accident that involves a collision with any vehicle. Big-rig accidents are five times more likely to cause serious injuries and death than accidents involving passenger vehicles.
In 2018, the Kentucky Transportation Cabinet reports big rigs were responsible for almost 10% of crash fatalities, even though they account for only 4% of total crashes. Even though they are a most tragic result, fatalities are only part of the picture. More often, victims are left with life-altering, serious injuries.
What Are My Rights Under Kentucky Law If I've Been Hit By A Semi?
You have the same rights under Kentucky law whether you are hit by a tractor-trailer or a car. However, when a commercial vehicle is involved, several parties can be held liable, including:
The truck driver
The truck owner
A manufacturer of defective parts
The business responsible for the cargo
Just like all drivers, truck drivers have what is called a "duty of care." This means that the trucker has an obligation to look out for the safety of others. However, there's a much higher bar for truck drivers that involves both state and federal regulations.
8 Most Common Causes of Tractor-Trailer Accidents
While there are many reasons for any kind of accident, the Kentucky Transportation Cabinet's 2018 data lists the main culprits:
#1 – Load securement. We've all seen things come flying off the back of trucks or accidentally dumped on a freeway.
#2 – Tire failure. Again, you see strips of tires often on the side of the road.
#3 – Tow hitch failure. This would mean the trailer detaches from the truck.
#4 – Defective brakes. Although this is the fourth most common cause for semi accidents, bad brakes were the number one single cause of fatalities.
#5 – Oversized load. The load is too tall or too wide.
#6 – Lighting defects. This can mean headlights or other lights, like brake lights and turn signals.
#7 – Steering failure.
The most common cause of tractor-trailer accidents, however, is "Other." What's lumped under this category? Mostly driver error, like driving drowsy, drunk or drugged driving, reckless driving or distracted driving.
Research shows that commercial vehicle drivers who text were more than 23 times more likely to be involved in an accident. Those dialing mobile phones were six times more likely to be involved in an accident.
The Federal Motor Carrier Safety Administration (FMCSA) has a whole set of rules against distracted driving, and these can inform your legal case if you're involved in an accident with a tractor-trailer.
What Should I Do If I'm Involved In An Accident With A Semi?
To make your truck accident claim and potential legal action successful, there are steps you should follow immediately after the accident. The information you gather is very similar to what you would ask for during any motor vehicle accident, with a few additions:
As with any accident, call 911 immediately. If you are not able to call, have someone else do it. Tell the dispatcher your location, that you've been in an accident with a tractor-trailer and you need help. Admit you are injured and shaken up, and let the dispatcher know if anyone else is hurt, trapped or thrown from their vehicle. The dispatcher will want to know if any hazards are present at the scene like leaking fuel, downed power lines or if the truck that hit you is carrying a dangerous load.
Do not, under any circumstances, refuse medical treatment at the scene, even if you don't think you need it. You could be in shock, which masks symptoms, or excited, and that adrenaline rush does the same. Some types of injuries are obvious, like bleeding wounds and broken bones, but you could have potentially life-threatening injuries that you can't see, like internal bleeding or closed head trauma.
Exchange information with the truck driver: Your full names, home and work addresses, home and work phone numbers, mobile numbers, email addresses and any other contact information.
Ask to see the driver's license and take a photo if you can. Truck drivers should have a special commercial driver's license, so pay attention.
When a tractor-trailer is involved, you'll need specific information about the truck:
• The license plate number of the cab and any other numbers or identifying information
• The name, address and contact information of the cab owner, if the truck is not driver-owned
• The driver's insurance information
• The name of the company who owns or hired the truck
• Information about the cargo on the truck
I Have All The Information, Now What?
Contact a trusted personal injury attorney right away. While you can probably settle property damage claims with an insurance company, personal injuries are another matter. It can be difficult to get fair compensation on your own.
Soft tissue injuries include:
Scrapes, bruises, and minor cuts
Sprained or torn ligaments, tendons, or muscles
Minor burns
Whiplash and back strain
Hard injuries are serious and potentially life-threatening injuries that can, and often do have, a lasting or permanent effect on your quality of life. Hard injuries include:
Fractured bones
Amputations
Scars, especially facial scars
Third-degree burns
Spinal cord and other debilitating back injuries
Traumatic brain injuries, including concussion
Internal organ damage
Severe injury and wrongful death claims after semi-truck accidents are complex and expensive claims. Because of the FMCSA liability insurance rules, there can be millions of dollars on the table after a crash.
Insurance companies will not pay large settlements without a fight. They will find reason after reason to deny your claim or reduce compensation. You'll need a skilled personal injury attorney to get the insurance companies to pay you the true value.
You have too much at stake to risk handling severe injury claims on your own, so let your attorney fight the big battles for you.
Trust McCoy & Sparks – Premier Personal Injury Attorneys of Nelson County
Recognized as Nelson County's best law firm for over a decade and counting, McCoy & Sparks works to help people in trouble, representing thousands of clients in Central Kentucky with a focus on providing premium service and delivering superior results. Regardless of the type of case, our goal is to develop a strategy that best serves your personal needs, then draw upon our courtroom skills to help you reach the best possible result. We start by getting to know you. Next, we will explain all your options, giving you the pros and cons of each choice so that you will be empowered to make informed decisions. You owe us nothing unless we recover compensation for you. Make the right call to 1-844-4KY-WINS for a risk-free consultation with one of our attorneys today.