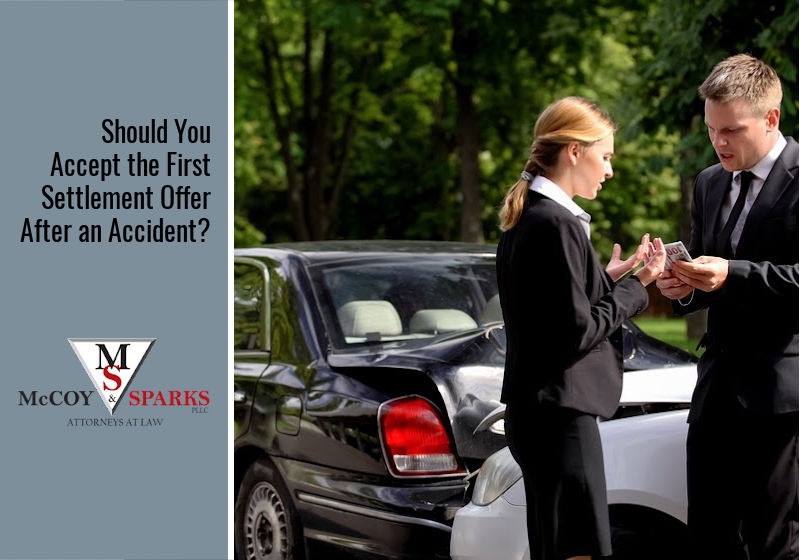 If you've been injured in an accident, the at-fault party's insurance company may be quick to offer you a settlement. This offer may appear reasonable and perhaps even remunerative.
The truth of the matter is that insurance companies are almost guaranteed to present you with a settlement amount that undervalues the extent of your injuries and losses. They aim to offer you an amount that sounds impressive and desirable so that you don't seek greater compensation for your damages.
Before accepting an insurance company's settlement offer, you need to discuss it with a personal injury attorney, as they have experience evaluating claims and seeking fair compensation for accident victims.
In this blog, you'll learn about when to accept a settlement offer and why you need a personal injury attorney to negotiate on your behalf.
Why You Should Reject the First Settlement Offer
It's common for insurance companies to offer unfair settlements shortly after an accident. They use this tactic because they want accident victims to accept settlements before they know the true extent of their injuries.
An insurance company's primary goal is to make and save money, meaning they do not care about giving you a fair payout for your damages. Instead, they'll likely do whatever it takes to deny you reasonable compensation. For that reason, they will offer you a lowball settlement in the hopes that you accept it without realizing that your damages are worth far more.
Additionally, an insurance company's first offer is often a negotiation tactic. They may offer you a criminally small amount with the expectation that you'll return with a counteroffer. The problem is that many accident victims don't know how much their injuries are actually worth, meaning they may not even be aware that the insurance company is lowballing them. Regardless of whether they intended the initial settlement as a negotiation tactic, the insurance company will be happy if you accept their low offer.
If you receive a settlement offer letter, it's critical to discuss it with a personal injury attorney before accepting it. In fact, it's ideal to avoid communication with the at-fault party's insurance company entirely if you don't yet have legal representation.
If you agree to give a statement to the insurance company regarding your accident, the company can use anything you say against you to decrease the value of your claim. Saying something seemingly trivial, such as "I'm feeling better," can substantially hurt your claim. The insurance company may try to make the case that your injuries are not significant because you indicated that you're recovering.
What Happens If I Accept an Insurance Company's First Settlement Offer?
If you make the mistake of accepting the insurance company's initial settlement offer, you'll likely lose out on a great deal of money. The settlement offer may require you to waive the right to seek further compensation.
One of the many reasons it's critical to reject this initial offer is that you may not yet even realize the full extent of your injuries. If you sign away your right to seek additional compensation, you won't be able to recover the money you deserve. Additionally, your injuries may permanently disable you, hindering your ability to work in the future.
For these reasons, it's essential that you discuss all accident settlement offers with an experienced personal injury attorney, as they can help you determine whether or not the settlement fairly compensates you for past and future damages.
What Is a Good Settlement Offer For a Car Accident?
A reasonable settlement offer will cover all of your losses and reimburse you for the expenses that resulted from the accident. For example, if you suffered from a broken leg in a car accident caused by a negligent driver, you would likely want to seek compensation for your car's damages, medical bills — including prescriptions, doctor's visits, physical therapy, surgeries, and other expenses — and any wages you lost as a result of your injuries.
The aforementioned damages will reimburse your expenses, but what about the losses you'll suffer in the future? You may need to receive medical treatment for your accident-induced injuries at a later date, and you might have to continue taking time away from work.
A good settlement offer takes both your past and future expenses into account, and it also considers how your injuries may reduce your future earning potential. If you are an artisan woodworker, for example, and suffer from a broken hand injury in a collision, the accident may permanently impact your trade and ability to make money. You'd likely want to seek damages for loss of future earnings because the accident directly impacted your ability to make money.
Finally, a reasonable settlement takes into account any pain and suffering or emotional trauma that you underwent or are currently experiencing. Accidents can be incredibly traumatic, and you may develop a mental health issue as a direct result of the incident or your injuries. If you suffer from an amputation, that will likely impact your mental state, as suffering from this catastrophic injury may cause you to develop post-traumatic stress disorder, depression, and anxiety. The settlement may also compensate you for loss of enjoyment of life, as an amputation will impair your ability to engage in certain activities and may also affect your social life.
Discussing a Settlement Offer With a Personal Injury Attorney
An experienced personal injury attorney can help you estimate how much your claim is worth, and they can negotiate for a higher settlement on your behalf.
If you're unable to reach a favorable settlement with the at-fault party's insurance company, you may need to file a lawsuit. Fortunately, a personal injury attorney can also help you through the legal process so that you can recover the most money possible for your injuries and losses.
If you've suffered from an accident in Central Kentucky, you can count on the McCoy & Sparks legal team to help you receive maximum compensation for your injuries. Our car accident and personal injury attorneys have many years of experience representing Kentucky residents, and we're ready to fight on your behalf.
You can request a free case consultation today by calling 844-459-9467, or you can schedule your case consultation here.