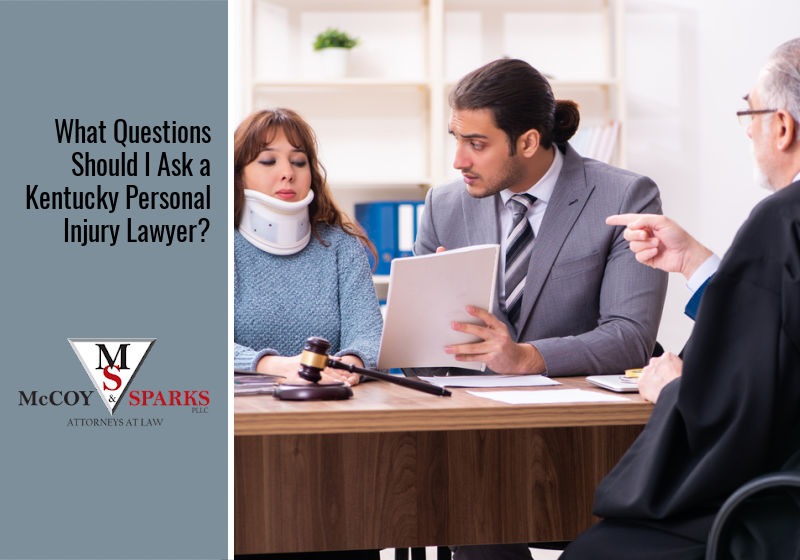 After you've been in a car accident in Kentucky, there are many things you will need to do to ensure your personal injury claim goes as smoothly as possible. You will need to make sure a police report is filed for the accident, you will need to file the claim with your insurance company, and you will need to get your injuries checked out by a medical professional.
However, consulting with a Kentucky personal injury lawyer is also essential. A personal injury lawyer can help guide you through the claims process, protect your rights, help you gather evidence to support your claim, and ensure you get the settlement amount you deserve.
Before you choose a law firm or attorneys to work with, you should be prepared to ask the lawyer questions to make sure they are the right fit for you and your case. Despite what you might think, not all personal injury attorneys are the same. As such, it's helpful if you go into your initial consultation with a set of questions at the ready that can help you get a better idea of who the attorney is and if they will be able to help you specifically.
What Questions Should I Ask a Personal Injury Lawyer?
1. How Much Does a Personal Injury Lawyer Cost?
Understandably, you will want to know how much you will end up having to pay to hire a personal injury lawyer. However, most lawyers in Kentucky do not require an upfront fee before they agree to take your case. Instead, they will charge you what is known as a contingency fee, which is only collected if they help win or settle your case. If you don't recieve a settlement, then they won't collect any fees.
Still, each law firm is different. It's important to ask this question, so you know exactly what to expect before agreeing to work with the attorney.
2. What Types of Personal Injury Cases Do You Handle?
Personal injury is a broad term that encompasses many different types of cases. A personal injury claim can be filed for car accidents, workplace accidents, dog attacks, premises liability, product liability, medical malpractice, and more. As such, it's important that you question your lawyer to make sure they have experience handling cases specifically like yours.
For example, some lawyers might specialize in car accident cases but have no experience with worker's compensation or medical malpractice. For this reason, you should check to make sure the attorney has experience handling cases like yours, as this will be a good indicator of how successful they will be at winning your case.
3. What is Your Rate of Success?
No personal injury lawyer can guarantee that they will win your case—and an honest attorney will admit this to you. However, they should be able to at least talk about previous cases like yours that they have won or helped negotiate a settlment.
You can also ask if there are reviews or testimonials you can see for further proof of how they have helped people like you before. A good lawyer should have nothing to hide and be willing to discuss their previous successes and show proof through customer reviews or testimonials.
4. Do You Have Trial Experience If My Case Goes to Court?
Not all personal injury cases require a trial. In many cases, a good lawyer can negotiate a settlement without taking the case to court.
However, sometimes the other side may refuse to be reasonable a a trial may be the only way to resolve the case. If a trial is necessary, you'll want to ask this question to ensure they are a skilled trial attorney. Not all personal injury attorneys have experience handling litigation inside a courtroom. Since the insurance company will know the answer to this question, you need to know it as well.
5. How Long Do I Have to File My Claim?
The statute of limitations on personal injury claims varies from state to state. You want to make sure you are aware of the timeline you are working with so you remain eligible to recover compensation. The statute of limitations in Kentucky is one year for some claims but much longer on others, including two or more years on most car accident claims.
6. How Much is My Personal Injury Case Worth?
Many clients want to know how much they will win before agreeing to work with an attorney, but there is no way to know initially how much your case is worth. Each and every case is unique and there are many factors that can play a role in how much money you will be awarded.
Such factors can include:
The type of accident or incident
Who was at fault
How much your medical bills cost
How much income you lost out on while recovering from injuries
Property damage costs
Insurance policies
How much evidence there is to support the case
An experienced attorney will not be able to tell you exactly how much your case is worth, but they can give you insight based on previous cases they have handled like yours. Still, it is impossible to know what the final outcome of your case will be, so there is never any guarantee of a certain amount.
7. How Long Does it Take a Personal Injury Case to Settle?
Just as the value of a personal injury case can vary greatly, so too can the time that it takes to reach a settlement agreement. There are many things that must be settled before you are awarded a final settlement amount, such as accident investigations, medical care, insurance claims, and property damage repairs or evaluations.
Understandably, you will want to get through your case as quickly as possible so you can get your money and move on, but it's essential for the case to be thoroughly evaluated to make sure you are being awarded the full and fair settlement you deserve. If anything is missed, it could result in a less-than-ideal outcome.
Trust McCoy & Sparks—Premier Kentucky Personal Injury Lawyers
At McCoy & Sparks, we are dedicated to helping our clients achieve the best possible outcome for their cases. We offer risk-free consultations and are prepared to answer your questions to make sure we are the right fit for you.
Make the right call to (844) 4KY-WINS for a risk-free consultation with one of our attorneys today.