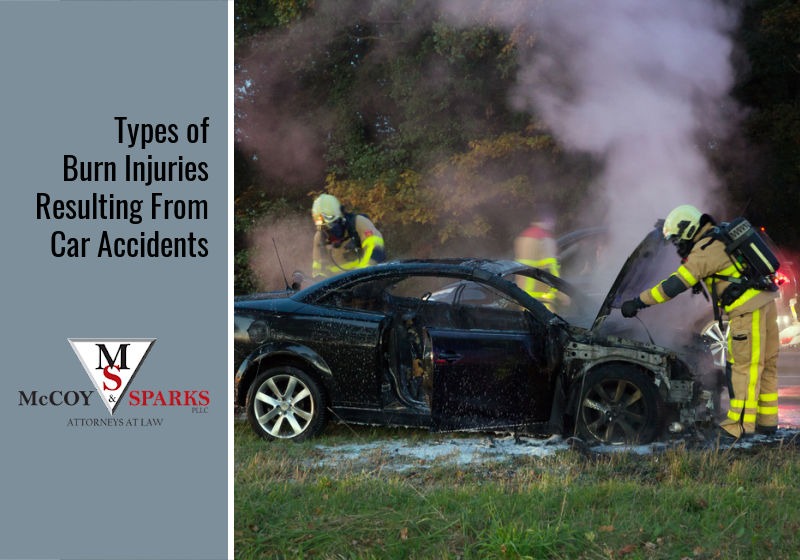 When a car catches fire after an accident, it can result in severe and disfiguring burn injuries. In the aftermath, victims can easily develop infections and other complications if their burns are not properly treated. In addition to the physical scarring left behind, traumatic car accidents that result in burn injuries can also be extremely emotionally distressing and can lead to the development of PTSD that can last for years.
Though safety measures have been adopted that limit fuel spillage from vehicle fuel systems that suffer impacts, fires can and do still occur. An estimated 486,000 burn injuries requiring medical treatment occur annually. While only around 5% of those that occur are due to car accidents, the burn injuries that are sustained can be devastating.
Victims can become trapped after a car accident, making it difficult to escape when the car catches fire. Though these incidents are rare, the financial, emotional, and physical burdens that follow can be difficult to bear for the victims of these tragic accidents. For this reason, it is crucial that burn victims seek the help of an experienced personal injury attorney following the accident to ensure they receive the compensation they deserve for their pain and suffering.
Types of Burns That Occur In Car Accidents
The type of burns and their severity can vary based on how deep the skin damage goes. More minor burns can easily be treated and often heal without any complications. However, more severe burns can require extensive treatments and surgeries and can even be fatal.
First-Degree Burns
First-degree burns, also known as superficial burns, cause minimal damage to the outer layer of the skin. Though they can still be quite painful, they often heal within a few days. Signs that you are experiencing a first-degree burn include pain, redness, minor inflammation or swelling, and some potential dry and peeling skin as the burn heals.
Second-Degree Burns
Second-degree burns involve both the first and the second layer of the skin. In these cases, the skin will typically blister, swell, and become very red and sore. In some cases, the blisters may burst and ooze. As they heal, the skin will form thick yet soft scabs that eventually peel or fall away. It is not uncommon for second-degree burns to become infected and leave behind scars.
Third-Degree Burns
Third-degree burns affect all layers of the skin up to the layers of fat. These burns are so severe that they can result in nerve damage, making it difficult to feel the pain. The skin, after a third-degree burn, often appears dry, charred, waxy, and swollen. These types of burns often result in severe scarring and can easily become infected and lead to complications.
Fourth-Degree Burns
While third-degree burns are often referred to as the worst, another level of burn can occur where skin, nerves, muscles, and even bones can be affected. The reason fourth-degree burns are not often spoken of is because they are typically fatal. It's not impossible to recover from a fourth-degree burn, but it would require extensive medical treatments and surgeries and would leave the victim disfigured and disabled.
Treatments for Burns
Treatments for burns can range depending on the severity, but most often involve the following:
Antibiotics
Burn creams
Pain medications
Ointments
Anesthetics
Rehydration
Skin grafts
Amputations
Debriding to remove dead skin
Plastic surgery
In severe cases, burn victims may even require more extensive surgeries, rehabilitation, and physical therapy to recover from their injuries.
Pursuing Compensation For Burn Injuries After a Car Accident
The treatments required to heal from a burn can be quite expensive, depending on the severity of the injury. However, no matter the severity, burn victims should always seek medical treatment following an accident. Your health and safety come first, but medical records will also be important should you decide to pursue an injury claim or file a lawsuit.
After you have received immediate medical attention, you should make sure a police report is filed and gather any information and evidence possible to support your claim. This can include photos of the accident scene, as well as pictures of your injuries. From there, you will want to report the incident to your insurance company to get a claim started and contact a local law firm to help you through the legal process.
Trust McCoy & Sparks—Premier Personal Injury Attorneys in Central Kentucky
No matter the extent of your injuries, if you are the victim of a car accident, you have a right to pursue a claim or even a lawsuit to hold the guilty party accountable and receive compensation for damages. The money you are awarded can help cover the cost of expensive burn treatments and surgeries as well other things like property damage and emotional pain and suffering.
Recognized as one of Central Kentucky's best law firms for over a decade and counting, McCoy & Sparks works to help people in trouble, representing thousands of clients in Central Kentucky with a focus on providing premium service and delivering superior results.
Regardless of the type of case, our goal is to develop a strategy that best serves your personal needs, then draws upon our courtroom skills to help you reach the best possible result. We start by getting to know you. Next, we will explain all your options, giving you the pros and cons of each choice so that you will be empowered to make informed decisions.
You owe us nothing unless we recover compensation for you. Make the right call to (844) 4KY-WINS for a risk-free consultation with one of our attorneys today.