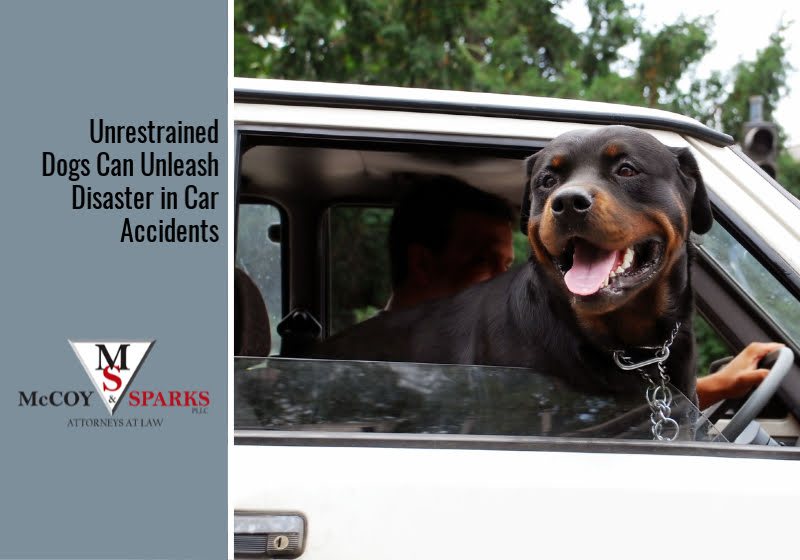 What you'll learn reading this article:
Dogs like car rides but it's not always safe.
If your dog distracts you, you could be cited or cause an accident.
Injured people can sue dog owners for negligence on the road.
Does your dog love riding in the car? For many pups, the mere mention of a car ride sends them bounding excitedly toward the front door.
As a pet owner, you want to give your dog this simple pleasure of zooming down the road and breathing in the breeze. So it's easy to forget that something could go horribly wrong and put you and your dog in danger – not to mention others on the road.
Loose Pets Can Cause Serious Accidents
More than 80% of dog owners say they drive with them in the car, and just 16% keep them restrained in a crate or use any kind of safety device. The most common reasons for allowing a pet to be loose in the car are:
Believing the pet is well-behaved enough to stay calm
Just making short trips
Keeping the dog happy
Feeling that safety devices are too much trouble
But no matter how well-behaved your pet is, their presence in the car can distract you from driving. What if they suddenly get tangled up in the seatbelt? What if they see someone they know and try to jump out the window?
National Highway Traffic Safety Administration (NHTSA) attributes about 20% of all car crashes with serious injuries to distracted driving, which can cause a crash in as little as 2 to 3 seconds. A boisterous puppy can easily cause that kind of momentary distraction.
Could Driving with a Dog Be Reckless Driving?
Although there is no Kentucky law prohibiting pets from riding in the car, they shouldn't inhibit safe driving. A police officer can cite you for careless driving, distracted driving, or reckless driving if your dog is causing you to drive in an unsafe manner.
Under Kentucky statute section 189.290, you are a reckless driver if you don't operate your vehicle safely in a way that avoids harm to passengers, pedestrians, and other drivers. So if your dog is causing enough chaos inside your car that you're swerving around and putting others at risk, you're in violation of the law.
Kentucky police officers sometimes cite pet owners for careless/distracted driving if they see the person's face angled away from the road for an extended period of time. Just like texting and driving, petting your dog can cause you to lose control of your vehicle and crash.
Suing a Dog Owner for Your Car Accident
If you're in an accident with someone who had an unrestrained dog in the car, consider whether their pet may have caused the crash. You can sue a dog owner for negligence in creating such a dangerous situation. These claims are covered by car insurance.
Reach out to a Kentucky lawyer who has experience with cases that involve car accidents and distracted driving. It's your right to hold someone responsible when they fail to restrain their pet.
Trust McCoy & Sparks – Premier Personal Injury Attorneys in Nelson County
Recognized as Nelson County's best law firm for over a decade and counting, McCoy & Sparks works to help people in trouble, representing thousands of clients in Central Kentucky with a focus on providing premium service and delivering superior results. Regardless of the type of case, our goal is to develop a strategy that best serves your personal needs, then draw upon our courtroom skills to help you reach the best possible result. We start by getting to know you. Next, we will explain all your options, giving you the pros and cons of each choice so that you will be empowered to make informed decisions. You owe us nothing unless we recover compensation for you. Make the right call to 1-844-4KY-WINS for a risk-free consultation with one of our attorneys today.