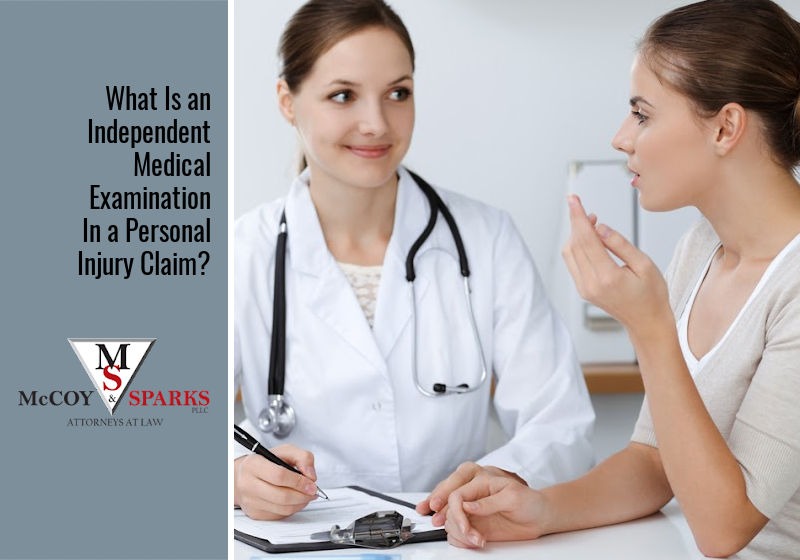 If you plan on filing a claim for an injury you sustained in a car accident, from a slip and fall, dog bite, or another personal injury, you need to be aware of the independent medical examination process. Personal injury claims frequently involve independent medical examinations, especially if the case goes to court.
These examinations provide courts with a second opinion about the injuries you sustained, and they can significantly impact the amount of compensation you can recover after an accident. Independent medical examinations give the plaintiff — the person filing the claim — and the defendant — the person the plaintiff files against — equal opportunity to present proof of the extent of the plaintiff's injuries.
What Is an Independent Medical Examination?
An independent medical examination (IME) is a third-party examination of the plaintiff's injuries. Defendants or their insurance companies frequently request independent medical examinations to ensure that the plaintiff's injuries are as severe as they claim.
Although you likely received medical attention and a diagnosis before filing your personal injury claim, the defendant and their insurance company will possibly want a second medical opinion. The idea of an independent medical exam is to have an objective third-party examine the injuries, but the defendant and their insurance company want the second examination to reduce the amount of the claim.
For example, if you suffered from a serious broken leg in a car accident, you likely already received medical attention and are continuing treatment. An independent medical examination has nothing to do with your treatment and recovery — it instead evaluates the extent of your injuries for the defendant's benefit. The IME doctor would examine your leg to give a second opinion about the extent of your injuries. If the independent medical examiner determines that your injuries aren't as severe as you claim, the defendant can use that as evidence to reduce the amount you can recover in compensation.
Typically, osteopathic doctors and doctors of medicine conduct IMEs, and have substantial experience conducting these exams. They may also have expertise in your particular injuries, such as a broken leg or a burn.
During the IME process, the doctor will examine you, run tests, and ask you questions to make a diagnosis. They'll likely ask questions regarding the accident and your medical history as it relates to your injury.
One important note is that IME doctors should only ask you questions that are relevant to the injuries you sustained in the accident. They can't ask you questions about your lifestyle — such as drinking frequency or sexual history — if it doesn't relate to the case.
Independent Medical Examination Guidelines
When undergoing an independent medical examination, there are guidelines the doctor and defendant must follow:
The defendant or their insurance company covers the cost of the IME
The defendant or their insurance company needs to inform the plaintiff of when the IME will take place, and the notice should be long before the exam occurs
Medical professionals can only perform one examination unless there's cause for more
The IME doctor must be available in the deposition or trial for cross-examination
In addition to these guidelines, you also have certain rights when receiving an independent medical examination:
You are not obligated to attend an independent medical examination if it's an unreasonable distance away from your home
A defendant and their insurance company can't request a second independent medical examination for the same injury
Your personal injury attorney can attend your examination
You are allowed to review communication between the insurance company and the IME doctor
You can correct any factual mistakes that the IME doctor made
You can dispute the examination results
The Problem with Independent Medical Examinations
Although getting a second opinion for your injuries from a third party may sound reasonable, insurance companies frequently have pre-existing relationships with supposedly objective medical professionals. These relationships can end in a second opinion ruling in favor of the defendant.
Again, the point of independent medical examinations is to disprove the validity of injuries or their severity, so the independent medical examiner will likely try to downplay the seriousness of your injuries.
It's critical to remember that insurance companies compensate IME doctors, and the doctor likely performs regular examinations for the insurance company. If they side with the plaintiff, that means the insurance company will be less likely to use the doctor's services in the future. Doctors are motivated to rule in favor of the defendant because they can then continue receiving money for performing independent medical examinations.
If the defense or their insurance company schedules an IME, consult with your personal injury attorney about it. You can ask your attorney about how to best handle the doctor's questions.
Also, consider bringing either your attorney or a friend to the appointment. That way, if you need to dispute the doctor's diagnosis, you have a witness that can testify if the doctor engaged in any unlawful practices, such as intimidation, or if they didn't perform a reasonable evaluation.
Can I Avoid Undergoing an Independent Medical Examination?
Plaintiffs are not required to undergo independent medical examinations if their case is in the settlement stage. If the defendant or their insurance company schedules one during this stage, consult with your attorney about whether or not to go.
If your personal injury claim becomes a lawsuit, you are obligated to receive an IME if the defendant or their insurance company requests it, and they likely will take this action to dispute your claim. If you do not attend the IME, your case may be dismissed or you may not be able to submit your own medical evidence in court.
What Should I Do After Receiving an Independent Medical Examination?
Once you undergo your independent medical examination, make sure to receive a copy of the medical report. This report should include test results, your diagnosis, and the physician's conclusions.
You'll likely need to fight against the independent medical examination since they're biased against you. Fortunately, a personal injury attorney can assist you with this process. The attorney will help you by:
Checking the IME doctor's qualifications
Seeing if the IME doctor has a past that could impact the validity of their examination
Convincing the jury that your medical team offered a more accurate diagnosis
Trust McCoy & Sparks – Premier Personal Injury Attorneys in Central Kentucky
Recognized as one of Central Kentucky's best law firms for over a decade and counting, McCoy & Sparks works to guide victims of personal injury claims through the legal process. Representing thousands of clients in Central Kentucky with a focus on providing premium service and delivering superior results, we can answer your questions about independent medical examinations and much more.
Regardless of the type of case, our goal is to develop a strategy that best serves your personal needs, then draw upon our courtroom skills to help you reach the best possible result. We start by getting to know you. Next, we will explain all of your options, giving you the pros and cons of each choice so that you will be empowered to make informed decisions. You owe us nothing unless we recover compensation for you. Make the right call to 1-844-4KY-WINS for a risk-free consultation with one of our attorneys today.