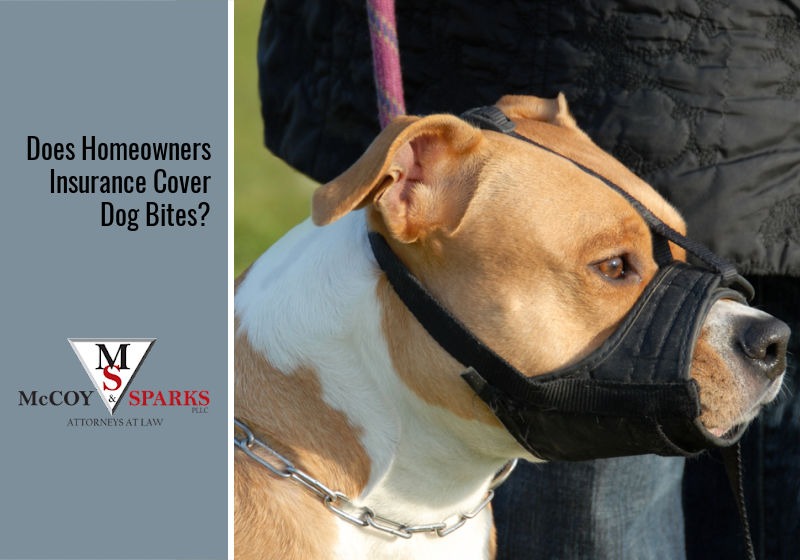 Kentucky has strict dog bite laws concerning liability, which primarily favor the victim. If your dog bites another animal or another person, you will most likely be held liable, which means you will be responsible for paying for the damages suffered by the injured party.
However, in some cases, your homeowners insurance may cover these damages, meaning you wouldn't have to pay for them out of pocket. Still, there are some exceptions, and not all dog bites will be covered.
If you have questions or concerns about a dog bite case, our team can help. At McCoy & Sparks, our Kentucky dog bite attorneys are familiar with Kentucky's strict liability laws and have years of experience handling dog bite claim cases. Contact us today to see how we can assist you.
Homeowners Insurance and Dog Bites
Many people assume that homeowners insurance only protects them for incidents related to their home, but this is not true. Your homeowners insurance can cover a wide range of things, including you and your dog.
In particular, homeowners insurance protects homeowners against a range of liabilities, including those that result from dog bites. If your dog attacks and bites another person, or even another animal, you can be held liable. Still, your homeowners insurance can protect you from having to pay for the damages caused by the dog bite injuries out of your own pocket.
Generally, most homeowner's and even renter's insurance policies cover dog bite liability expenses up to the individual policy liability limits, which can range from $100,000 to $300,000 on average. If the claim or damages exceed that amount, however, you, as the dog owner, will be responsible for all other damages above that amount.
When Does Homeowners Insurance NOT Cover Dog Bites?
While most homeowners insurance policies do cover many dog bite liability claims, it's important to note that there are two exceptions. If your dog has a history of biting, then your homeowners insurance will likely NOT protect you. You will also not be covered if you own a specific dog breed.
The breeds that are not covered, as they are considered "high-risk" by homeowners insurance, include the following:
Pit Bulls
Great Danes
Akitas
Alaskan Malamutes
Wolf breeds
Chow Chows
German Shepherds
Rottweilers
Siberian Huskies
Staffordshire Terriers
Presa Canarios
Doberman Pinschers
Dog Bite Liability Claims in Kentucky
Again, dog bite laws in Kentucky are based on strict liability. Rarely is a dog owner not held liable when their dog bites another person or another animal. You can even be held liable if your dog damages another person's property.
Unlike other personal injury cases, with dog bite claims, the victim doesn't have to establish negligence in order to recover compensation from you. Instead, they only have to prove the following:
They were bitten by your dog
You are the owner of the dog
The victim doesn't have to do anything else to prove your negligence, as the simple fact that you are the owner of the dog in question means you are responsible for the dog's actions.
Kentucky used to follow the "one bite" exception, which meant the first time your dog bit someone, you could get off free as it was assumed that you had no idea your dog was capable of such a thing. However, that exception no longer applies. If it is your dog's first time biting someone, you can still be held liable.
Does Homeowners Insurance Cover Dog Bites Off Property?
What happens if your dog bites someone away from your home? Typically your homeowners insurance dog bite policy covers dog bites that occur off of your property, such as while out walking your dog or visiting a dog park. Policies do vary, however, so be sure to check your policy closely if you plan to take your dog to locations away from your home.
Trust McCoy & Sparks—Premier Dog Bite Attorneys in Central Kentucky
If you are the victim of a dog attack or are the owner of a dog and have questions about a dog bite case and homeowners insurance after a dog bite, we are here to help.
Recognized as one of Central Kentucky's best law firms for over a decade, McCoy & Sparks represents thousands of clients in Central Kentucky with a focus on providing premium service and delivering superior results. Regardless of the type of case, our goal is to develop a strategy that best serves your personal needs, then draw upon our courtroom skills to help you reach the best possible result.
You owe us nothing unless we recover compensation for you. Make the right call to (844) 4KY-WINS for a risk-free consultation with one of our attorneys today.